What We Do in the Shadows Preview: Laszlo Faces Mark Hamill's Wrath
Last week's episode of FX's What We Do In The Shadows was a heartbreaking one for our Colin (Mark Proksch), finally get a chance to taste what his real power potential is. But like that Icarus reference that I'm going to avoid saying because it might be a bit too cliche, Colin flew too high and came crashing back down to earth. By that, we mean he became so powerful that he split himself into three, and then those three drained each other until only one survived. Forced to move on to a new company, Colin realizes there might not be a way to balance his need to feed and his need to be wanted and included. Of course, there was that slightly uncomfortable moment when Nandor (Kayvan Novak) had to fess up to sacking Nadja's (Natasia Demetriou) village. Thankfully, Laszlo (Matt Berry) was there to Nadja down while Guillermo (Harvey Guillén) realized that Colin was a major part of the rising tension.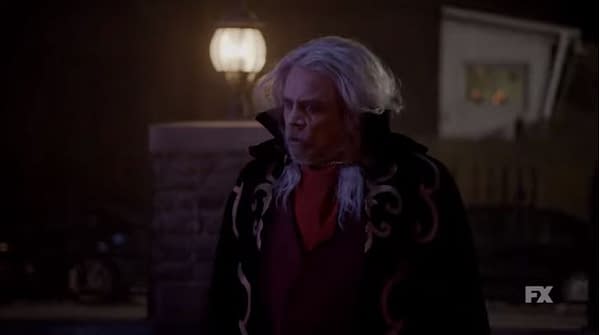 Looking at the preview for this week's episode "On the Run", Star Wars legend Mark Hamill guest stars as an ancient vampire with a score to settle with Laszlo, one that causes our resident vamp to go into hiding. Speaking with EW, Hamill revealed what lead him to take the role, "I remember it was Father's Day and I had my three kids over and we were picking a movie to watch. I suggested Life With Father which is old school but I liked it as a kid because I'm from a big family. But all my kids rolled their eyes. They said it's cornball so I asked them what they wanted to watch and my son Nathan suggested What We Do in the Shadows. I had never heard of it but he explained it was a reality show about vampires and I was very intrigued. I was completely unprepared for what I saw, it was so incredibly clever and compelling. It had all the elements of a horror movie and yet, it combined the magnificent with the mundane. Who thinks of things like this? I had to stop it multiple times to really absorb what we had just seen. It's one of my favorite movies ever."
As big of a fan as he was of the film, he had some reservations when it came to the idea of it being brought to series: "When I heard they were making a TV series, I thought I needed to lower my expectations. Neither Taika nor Jemaine was going to be acting in it, but I heard they were behind it so I remained hopeful. We saw the pilot and, not only was it on par with the film, but it added elements that I had never heard before like the addition of the energy vampire. The whole cast is one of the best ensembles in television history. I would've been happy just visiting the set, they certainly didn't need me to come in and mess it up somehow. But I thought I would check out the script and see what they had in mind. I expected the role to be like the next-door neighbor or someone who works at the Department of Motor Vehicles. When I read I was going to play a vampire, I just about shot out of my chair. What a great honor!"