The moment the Blue Team lost the game challenge on Food Network's Worst Cooks in America, I feared how cutthroat host Alton Brown would be to them. He didn't disappoint: throwing strawberries off a plate, hovering over them, and requesting to take one of Anne Burrell's eliminated players, because even they are better. The episode did have a certain erotic undertone to it – cooking various deserts with a Parisian theme, Burrell and Brown had some interesting commentary between them worth watching.
Wait… did Burrell take a swig of alcohol?!? Maybe Brown is rubbing off on her….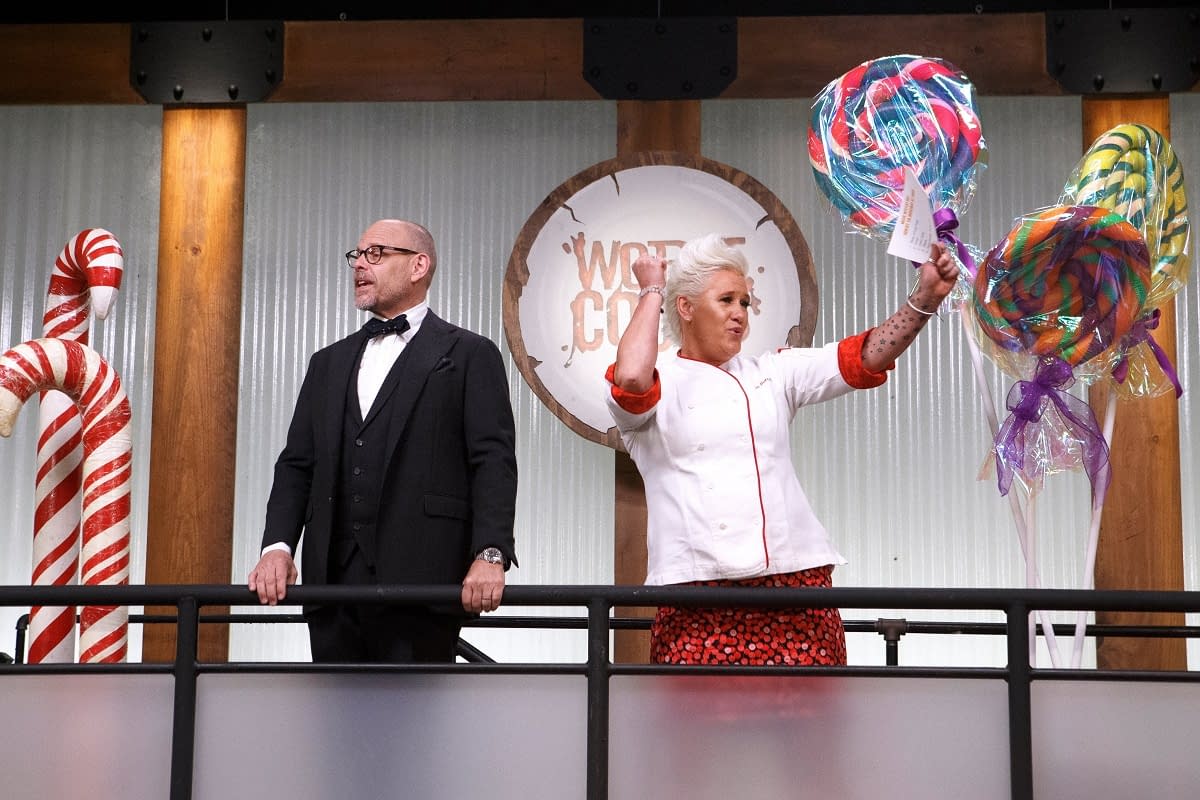 [rwp_box id="0"]
While playing "Sucraland" recruits had to employ their senses to identify food items, each correctly labeled item moved Brown and Burrell's head closer to the finish line. During the taste challenge, not sure why a competitor chose to eat like a dog instead of using her hands – beat down by Brown I presume. Unfortunately the Blue Team failed miserably, while Red Team set a tone for the episode – kicking serious ass for the duration of the challenges.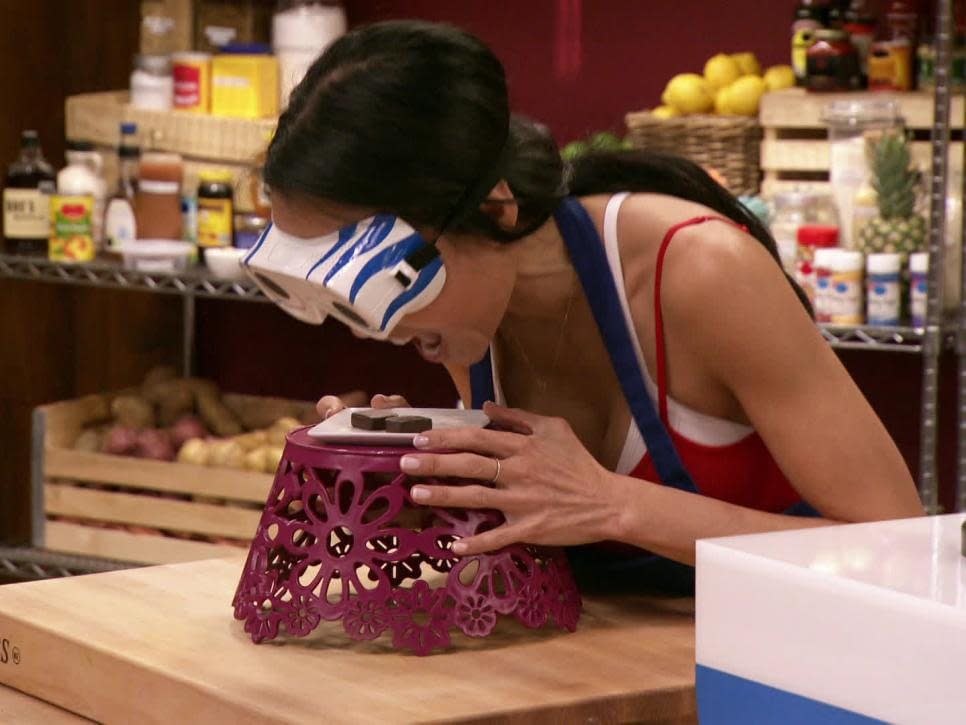 Skill Drill Challenge: 45 minutes to recreate Napoleon Cake
Burrell and Brown teamed up to demonstrate to the recruits how to make whipped cream, melt chocolate and temper custard.
The red team had a blast, even Leslie got in to the grove by drowning her desert in pink.
There was a slew of custard mishaps and both judges had to intervene.
Leo as usual struggled with eggs, the man creates delicious food, but can't open an egg carton or break the eggs properly – I still don't quite understand how in all the mayhem he is able to produce successful dishes.
Mike tasted a little too much of his food and inappropriately used his teeth to rip through a piping bag (at least he brushed)
Not sure what the random "Law and Order Canine Unit" clip mid skill drill challenge was.
Overall the red team did their best and showcased their creativity with Pena Colada flavors.
In the Blue Team corner, Mike was urged by Brown to not speak; Leo shockingly brought flavor to the party; and Kelly's was "fine"
Main Dish Challenge: Tarts
Burrell teaches the recruits to make and Orange Lemon and Meringue Tart
Brown, well he introduces way too many ingredients to create a Lemon Meringue Tart and mayhem ensues.
While the Red Team creates beautiful citrus tarts in a clean and organized kitchen, the Blue Team gets hit by a hurricane.
One recruit tries to use a blender with no blade; no tarts are in the oven for most of the challenge; Leo struggles with dough, and Kelly is just plain lost unable to decipher her own notes.
Leo drops all his tarts and has to borrow one from Kelly – oh the mayhem
Brown blames Bobby Flay for recommending he do Worst Cooks.
The red team creates wonderful tarts that look great and have excellent flavors
The Blue Team – weren't they supposed to deliver 6 tarts in total? Leo had 1, Mike had 2, and Kelly had 4 – though in her defense, she did give up on one.
.@AltonBrown is fulfilling all of our dessert desires with his Lemon Meringue Tarts!🍋

Get a sneak peek of Alton's Boot Camp demo before an all-new #WorstCooks > NEXT @ 9|8c

Save the recipe in your @fnkitchen app: https://t.co/cmHrydHJSa pic.twitter.com/31MvbhSPJk

— Food Network (@FoodNetwork) February 17, 2020
In the end… out of the kindness of Burrell's and Brown's heart (apparently he has one) no one is sent home.
The recruits get another chance to wow the judges next week…
Brown granted the win to Kelly
Burrell gives the win to Bridget
A very fun episode of Worst Cooks in America – sweet from the cakes down to the judges. The recruits continue to improve their skills and Brown and Burrell are jelling nicely together. I continue to be shocked that Leo is still there and doing so well. Mike is working extra hard on his bromance with Brown, and Kelly is quietly bringing her A game. Next week, recruits will be tested on their handling of shellfish.
I wonder if the lobsters will still be alive – and who will pass out first…
Enjoyed this article? Share it!