Dare I say, co-host Alton Brown has settled down some – even after his Worst Cooks In America team lost the game challenge. He actually seems to be enjoying himself, even through gritted teeth and a sea of disapproving comments. This week, the recruits were forced to face their fears through delicacies of the sea, live lobster and clams, and a 10 legged octopus?
Anne Burrell continues to impress with her strategic teaching skills, and the progress the Red Team has made is very evident of that. They all feel supported and enjoy being in the kitchen, producing plates that impress Burrell – even Leslie, who given her aversion for all things cooking after making a mistake, improvised, and that's why she was saved from elimination.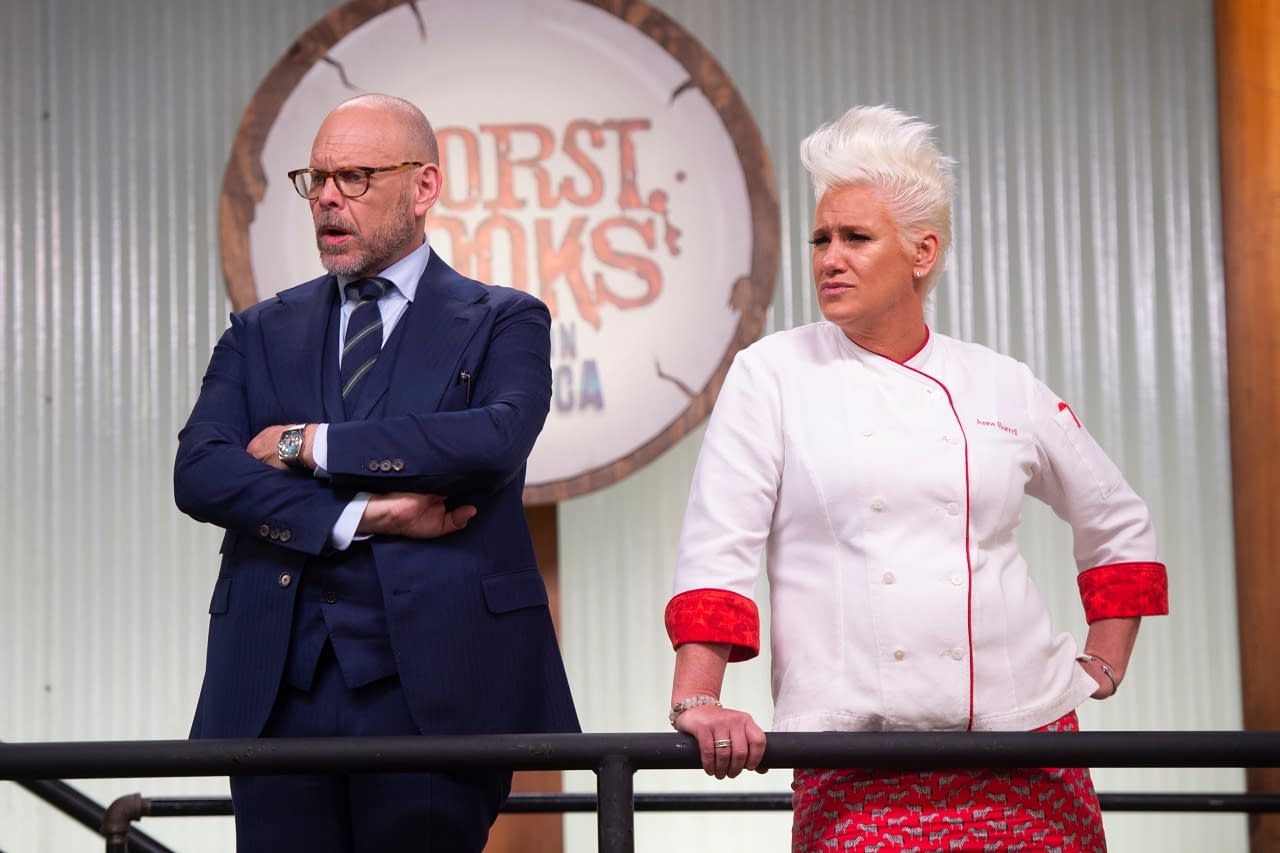 [rwp_box id="0"]
During seafood trivia, the recruits went fishing for clues to solve a puzzle, impressive was their ability to get the trivia questions right, guessing what the puzzle is, was a different story, the red did win to Burrell's delight and Brown's disappointment. None of the recruits seemed too excited to cook with seafood but bravely took on the challenge, making mistakes along the way. Who knew that clams had to be poked and 'de-mustached' before cooking?
Just a reminder that at the end of (almost) every episode, a losing contestant is eliminated from each team – with the overall winner receiving $25,000.
THIS is @ChefAnneBurrell's FAVORITE way to eat lobster! 😋🦞 Get a sneak peek of Anne's Boot Camp demo before an all-new #WorstCooks > NEXT at 9|8c. Save the recipe in your @FoodNetworkKitchen app: https://t.co/rI9SOPMEX6! pic.twitter.com/JsaPetYTOm

— Food Network (@FoodNetwork) February 24, 2020
Skill Drill Challenge: 45 minutes to recreate seafood empanadas
Burrell inspired her team to make "Crab, Jalapeno, Tomato and Corn Empanadas", some had quite an aversion to the crab
Brown drilled into his team how to make "Curried Mango, Crab, pocket pies" why not just call them empanadas? Hmmm
The blue team was in Caribbean vacation ville, taking their time, freaking Brown out by being 10 minutes behind schedule.
Mike's creative nature really flourished this round "Mike Jones potato gloves" – he's so innovative, and fun to watch.
Brown continued to harass Leo, I really think he secretly likes him. Their dynamic is hilarious to watch, and Leo doesn't take his take his tongue lashes, and talks back.
The Red Team utilizes Food Networks death trap, pineapple, struggles with pairing flavors and reading thermometers. Their end result is edible.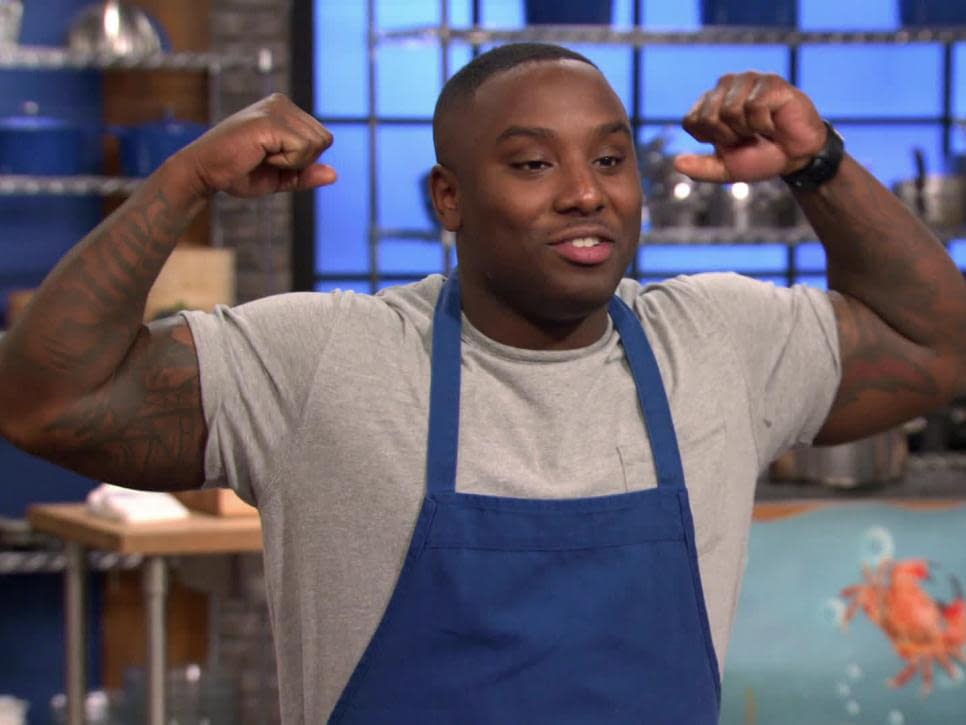 Main Dish Challenge: Shellfish
Burrell teaches the recruits to make a yummy Lobster Roll with Red Cabbage Slaw
Brown educates live vs. dead mussels in his Mussels-O-Miso
The Red Team names their lobster, is it appropriate to get so personal with something you are killing?
Leslie has a small mishap by combining her slaw and lobster in the same bowl
The Blue Team lullaby's their muscles to sleep
Brown enforces that no one can cook until he approves – the madness just never ends with this man
He actually throws containers on the floor, scare tactics 101
The Red Team overall does very well, except Bridget dices her slaw too thick
In the Blue Team, Mike forgets one of the ingredients.

In the end…
Brown granted the win to Leo – this man is such an underdog, yet cooks so well
Said goodbye to Mike – I will miss his one liners
Burrell gives the win to Shannon
Bridget is sent home – surprised it wasn't Leslie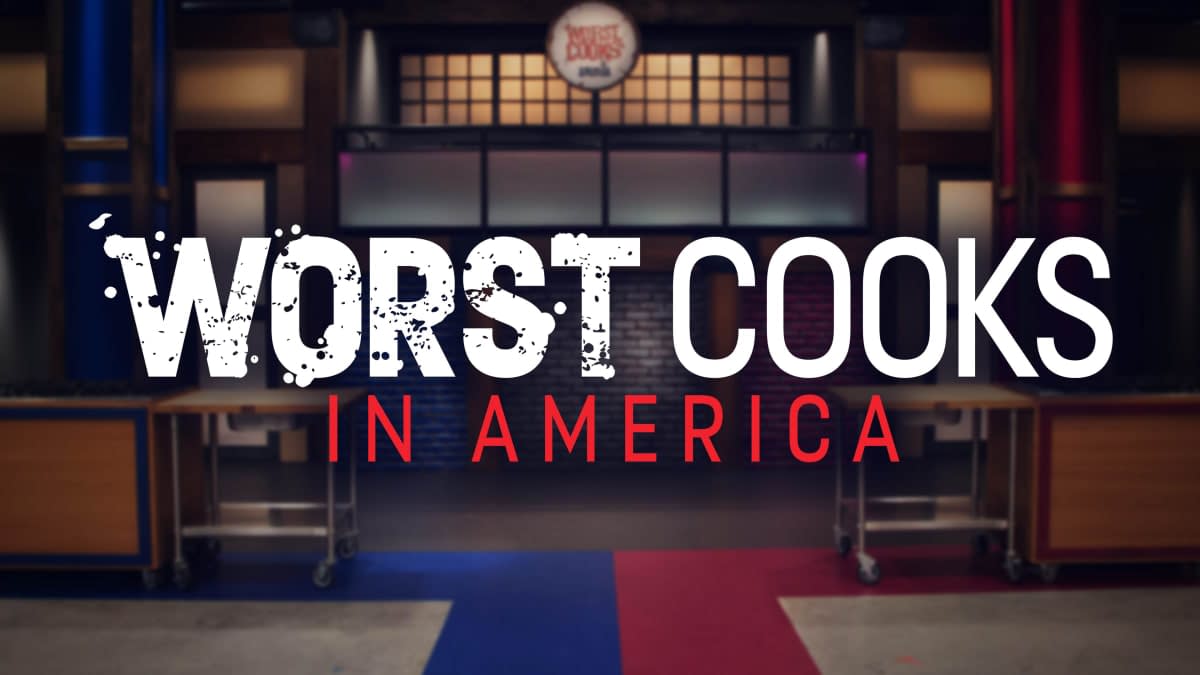 As we get closer to the last episode of Food Network's Worst Cooks in America, who will take home the win? At this point, it has to be between Shannon and Leo – both won the most amount of challenges, although they both concern me because they freak out a lot… yet somehow manage to produce delicious results. Next week looks to be a hysterical episode: Brown and Burrell compete, with their recruits playing "remote control chef".
Enjoyed this article? Share it!