Wrestling World Shocked as Jim Cornette Resigns from NWA in Wake of Racist Joke
Legendary pro wrestling personality and even more legendary online curmudgeon Jim Cornette has found himself at the center of yet another controversy that, this time, has cost him a job. Cornette resigned from his role as commentator for NWA Powerrr after the company received backlash for comments Cornette made on the most recent episode of the studio wrestling show. Describing the toughness of wrestler Trevor Murdoch, Cornette said that Murdoch is "the only man I've ever known that could strap a bucket of fried chicken on his back and ride a motor scooter across Ethiopia."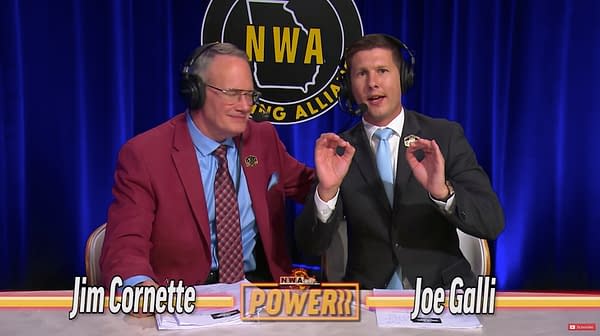 After the episode aired on YouTube and viewers responded, NWA pulled the episode to edit out the comment, with NWA Vice President Dave Lagana tweeting:
NWA Champion Nick Aldis also offered an apology for the comment:
The next day, the NWA released the following statement, severing ties with Cornette:
Effective immediately: Jim Cornette has resigned from the National Wrestling Alliance. As an announcer on the November 19th edition of NWA Power, Jim made remarks during a singles match between Nick Aldis and Trevor Murdoch that were both offensive and do not meet the high standards of decency and good faith of the National Wrestling Alliance.

To ensure that such an error can never happen again, we've established new procedures of review for all NWA programming going forward.

We sincerely regret our failure in this regard.
Of course, a question not addressed in Lagana or NWA's official statements is how Cornette's comment made it through to air in the first place when it the episode was taped months ago and there was plenty of time to edit it. Did no one notice that Cornette made a joke that both made fun of starving Africans and played on racial stereotypes about Black people and fried chicken that would almost certainly cause the organization problems if it aired? Or did the powerrrs that be simply fail to see any problem with it until viewers complained?
You'll have to draw your own conclusions on that, but Lagana recently deleted a comment of his own decrying the negative effects of diversity and inclusion on human excellence after fans reacted negatively to it, while NWA owner Billy Corgan is famously outspoken in his views on "social justice warriors."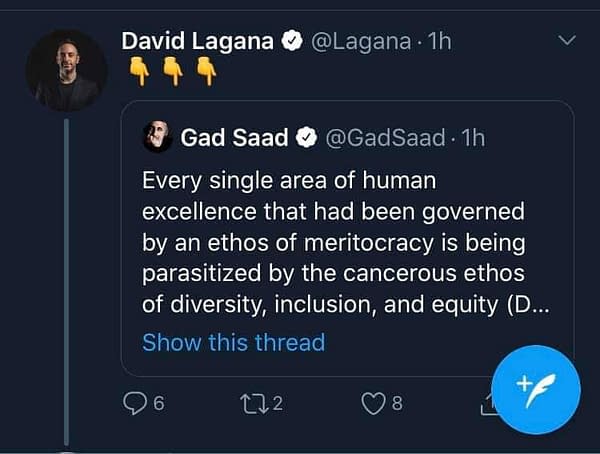 And Aldis, when Cornette was hired to be NWA Powerrr's announcer, penned a long essay decrying cancel culture and supporting Cornette. Has he changed his mind now?
Cornette, for his part, doesn't appear to be in the mood to apologize (and it would be out-of-character if he did), though he says he'll discuss the matter on his podcast later this week. If nothing else, Cornette knows that you don't give away your money-drawing material for free.
It's hard not to view this whole situation with some degree of schadenfreude. Cornette is undoubtedly one of the greatest wrestling minds of all time, and he can still deliver on the mic, but this is also a situation everyone could see coming from miles away. A self-avowed democratic socialist and critic of conservatives and President Donald Trump, Cornette has nevertheless frequently found himself the subject of ire from fans online and people in the wrestling business for comments deemed racist or homophobic, to the point where he's as well known for that as he is for his wrestling accomplishments.
Cornette is also notoriously critical of modern pro wrestling trends and a strong proponent of the style of wrestling from ages past, which actually made him a good fit for NWA Powerrr, which aims to emulate the wrestling shows of that bygone era. But working with Cornette is a decision for which a potential employer must take into account his propensity for saying things that most people find inappropriate in 2019 and weigh whether they're willing to risk that happening in a situation where it reflects on them. Cornette made headlines by saying that women belonged in the kitchen on the same week IDW released his wrestling history comic back in August (which is all well and good, as the superior wrestling history comic is The Comic Book Story of Professional Wrestling anyway), and IDW got exactly what they signed up for there.
And sure, NWA could pretend that they knew Cornette had a history of making people upset, but that they didn't think he would take things as far as he did.
Except, Cornette literally made that exact same fried chicken joke about Big Bubba Rogers (The Big Boss Man) on an NWA television show in the 1980s.
And about Lawrence Taylor on a WWF show in the 1990s:
The point is that companies know what they're getting when they hire Jim Cornette, and it seems insincere to act like this was an unfortunate mistake that sullies their good name rather than an inevitable conclusion from the moment they decided to overlook all the past times it's happened and hired him anyway.
Or in other words: