Another Monday Night, another WWE Monday Night Raw, three hours of all of our lives that we can never get back. And yet, week after week, we put ourselves through it anyway. That's what it means to be a pro wrestling fan. And if you were thinking about giving up on Raw tonight before it even starts (and we've all thought about it) your hopes are dashed, because the show kicks off with the mindblowing excitement of… a Dolph Ziggler promo. But first, the announce team runs down the three or so matches booked for tonight's show. Then Drew McIntyre comes out. Drew welcomes us to Raw by promoting his match against Ziggler for the WWE Championship at Extreme Rules. As laid out in last week's contract signing, Dolph Ziggler gets to pick the stipulation for their match. McIntyre says no matter what kind of match Dolph picks, McIntyre will win. So he calls out Dolph to reveal his secrets.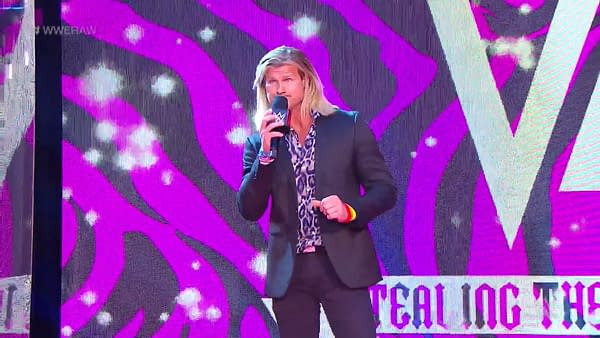 Ziggler comes out to the top of the ramp. Ziggler says people want to see Ziggler, not McIntyre. Ziggler says his stipulation is a secret. He would be a sucker to tell McIntyre what type of match it is. Ziggler makes fun of McIntyre getting fired by WWE in 2014, but McIntyre says he's proud of his comeback. He runs off more of his accomplishments. But Ziggler says McIntyre has left people behind in his quest for the title. He brings out someone else that Drew has left behind: Heath Slater. Slater, of course, wasn't left behind by Drew. He was fired by WWE as a cost-cutting measure during the coronavirus pandemic, even though WWE has more money than ever. The announcers are shocked to see Slater, remarking, "wasn't he fired?"
Slater says he and Drew go way back. He talks about when McIntyre first came to the U.S. and then when he got called up to the main roster. Drew wasn't really the chosen one back then, but he is now. Slater talks about April, when McIntyre defeated Brock Lesnar at WrestleMania. Slater says he cried when he saw Drew win the title. Slater says when Drew got released by WWE, Slater called him every day. Where was Drew when Slater got fired?
Slater lays on the guilt trip. He breaks kayfabe to talk about how Slater knows his real kids, not his kayfabe ones. Slater was there for McIntyre, but McIntyre wasn't there for him. Slater says that Drew promised he would petition to have a match with Slater when Drew won the title, but Drew didn't come through. Slater wants that opportunity to wrestle McIntyre for the championship tonight. He says McIntyre promised it to him as a friend, and now he wants what he deserves. GIVE HIM WHAT HE WANTS, DREW!
McIntyre says he doesn't want to fight Slater, so Slater pushes him. Then he slaps him. McIntyre gives him the match. Raw goes to commercials.
After the break, the match kicks off with Slater attacking McIntyre. McIntyre hits the Claymore and pins Slater immediately. Ziggler looks disappointed. After Drew leaves, Ziggler attacks Slater. McIntyre returns and chases him off. Slater and McIntyre hug. I don't know how to feel about that segment. It started off gross as most WWE storylines that attempt to use real-life drama, but leave out anything that makes WWE itself look bad. McIntyre didn't really abandon his friend, Heath Slater. But WWE really did betray Slater, and dozens of others, when they fired them at the worst possible time and blamed it on money when money wasn't an issue. The stock dividends WWE paid out that same month could have paid everyone they let go for a year. But that being said, Slater saved the segment with an emotional promo. Slater jobbed out, but McIntyre put him over after the match by raising his arm. Hopefully, Slater shows up at Slammiversary later this month and has a chance to do what McIntyre did, reinvent himself and become a star without WWE.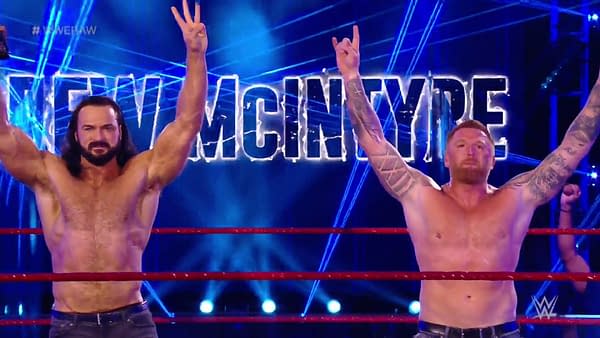 WWE Raw: Sasha, Bayley, KO, Asuka, Viking Raiders, and More!
Sarah Schrieber introduces Bayley and Sasha Banks backstage. Before she can ask any questions, Bayley says they'd rather talk to the world. They head to the ring. Asuka walks up, and Sarah asks her how she plans to handle both of them tonight. Asuka asks, "who says I'm all alone?" Raw heads to commercials.
Banks and Bayley are in the ring after the break. Bayley says Raw can officially begin now that the champs here. Oh god, you mean it's just starting?! Sasha says she and Bayley never sleep, which is how they can be on every brand. Bayley isn't happy that she has to fight Asuka tonight and then fight Nikki Cross in just a couple weeks at Extreme Rules. Sasha says she's going to beat Asuka at Extreme Rules. Asuka heads out to the ramp. She talks some trash, and says Bayley isn't ready for Asuka tonight. Asuka suggests Sasha should leave since she's not ready tonight. Bayley interrupts and says Sasha is ready for anything. So Asuka brings out Kairi Sane.
Sane looks elated to finally be in a match with someone who isn't going to recklessly injure her. Nobody has seen Nia Jax around tonight, right? Raw takes a commercial break.
The bell rings as soon as the break is over. Banks immediately begins beating on Sane in the corner. Sasha slaps her around a little bit and does an arm drag running up the turnbuckles, but Sane no-sells it and hits Sasha with a barrage of strikes and a hurricanrana, which gets her a two count. They trade submissions for a bit. Banks takes control again and taunts Asuka outside the ring. Bayley gets in Asuka's face. Sane throws Banks outside the ring. Now everyone is in one place, so Sane hits a baseball slide so Raw can transition to commercials.
The show is back and Banks and Sane trade blows in the ring. Banks takes control and punishes Sane, kicking her, stretching here, pulling her hair, and choking her on the ropes. Still much more pleasant than a Nia Jax match. Sane makes a comeback when Banks preens once too often. Things are going too well for Sane, so it's time for a screwjob. Bayley interferes, the match is thrown out, and the four women brawl at ringside. Sane ends up hitting the elbow off the top rope to the outside on both Banks and Bayley. Asuka and Kairi stand tall. Great match.
Backstage after a recap of the Seth Rollins segment from last week, a bunch of officials tend to Aleister Black, who has been attacked backstage and is wearing a Rey Mysterio mask. Rollins walks away satisfied as Raw goes to commercials.
The Viking Raiders are playing around with a balling ball backstage when The Big Show arrives. Big Show doesn't want any nonsense tonight. He wants to take care of Randy Orton. The Raiders say Edge and Christian were heroes to them growing up. They try to do a five-second pose, buy Big Show chops them. Now the Raiders are fired up. They're totally going to take this match seriously.
Kevin Owens heads to the ring. Looks like Kevin Owens must have been the WWE star who stayed away for a few weeks and then came back to talk Vince McMahon into taking coronavirus seriously. Kevin Owens is the hero the WWE needs! Owens is hosting the Kevin Owens Show, with Seth Rollins as guest. Owens tosses all the chairs out of the ring, since they won't be needed. He calls out Rollins. Rollins comes out with Buddy Murphy. What? Austin who? I've never heard of anyone by that name, have you?
Rollins thanks Owens for having him on the show. He asks about Owens's fractured an ankle. Owens says it feels better than Rollins's ego lately. Things haven't gone very well for Rollins since WrestleMania. Owens says they have a bond after facing each other at WrestleMania. Owens has a gift for Rollins to commemorate their WrestleMania moment. It's one of the t-shirts Owens was wearing when he beat Rollins at WrestleMania.
Rollins gives the shirt to Murphy, who probably gets all of Rollins's hand-me-downs. Rollins says he doesn't care about Owens or his show. He only came out here to use the show as a platform to challenge Rey Mysterio to a match at Extreme Rules. With that done, Rollins says Owens sacrificed himself at WrestleMania. Owens may have won, but he's been on the shelf since WrestleMania while Rollins has been on Raw. Rollins suggests Owens join his team and fight for the greater good.
Rey Mysterio and Dominic Mysterio come out to the top of the ramp. Mysterio says Owens won't fall for Rollins's bullshit. He accepts the challenge for Extreme Rules. Rollins's destiny will be in Rey's hands at Extreme Rules. Rollins says they were supposed to fight in a tag team match tonight, but Black was injured earlier. Rollins suggests Rey could use Dominic as his partner. But Kevin Owens offers to do it. Owens suggests the winning team tonight should pick the stipulation for Extreme Rules.
Rollins accepts, and Murphy attacks Rollins from behind. But Mysterio hits the ring and the bad guys run as Raw goes to commercials. We're six minutes past the first hour, so time to switch to part two of this report.
Enjoyed this article? Share it!