WWE Smackdown Video Highlights: Same Smackdown, Less Time
WWE has released video highlights from this week's episode of WWE Smackdown, once again prompting the question: why did we bother to spend two hours watching this crap on TV last night? Nevertheless, here we are, and if you managed to find something better to do with your time last night, good for you. Now you can experience a much more condensed, efficient version of WWE Smackdown with these Smackdown video highlights from YouTube!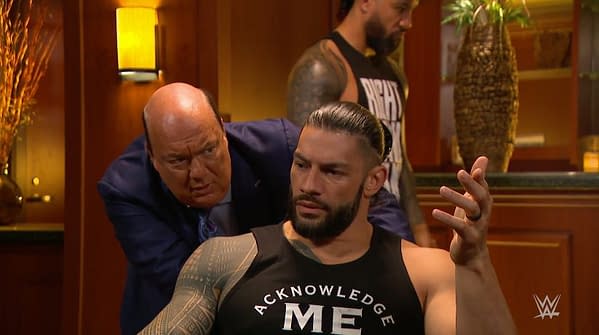 When Roman Reigns opened WWE Smackdown with an embarrassingly sweetened promo in which he interacted with the fake boos piped in by WWE, he claimed that no one in the locker room was willing to step up to him after what he did to Edge and Daniel Bryan. But Cesaro disagreed! The Swiss Superman challenged Roman to a match…
…but Paul Heyman said he had to go through Jey Uso first.
Ok, fine. Everyone beats Jey Uso all the time. This should be no problem, right? Wrong! Seth Rollins had other ideas.
Bummer. Guess we'll be getting some kind of rematch at Backlash instead. In other Smackdown developments, the Street Profits held a victory party for new Smackdown Women's Champion Biance Belair…
…and Belair suggested that Montez Ford better go win a title or sleep on the couch from now on. Thus properly motivated, the Profits battled the Dirty Dawgs for the Smackdown tag team championships…
…and came up short again. Speaking of coming up short, Natalya and Tamina failed to get the job done against Nia Jax and Shayna Baszler at WrestleMania…
…but on WWE Smackdown this week, we learned they will tread water in this feud for another month until WrestleMania Backlash. Yay!
Also on WWE Smackdown, Rey Mysterio battled Otis…
…Apollo Crews continued to pretend that nobody remembers Raw Underground…
…and Sami Zayn got his ass kicked again.
Basically, nothing has changed since before WrestleMania, which begs the question: why did we even bother?!