Titan Comics has turned Rachael Stott's character design for Doctor Who, as portrayed by Jodie Whittaker, into a variant cover that retailers can order with a minimum of fifty copies.
Those who opt in will become part of the Gallifreyan High Council of Retailers and have their store name/address/URL listed in the back of issue 1.
This will also run through issues 2 to 4 of Doctor Who: The Thirteenth Doctor, with each featuring the character designs for each of the Doctor's companions, as rendered by Rachael.
Here are those first four covers…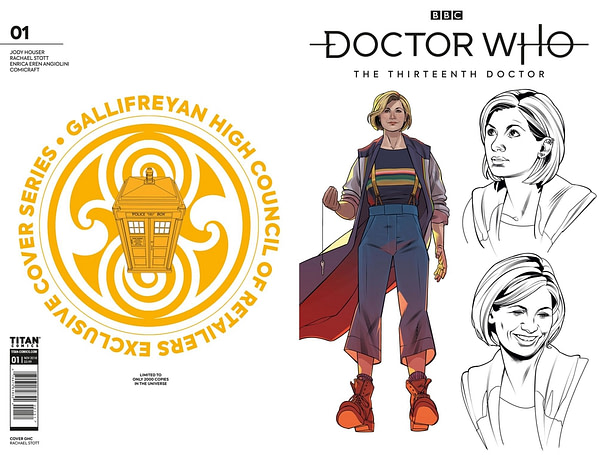 DOCTOR WHO 13TH #1
(W) Jody Houser (A) Rachael Stott, Enrica Eren Angiolini
The Doctor regenerates into her most thrilling incarnation yet – played by Jodie Whittaker, and traveling alongside three brand new companions: Graham (Bradley Walsh), Yasmin (Mandip Gill), and Ryan (Tosin Cole)!
Experience mind-blowing challenges and dynamic adventures through time and space – right alongside the Doctor and her friends!
A new series for a new era on the TARDIS, from a creative team of astounding women – Eisner-nominated writer Jody Houser (Faith, Mother Panic, Star Wars: Rogue One, Spider-Man: Renew Your Vows, Orphan Black, The X-Files: Origins), art by Rachael Stott (Doctor Who, Motherlands, Star Trek/Planet of the Apes) and colors from Enrica Angiolini (Shades of Magic: The Steel Prince, Warhammer 40,000)!
Commemorate this once-in-a-lifetime regeneration with thirteen variant covers, from a variety of astounding women comics artists! In Shops: Nov 07, 2018 Final Orders Due: Oct 15, 2018 SRP: $3.99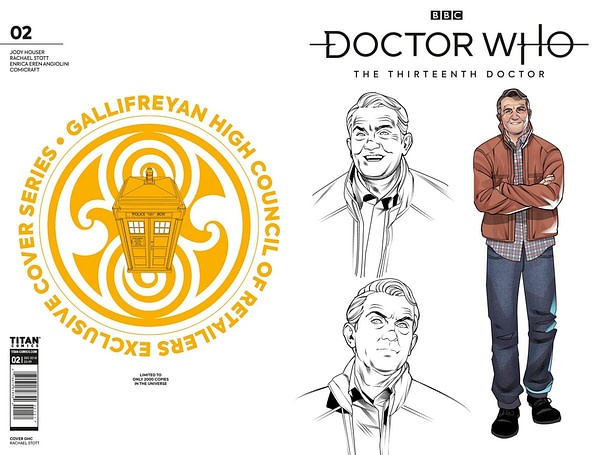 DOCTOR WHO 13TH #2
(W) Jody Houser (A) Rachael Stott, Enrica Eren Angiolini (CA) Paulina Ganucheau
Eisner-nominated writer Jody Houser (Faith, Mother Panic, Stranger Things) leaps in with mind-blowing adventures for the Thirteenth Doctor and her brand new companions! A mysterious new time traveller appears – but can he be trusted when he says he's human?
Illustrated by award-winning artist Rachael Stott (Doctor Who, Motherlands) and colorist Enrica Angiolini (Shades of Magic, Warhammer 40,000)! In Shops: Nov 21, 2018 Final Orders Due: Oct 29, 2018 SRP: $3.99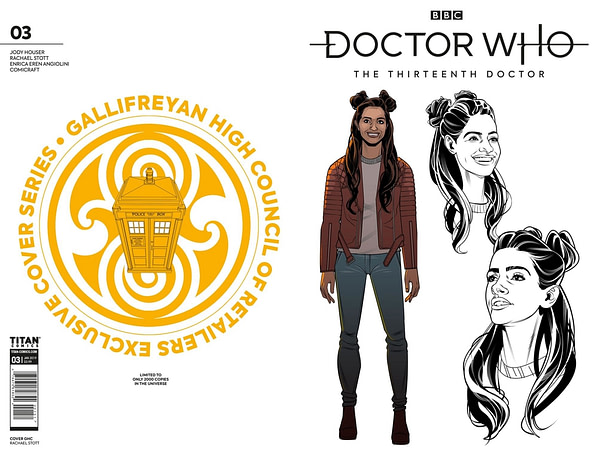 DOCTOR WHO 13TH #3
(W) Jody Houser (A) Rachael Stott, Enrica Eren Angiolini (CA) Rebekah Isaacs
The Thirteenth Doctor's first comic adventure continues with Eisner-nominated writer Jody Houser (Faith, Mother Panic, Stranger Things)! The Doctor and her new companions square off against a rival time traveller – one who seems all too human…
Illustrated by award-winning artist Rachael Stott (Doctor Who, Motherlands) and colorist Enrica Angiolini (Shades of Magic, Warhammer 40,000)!In Shops: Dec 19, 2018SRP: $3.99