It may have been DC Comics' Heroes In Crisis that has hit the headlines. But, just as Brian Bendis wrote his own Hydra story in Jessica Jones which quite deliberately had nothing at all to do with the Hydra story happening in Secret Empire at the same time, so superheroic mental health is becoming a thing in other unconnected titles.
I understand that changes in the Nightwing title will separate it from the rest of the Batman books. As Dick Grayson suffers PTSD from his experiences, far away from any Sanctuary, that will affect the character and the book in the long term.
While Priest has his own take, in his comic Deathstroke, in its upcoming storyline Arkham, seeing Slade Wilson committed to the asylum for the 'insane'…
Priest told DC Nation that the story is.,
about the state of mental health and criminal justice in this country. You have these people who become a problem to society, and society doesn't quite know how to deal with them, so a lot end up being institutionalized. Realistically, what do you do with these people? What do you do with a Mr. Freeze? What do you do with a Two-Face?

They haven't been convicted of anything; when you are adjudicated as mentally incompetent, you're essentially found "not guilty." They're sentenced to this facility where their human rights are being violated. But because these particular characters are super-villain% extraordinary measures must be taken to safeguard not just the people at the facility, but the general public, from these people.

My grandmother used to take care of emotionally challenged individuals, and I have a great deal of empathy and compassion for them. Now, none of them happened to be super-villains, so this is a bit different.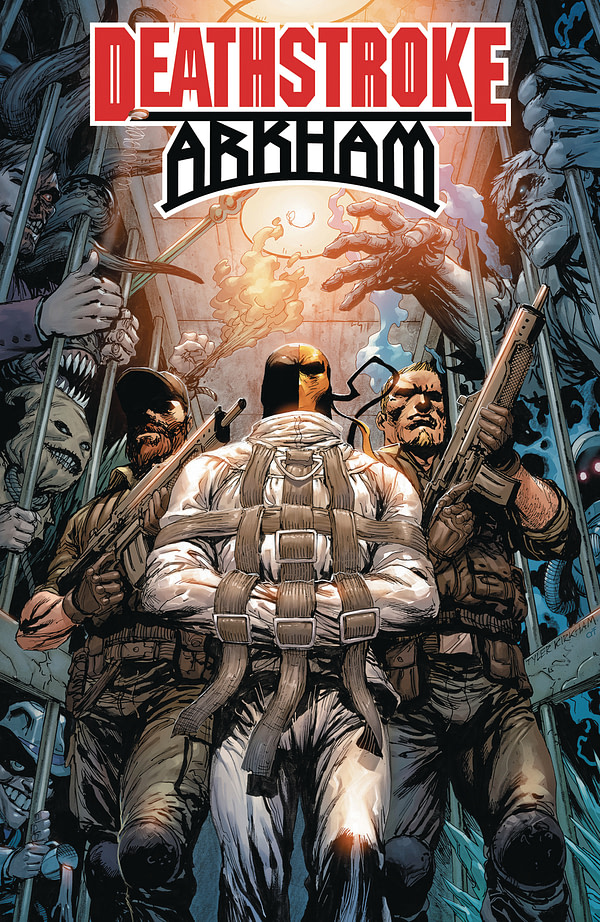 DEATHSTROKE #36 (ARKHAM)
(W) Christopher Priest (A) Ed Benes, Fernando Pasarin (CA) Tyler Kirkham
"Deathstroke: Arkham" starts here! After being declared criminally insane, Deathstroke is committed to the infamous Arkham Asylum! It isn't long before the hunter becomes the hunted as Slade, powerless and weaponless, is targeted by some of Gotham City's most wanted. But after initially mocking and contravening the system meant to help him, Deathstroke learns that his only hope for survival may be to confront his own inner demons. In Shops: Oct 03, 2018 Final Orders Due: Sep 10, 2018 SRP: $3.99