37 Thoughts About 37 Of Today's Comics – Batman Eternal To Trees
Another week and a truckload of comic books… let's get stuck in! Warren Ellis, you utter bastard. The end of Trees Vol 1. And he doesn't mess about, Whatever words could they be? Bitchumin, slagheap and constantly-annoying? A punch is too good for him, in today's Earth 2. Grimm Fairy Tales is less circumspect… and a little more forthright. New 52: Future's End has a rather loose lipped John Constantine, but they do all seem to be holding it in somewhat. God Is Dead certainly goes for offense, but it feels like there's more out there to be mined…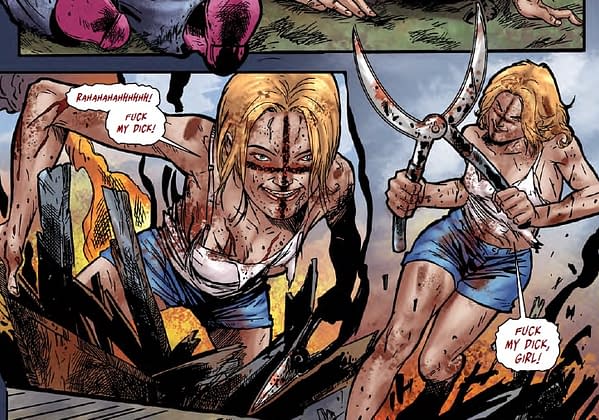 That's more like it. David Lapham is writing Crossed: Badlands everyone, he knows how to bring it home. Skylanders #4 prefers the K word to the C word. But you can do the substitution yourself in your head… It's funny because he's a Muslim! Guy, Hal and Barry laugh it up in a bar brawl in today's "special issue" of Green Lantern. It's funny because he's Japanese! The All-New X-Factor show some al-old attitudes. Nailbiter gives us one of the creepier issues yet. Not so much the Nailbiter himself, but the man who drove all the serial killers to school over the years… and has survived…. And Dark Horse joins the party with Ladykiller. Works quite well as a before and after shot from the previous panel, no?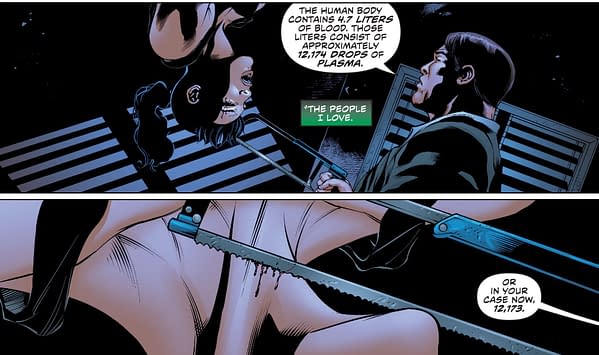 Green Arrow gives us a practical biology lesson. You know, if my school had done this, there would have been stern letters. But there are tasty alternatives to the blood lust… V Wars #7 has a dish that Count Duckula would rise from the coffin for. I don't know, Earth 2: Worlds End, looks pretty much like Chicago does usually on a Friday night.
War Stories turns to the Israeli conflicts of the seventies, and maps out what is at the heart of it all. I've always said, anywhere with straight lines to delineate countries, it's guaranteed that some nasty stuff went down – and will continue to keep going down! Hellboy And The BPRD try a little word association… Man, everyone does Star Wars now, don't they. Even God Hates Astronauts. Its a trap! Mind you, Batman also seems to think he's in a bad action movie in Batman Eternal. The team may be full of women but in X-Men, it always comes down to a man. The clue's in the name. Is it not, Angry Birds? Maybe someone could demonstrate it for us. Action Comics, for example.What was that Clark? Couldn't quite hear you over the big letters. How can he be under arrest, Robocop, when you've given him brain death with one kick? Can you smoke twenty deads when they are rolled up? And if you do, does everything turn purple? Woods #9, there. Yeah, Fiction Squad #4, you don't want to start getting your spout out in court. Or, as Eric Idle sings, "you won't come back". Same goes for "trouser snakes"… Just like Snake's one, in Escape From New York #2 I'm sure you do, Uncle Grandpa, especially when watching Thumbzilla on your iPad at two in the morning when you think everyone else is asleep. That's right little girl, you'll be perfectly safe in the hands of Edward Scissorhands. As long as you don't pop.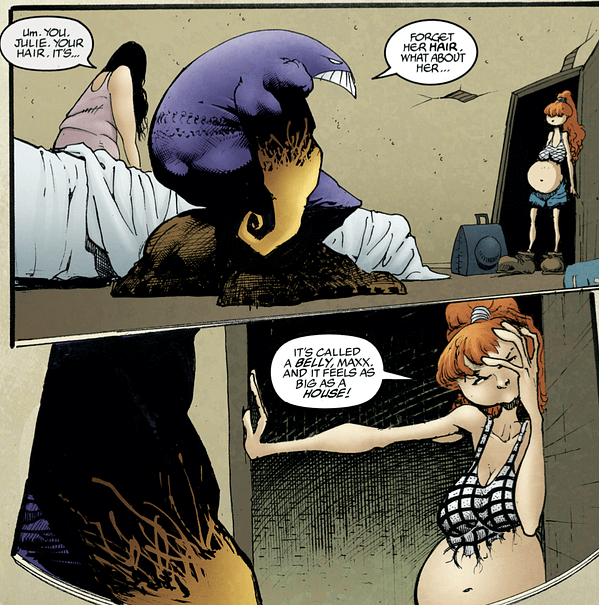 That's because it is a house, Maxx #15, for a very special person… My Little Pony: Friends Forever #13 gets properly sick. Ray Bradbury, put your pants on! It may be the Shadow Show, but there's not enough shadow for anyone's liking. People can see you! Yeah, that's the problem with being covered in Feathers, no matter how dark and shadowy you are, someone's going to notice. Garfield witnesses the birth of Mondays. Bob Geldof starts writing a track immediately. In Eternal Warrior: Days Of Steel, someone could really do with some photo ID, even post decapitation. IXth Generation #1… or is it Doctor Who?
So… what did you all read today?