Adam Hughes, Jae Lee & Craig Cermak Draw New Rocketeer Comic
Adam Hughes, Jae Lee & Craig Cermak are to create brand new Rocketeer stories, coming from IDW Publishing in April.
---
IDW Publishing is to publish a new Rocketeer anthology, based on the character created by Dave Stevens, with three stories from three creative teams.
The development of this new Rocketeer comic project began during the making of the documentary Dave Stevens: Drawn to Perfection, when filmmaker Kelvin Mao discovered that Danny Bilson and the late Paul De Meo, the original screenwriters of the 1991 The Rocketeer film, had written an unpublished Rocketeer comic book story guest-starring aviation pioneer Amelia Earhart some years earlier. Mao, along with the film's executive producer Robert Windom, approached Adam Hughes to illustrate the tale, and the project evolved into a one-shot anthology edited by Scott Dunbier. "What an amazing gift born out of making Dave Stevens: Drawn to Perfection! It's been a singular privilege collaborating with some of Dave's longtime pals on a bonafide Rocketeer comic," says Mao. "The Amelia story was written by Paul and me as a tribute to Dave. Now it serves as a tribute to both of them," says Bilson. "We're very honored to have Adam bring it to life." "The Rocketeer, my favorite flying hero, has got a dish of a girlfriend, an unnecessarily cool outfit, and great hair. You'd hate someone like that in real life, but as a comic book character, he's aces!" says Hughes.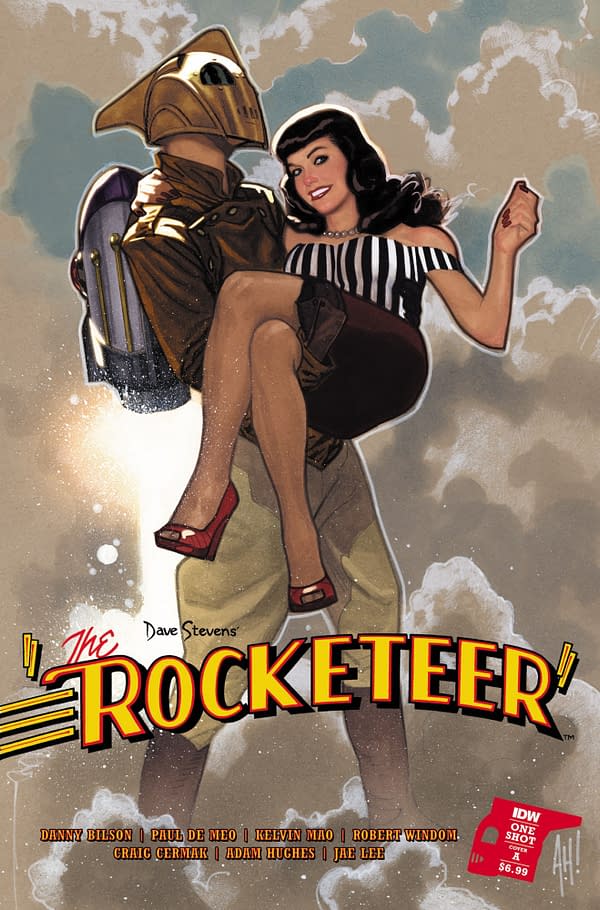 The Rocketeer one-shot includes said eight-page story by Bilson, De Meo, and Hughes; a 12-page story of Cliff Secord's date night with Betty leading to trouble with a vaguely familiar adventurer/archeologist, written by Mao, drawn by Craig Cermak and coloured by Laura Martin; a four-page story of the Rocketeer fighting a Japanese Zero in the South Pacific, written by Robert Windom, drawn by Jae Lee and coloured by June Chung; with pinups by Phil Noto and Maria Laura Sanapo and more!
"The short story that Jae and I created is intended to be a dreamy contemplation on life and love, but with some great Rocketeer action and Betty, of course! Jae's ethereal style is a perfect fit for it," says Windom.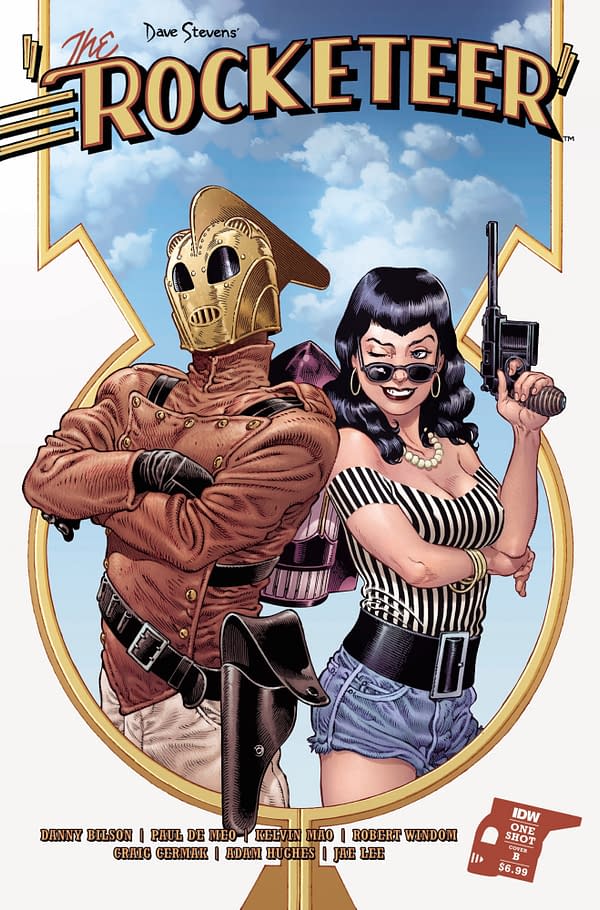 "It was a huge honor contributing art for this project. Dave Stevens has been an inspiration to me since I first saw his work. He's captured the beauty of a time period that is forever golden," says Lee.
"As a fan of Dave Stevens' The Rocketeer since day one, I'm thrilled to see this book come to life. Bilson & De Meo, Mao, and Windom have all captured the feel of Cliff, Betty, Peevy, and the rest. And the art… To quote a famous Rocketeer page…'WOW!'" says Dunbier.