There's a Lot Of Alfred in Today's Batman Comics For a Dead Man
Alfred Pennyworth is dead. In Batman #77, killed by Bane, in front of Damian Wayne. A fact that the rest of the Batfamily are keeping from Bruce Wayne who believed that Alfred was safe, no longer being used as a hostage to prevent the Bat-excursion into Gotham, the City of Bane,
He was wrong, and Alfred's neck was snapped. Or so it appears. And while I am told that originally this would have been reversed sooner, even though there's a Pennyworth TV series, an Alfred Pennyworth in Gotham and in the upcoming Batman movies, the decision has come down to keep Alfred dead for longer.
However, it seems he was already planned to pop up in other titles. Leading to a few editorial notes to place current stories into Bat-continuity, taking place before City Of Bane. With Batman/Superman #3 out today…
And Detective Comics #1014…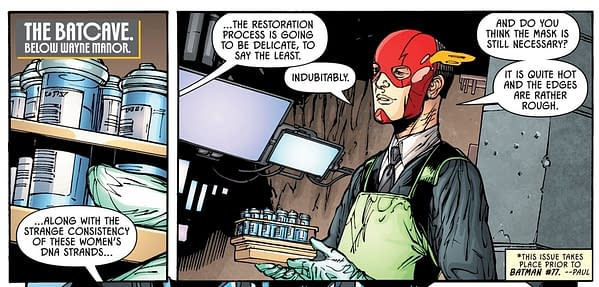 Paul Kaminski is a very busy Bat-editor this week. Of course there is a very-much-alive Alfred in the near-future-set Doomsday Clock.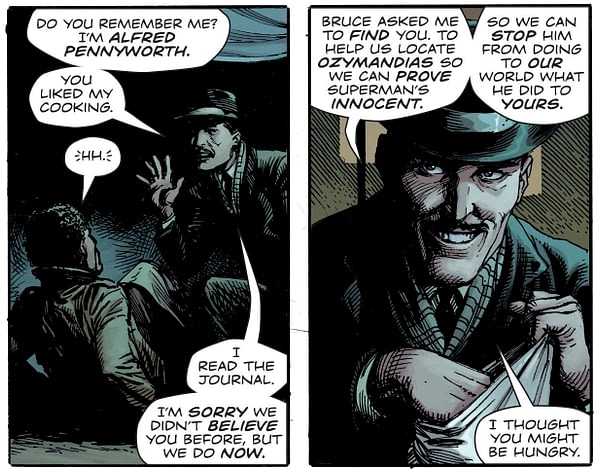 As well as a future version of Batman in Last Knight On Earth…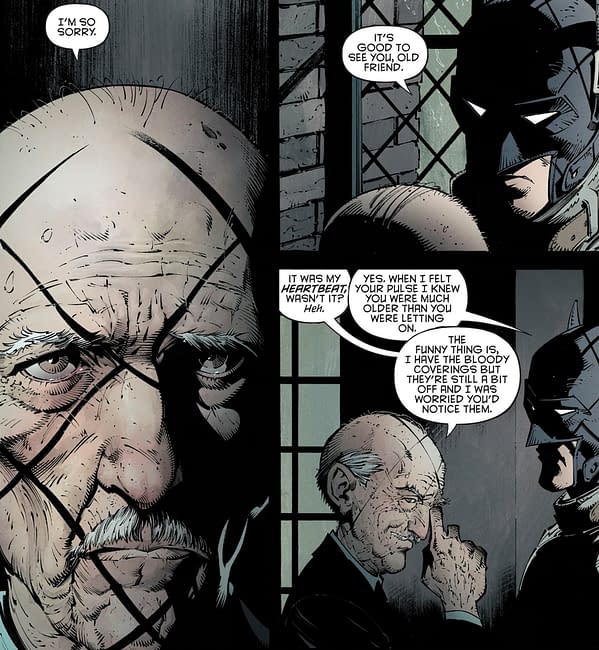 While he also berates Batman over in The Batman's Grave.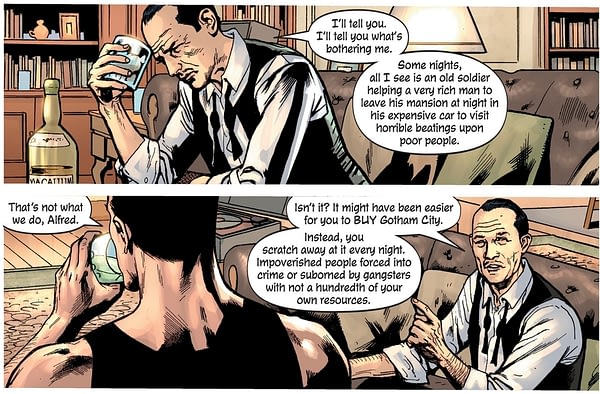 Could any of these be vestigial remains of Alfred's originally having been revealed to be a deliberate feint by Bane for Damian Wayne's benefit?
BATMAN SUPERMAN #3
(W) Joshua Williamson (A/CA) David Marquez
"Who are the Secret Six?" part three! Is Superman the newest member of the Batman Who Laughs' Secret Six? It certainly looks that way, and Batman may be powerless to stop the Man of Steel and his own demented doppelgänger. The Dark Multiverse's most dangerous Bruce Wayne is loose in our world, and he has our world's greatest superhero at his side. Who do you turn to when there's no one to trust?In Shops: Oct 23, 2019 SRP: $3.99

DETECTIVE COMICS #1014 YOTV
(W) Peter J. Tomasi (A/CA) Doug Mahnke, Jaime Mendoza
Nora Fries has been the apple of Mr. Freeze's eye for a long time. For years he has toiled and suffered to try and cure her of her ailments, and bring back the life they had together. He has finally done it, but will Nora Fries be the same person she was when she was frozen? Or is there something broken that can't be fixed?In Shops: Oct 23, 2019 SRP: $3.99