Amazing Spider-Man #850 Previews Kindred-Inspired Green Goblin Return
This September, Marvel Comics is turning Amazing Spider-Man #49 into its legacy numbering Amazing Spider-Man #850, with Norman Osborn returning to the role of the Green Goblin. Of late he has been Iron Patriot and the Red Goblin, combined with Carnage, but it seems that with Kindred on the scene, he is returning to his roots.
Formerly a human sent to Hell, the entity known as Kindred became a demon and rapidly climbed through the ranks. Possessing an intimate familiarity with Peter Parker to the point of affectionately referring to him as "Pete", and Norman Osborn who terrified Kindred when he was human– both as Norman and the Green Goblin. The Bleeding Cool bet is that he is the pre-One More Day version of Harry Osborn who died, and was replaced on Earth by Mephisto by a Harry Osborn who never died. But we'll see.
Anyway, we have a little peek at the scenes from the issue that seem to show Norman Osborn returning to the Green Goblin role, just before the big reveal for that issue.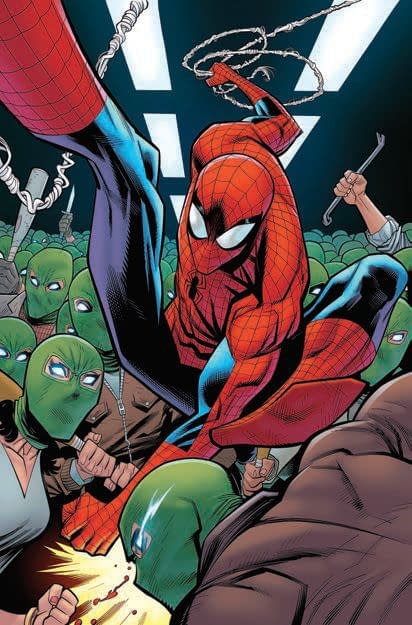 AMAZING SPIDER-MAN #850 (#49)
Written by NICK SPENCER with TRADD MOORE, KURT BUSIEK & SALADIN AHMED
Art by RYAN OTTLEY, HUMBERTO RAMOS & MARK BAGLEY with TRADD MOORE, CHRIS BACHALO & AARON KUDER
Cover by RYAN OTTLEY
AMAZING SPIDER-MAN reaches another landmark and we're celebrating Spider-Style!
As if things weren't bad enough for Spider-Man with Sin-Eater's reign of terror reaching riot level… THE GREEN GOBLIN IS BACK!
Spidey has been through a lot, but even the worst things that have ever happened to Spider-Man have just been a prelude for what happens here, with an epic main story by a veritable Hall of Fame of Spider-Creators.
As if that wasn't enough, this issue also boasts a collection of prestige short stories by Tradd Moore, Kurt Busiek, Chris Bachalo & Saladin Ahmed!