There are three main factors that go into the price of a page of original comic book artwork, the characters shown (and what they are doing), the artist in question (being dead helps) and the age of the artwork.
Which is why it is unusual that a page of Batman: The Dark Prince Charming by Italian artist Enrico Marini published just last year would sell for as high a price of $16,250. But that's just what happened.
When the talent and fame of the Italian Enrico Marini meet the icons of DC Comics, it results in an explosive cocktail of sensuality, action, humor and a touch of madness. Batman desperately searches Gotham City to find traces of little Alina, his presumed daughter, kidnapped by his worst enemy, the Joker. But the Joker does not care, because the girl is the key to meet the decadent needs of his beloved Harley Quinn. The protagonists of this story are gathered in this page with extremely careful construction: a Batman in difficulty, the Joker and his eternal smile followed by Harley Quinn, always ready to watch his back. A very beautiful page in ink, acrylic, and pencil. The image area measures approximately 8.5" x 13.75", and the art is in Excellent condition.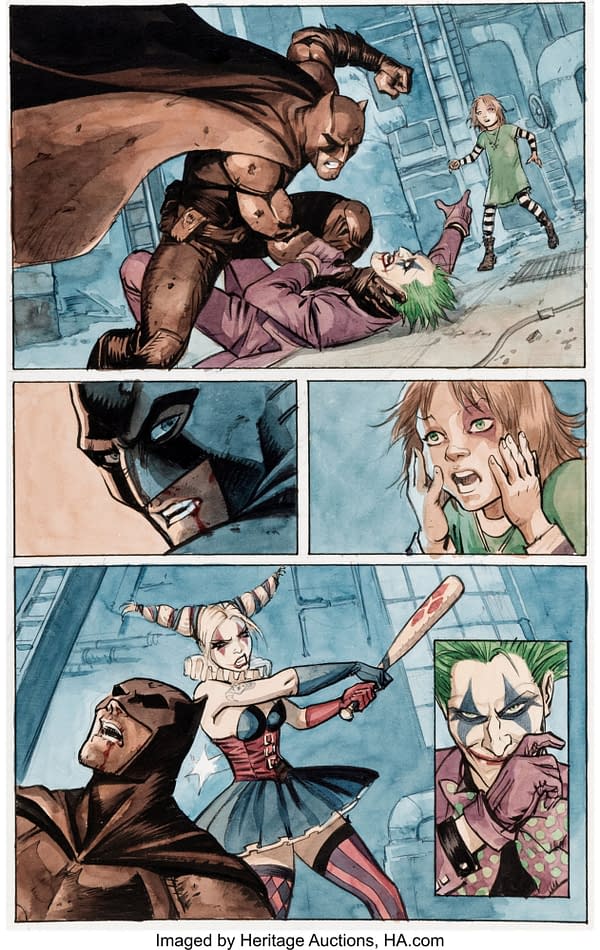 In comparison, an unpublished Harley Quinn illustration by Marini sold for $2365…
Plenty more sales of note at the European Comic Art Signature Auction being held by Heritage Auctions in Dallas – and plenty more to come, I'm sure.
Enjoyed this article? Share it!