US celebrity chef and television personality Anthony Bourdain has been found dead in his hotel room, aged 61. CNN, for whom Bourdain was working at the time, has reported it as a confirmed suicide.
CNN's Jake Tapper has since tweeted:
This is so awful.

Anthony Bourdain, 61, has died. He took his own life.

He was in France working on an upcoming episode of his award-winning CNN series. His close friend Eric Ripert, the French chef, found Bourdain unresponsive in his hotel room Friday morning.

— Jake Tapper (@jaketapper) June 8, 2018
His fame was as a result of his book Kitchen Confidential: Adventures in the Culinary Underbelly, which talked about his own copious drugs use while working as an haute cuisine chef. Two years later, he was making A Cook's Tour for the Food Network and won Emmys for Anthony Bourdain: No Reservations for the Travel Channel. His show Parts Unknown began on CNN in 2013 and is now in its 11th season.
He also became a comic book writer, first for DC Vertigo with two Get Jiro graphic novels, and recently followed its editor-in-chief, Karen Berger, to her new imprint Berger Books at Dark Horse Comics for the series Hungry Ghosts.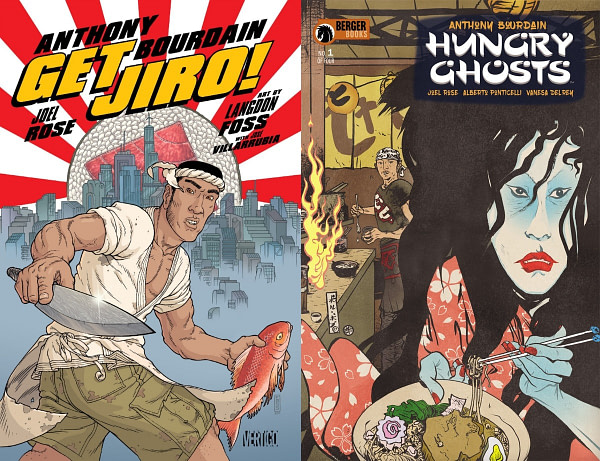 On Late Night with Jimmy Fallon, he told Jimmy that before becoming a chef, he wanted to be an underground cartoonist. He described himself as a comic book collector and a self-described "comic book nerd." But he sold his sizeable collection in the '80s to buy drugs.
He is survived by his daughter, Ariane Bourdain, born in 2007 to his then-wife Ottavia Busia.