Auction Night 2: Wolverine, Luke Cage, and Batman Walk Into a (Very Expensive) Bar…
We covered Thursday's early Comic Connect auctions last night, but as bedtime rolled in on the East Coast, there was plenty of action still to come, highlighted by the first appearances of Wolverine, Swamp Thing, Luke Cage, and Batman. Starting with Wolverine, shortly before 10:00 Eastern, bidding closed on an Incredible Hulk #181 in CGC 9.4 at $2,116 after 27 bids. After some price decline during 2010 on this issue in 9.4, prices started to shoot back up early this year, hitting $3,107 this August; however, since then, auctions have dropped significantly, with two at $2,500 and one at $2,250 since November 1 prior to this auction. Last night's Ghost Rider, Vol. II, #1, came from the Suscha News pedigree and is a beautiful CGC 9.6. After 23 bids, last night's auction closed at $743, four dollars less than the sale in November for a similarly graded Ghost Rider #1. This is an increase for the $700 this copy brought earlier this year, but that's lower than copies of #1 have been going for in years. At least where this comic is concerned, there's no value whatsoever attached to it having come from a well-known collection.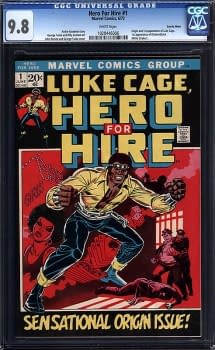 Similar can be said for Hero for Hire #1, which sold last night for $2,477 in CGC 9.8. Also from the Suscha News pedigree, this comic also received no bump in price due to its pedigree status; like Ghost Rider #1, it actually dropped in value, down from the $2,766 spent on the same grade in August of this year.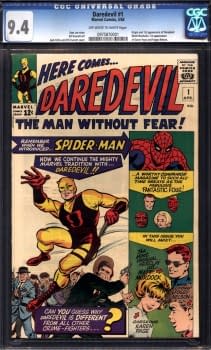 Continuing this theme of price corrections, we have last night's Daredevil #1, graded CGC 9.4. Once again, we have another serious price correction, as Thursday's auction closed at $13,660, down significantly from the $24,750 that a copy in the same grade fetched in June of this year, and the two previous sales in this grade had been for $16,400 and $20,750.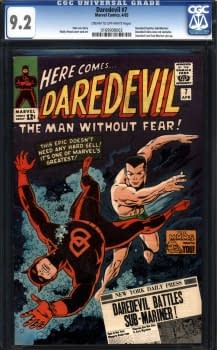 Another noteworthy data point came in the price commanded for Daredevil #7, the first appearance of Daredevil's red costume while also featuring a guest appearance by the Sub-Mariner. Of the ten sales in CGC 9.2, none have gone below $2,390, and that low price was the only one of those ten below $3,500, which makes the $1,877 sale Thursday night somewhat noteworthy — though the cream/off-white page quality designation certainly effected the hammer price.
While not of the same magnitude price-wise as the others mentioned here, Frank Miller's Daredevil #168 also took a price hit last night, selling for $193 in CGC 9.6 condition. By way of comparison, there have been 27 other sales this year of Daredevil #168 in this grade and none of them went below $200, with the average price having been $260.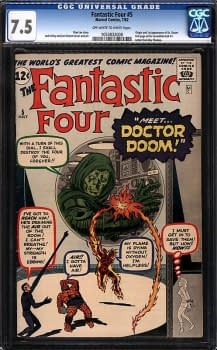 Now, on to a couple of books that saw no such price correction, and we start off with Daredevil's hated foe, Doctor Doom (hey, they fought once – see Daredevil #36-38). Doom made his first appearance in the classic Fantastic Four #5, and a CGC 7.5 copy sold for $4,700. After selling around $2,500 for the majority of sales over this past decade, the price jumped significantly with two recent sales, one in 2010 for $4,481 and again at that exact same price in May of this year. Comic collectors know not to mess with the wrath of Doom.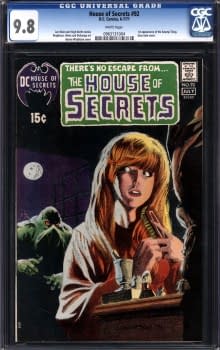 Lastly, continuing to end on an up note, the auctions closing Thursday night also included a House of Secrets #92, the first appearance of Swamp Thing. Coming in at CGC 9.8, the highest graded copy ever, last night's copy went for $7,800, well above the previous high water mark for this issue, which was set last month for a CGC 9.6 copy for $3,107.
As for the third character in the headline, Batman, his first appearance, Detective Comics #27, sold last night with a CGC Restored Grade 8.5 with moderate restoration for $105,000. I will be getting into this sale, along with other restored comics, in an article later today, as doing so here would be comparing apples to oranges. That said, when $105,000 isn't even close to being the highest selling book in an auction, you know the comic world has changed radically in the last few years.