Bruce's Autopsy Of Wally West in Batman #64 – Preview of the Flash/Heroes In Crisis Crossover
As with the last Batman/Flash crossover, "The Button", Tom King has excused himself and let Josh Williamson write the comic. Except of course in this case, rather than a crossover event with DC Rebirth and Watchmen, which Tom King may have thought was a little close to the knuckle, this is a crossover with Tom King's own Heroes In Crisis.
Out on Wednesday, Batman #64 begins with the autopsy of Wally West. Cheery start then.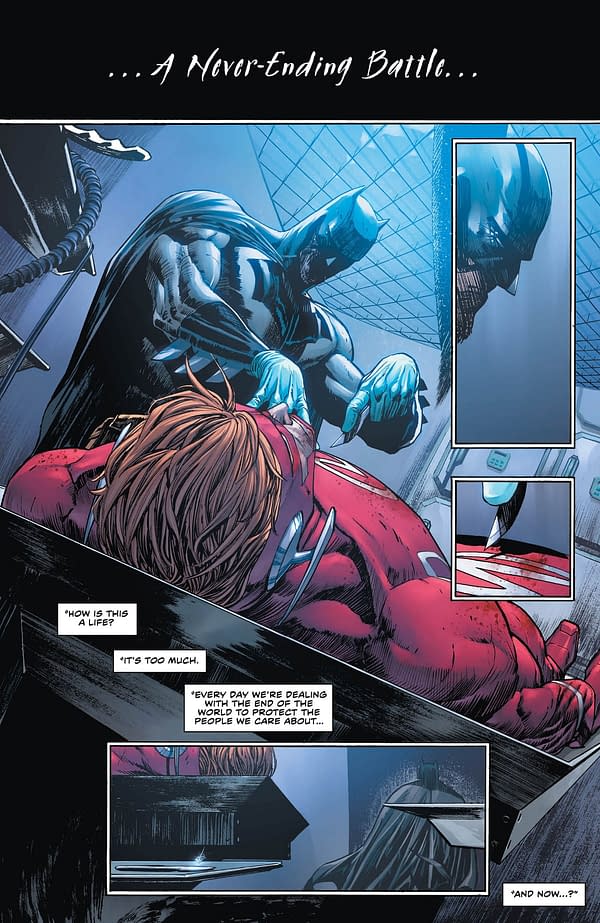 Before jumping to a nice big Justice League double splash page, fighting evil robot duplicates of themselves, the Justice League Of Amazo…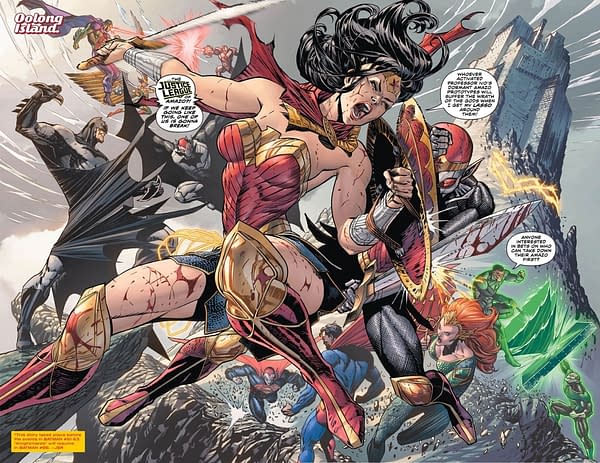 Batman wins, of course.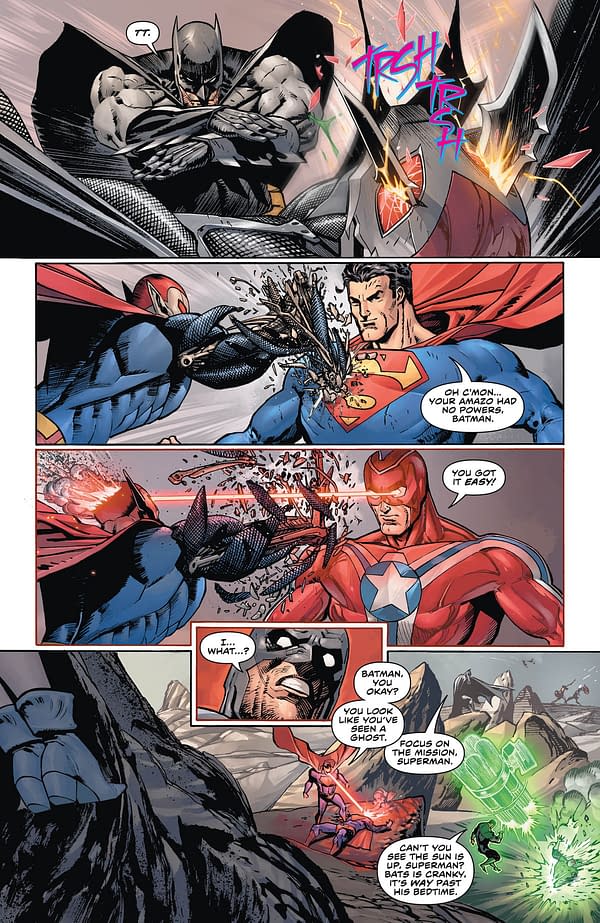 Yeah, that's meant to be The Man Of Steel, not Commander Steel…who is one of the Heroes In Crisis fallen.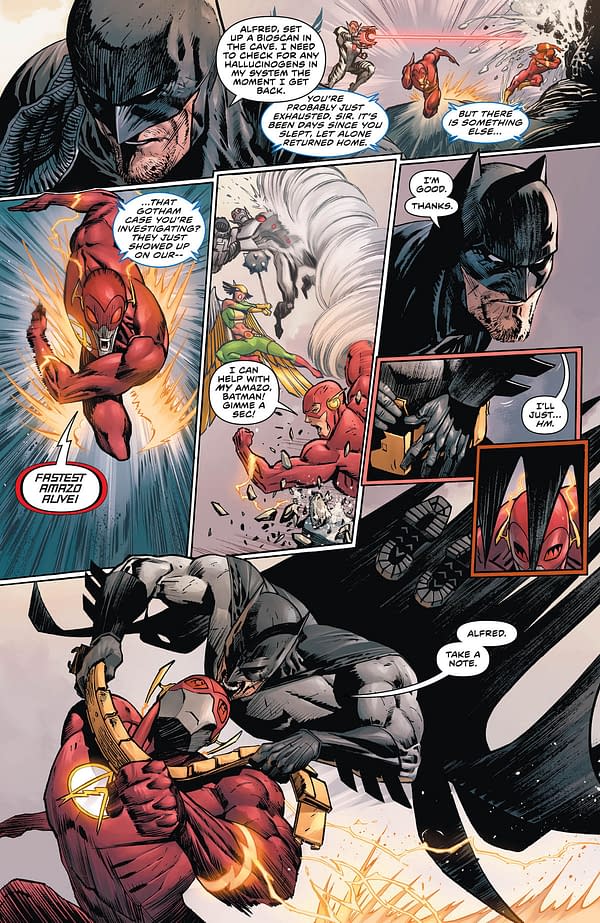 I am now picturing Batman with a CPAP machine under his cowl, you know.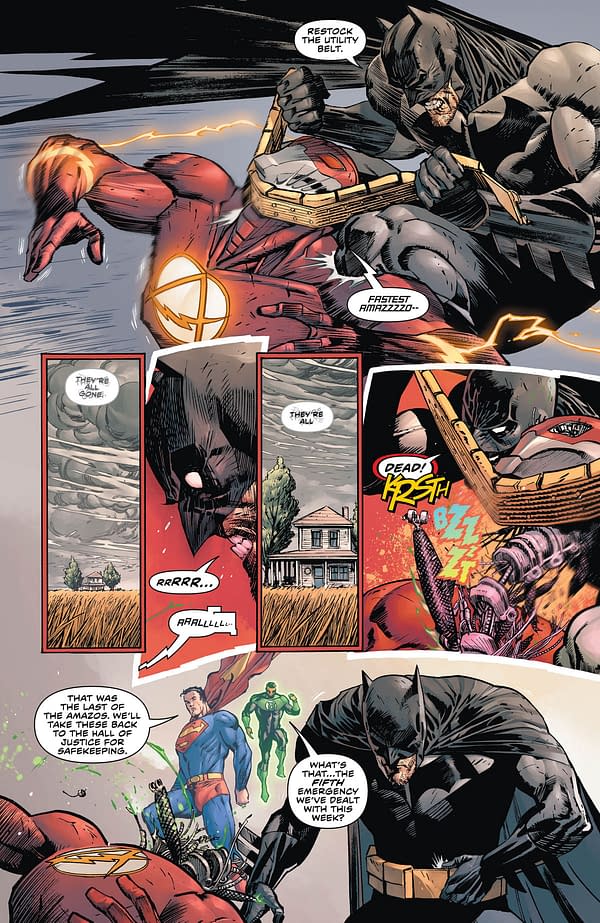 The Sanctuary is haunting him…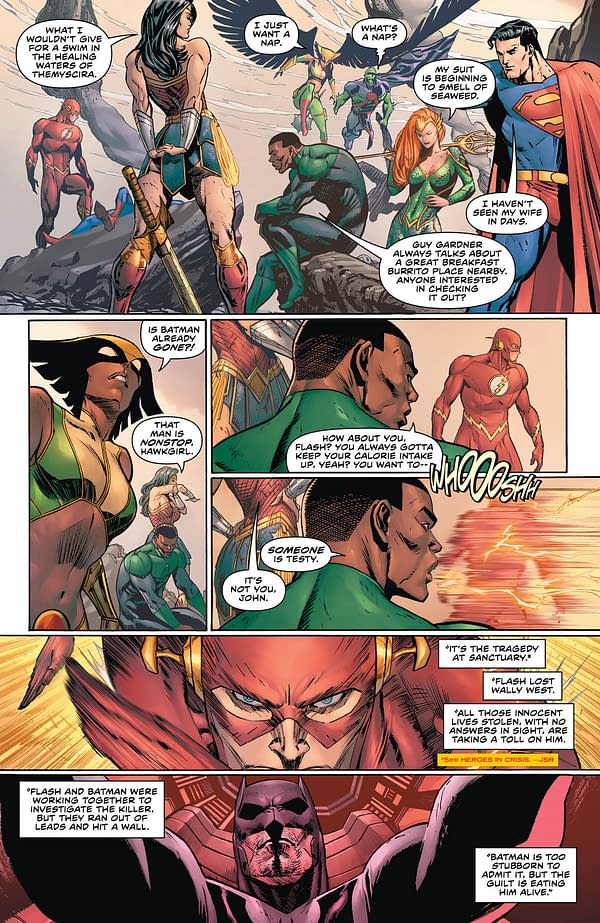 It's quite the contrast, the Batman of the Justice League and the Batman of Gotham…only one of them should really be doing autopsies. They call this crossover "The Price" for a reason.
Now–where's Gotham Girl?
BATMAN #64 THE PRICE
(W) Joshua Williamson (A) Guillem March (CA) Chris Burnham
"THE PRICE" part one! The two greatest detectives in the DC Universe take on the one cold case that will tear them apart!
As chief architect of the Sanctuary program that cost so much for so many, especially Wally West, Batman will be held accountable…by the Flash!
A cold case from the Justice League's past has mysteriously re-opened, and Batman and the Flash-the only two heroes who stand a chance of cracking the case-are at each other's throats! Our heroes must combat a demon from the past while burying their own inner demons in the process…and neither the World's Greatest Detective nor the Fastest Man Alive will ever be the same again! But who is really pulling the strings here? And how does Gotham Girl fit into all this? Friendships will be tested and blood will be spilled in this titanic crossover event…
RATED T+In Shops: Feb 06, 2019
SRP: $3.99