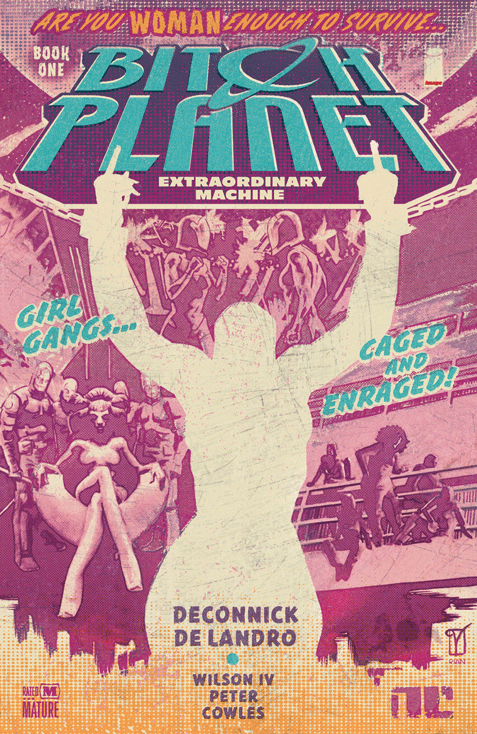 Judd Morse writes from Emerald City Comicon for Bleeding Cool,
"Raise your hand if you can currently see your body, as it is, portrayed in one or more comic books."
Around half of those in the audience raise a hand (the majority of which are women). There's a hum of uncertainty as they look around.
"Okay. Raise your hand if you can say two or more." Most of the hands disappear. Those few still remaining freeze and look around as if caught in the act of something.
"Three or more." There's maybe one or two hands left up now that I can see.
"Four or more?" I can't see any hands up now. Another one of the panelists cracks a joke about hands, and there's maybe a little too much laughter to cover up what's quickly become a kind of tense moment.
"Five or more?" At this point the speaker calls it. "Okay. That's pretty… messed up." More uncomfortable laughter. "But that's why we're having this panel today. It's to really talk about what we need to see in comics, what we see that we really love, and what the risks and what the value is to understanding 'diversity' as more than a buzzword, and embracing it as something that reflects the readership."
That's Casey Gilley speaking. She's a writer, and has done some extensive coverage in portraying diversity prior to the panel.
Gilley turns to her panel and asks them to go down the row, introducing themselves and asking them to give the audience an example of when each panelist first saw a character in some type of media (not just comics, she said, that's too tough right off the bat) that they felt accurately portrayed or represented them.
Ugly Betty, says cartoonist Jen Vaughn. Strangers in Paradise, says writer Tini Howard.
Valentine De Landro, artist on Bitch Planet, arrives a little late on stage, but wastes no time in answering once the question is presented; Franklin from Charlie Brown. "I discovered him around the same time that I became 'aware' of my blackness, I'd say." That connection definitely didn't come from superheroes, said De Landro. "They gave us Black Vulcan… He sssucks."
After the introductions are finished, Gilley asks the panel to talk about some of the personal connections they've made with fans or their work as a byproduct of creating more diversity in their work. One of the panelists, a creator from Lion Forge, talks about how she's undergone some health issues, and as a result has fluctuated in weight rather dramatically. It's resulted in stretchmarks on her body, and those stretchmarks have made it onto the bodies of her characters as well.
Tini Howard points out that diversity isn't just about body size/shape. Age is also a factor. Female characters in mainstream comics tend to be either 25 and under, or old crones. The panel agrees, and later a handful of "matronly" characters are named as positive examples.
From there the discussion leads to diversity in race as well. A member of the audience asks if it's sometimes easier for characters to perhaps attain a diverse shape or presence if they're not white? Is it easier to promote more body diversity if there's more racial diversity? And why is that?
De Landro responds first, and talks about how, when he used to do more of the work-for-hire art gigs, he would sometimes get some editorial pushback when he tried to use different body shapes and sizes. But his current work on Bitch Planet is now the exact opposite, he explains. It gives him a platform, and lets him relish in the chance to more fully explore the beauty of the human form. In Bitch Planet, the diversity of bodies and races are the starting point.
IDW group editor Sarah Gaydos points out that diversity also makes good market sense. The more the industry can branch out and cater to the imaginations of a larger population, the more readers the industry will pick up, and the more comics will be put out there. Gaydos says at one point she's even gone so far as to bring in consultants to help herself and her creative teams gain a greater insight on areas of culture they may be unfamiliar with.
Throughout the course of the discussions, different books are thrown out so quickly that I can't hope to keep track of them. Leah, a retailer from a conservative area in Texas, was one of several panelists to recommend the Hernandez brothers' Love & Rockets. Strangers in Paradise is recommended several times. Jade St. Protection Services, Will Somebody Please Have Sex With Me?, My Body Called Fat, California Dreaming, more that I can't remember.
The panel goes fast and hard right until the very end. They manage to get through everyone's questions, just barely. As everyone is standing up to leave, one of the women on the panel leans into her mic and simply says "I think you're all beautiful," as a kind of parting benediction.
I leave awash in thoughts of gender and size and racial diversity, and how changing the norm always seems like such a challenge until you realize that it's already happening, and we just have to help it along.
And then I go buy the first volume of Bitch Planet.
Enjoyed this article? Share it!