Brian Michael Bendis Finally Does Right by Armadillo (Jessica Jones #18 Spoilers)
Brian Michael Bendis has been accused of playing fast and loose with Marvel Comics continuity, ignoring plots and character progression in other titles that may affect the characters he uses to tell his stories. But he is pretty good with his own continuity. Mostly.
And over 2017, Bendis used bit-villain Armadillo a lot. Across his titles, when you needed a stand-in baddie, Bendis through in the Armadillo to get beaten up, often with some comment about why a grown man would dress up as an armadillo.
Created by Mark Gruenwald, Paul Neary, and Dennis Janke, the character made his first appearance in Captain America #308 in 1985. Gruenwald said that he was just "a silly monster I wanted to throw in as kind of a joke on the old Marvel armadillo thing in the letters page." Even his creation was one of ignominy.
But rather than wearing an Armadillo suit, a scientist merged his human genes with those of an armadillo. His original motivation into crime was to get raise money for medical research on his girlfriend's health condition — and then to revert his form.
He became part of the Unlimited Class Wrestling Federation and was later arrested, serving his time in the Vault and not engaging in breakouts. On release, he went back into wrestling before becoming homeless. His first criminal gig saw him incarcerated in the Raft. He then joined a 12-step group dedicated to helping individuals overcome their criminal tendencies.
It didn't seem to take, but he would join the Avengers' Fifty State Initiative, for Texas and helped save the President's life. He returned to wrestling, was recruited by MODOK, and generally bumbles around being arrested, getting involved with gangs and reforming again. In Secret Empire, he joins Hydra seeking a cure, but is shamed out of it by Captain America, who shamed him back about his lack of cure.
In today's Jessica Jones #18, Bendis's final issue, he is putting a lot of his toys back in boxes. Including what he's been doing with Armadillo across his books.
Miles Morales on the Brooklyn Bridge, in Spider-Man.
Peter Parker in Spider-Men II...
The Thing on the Brooklyn Bridge in Guardians of the Galaxy — man, Armadillo should really stay away from there.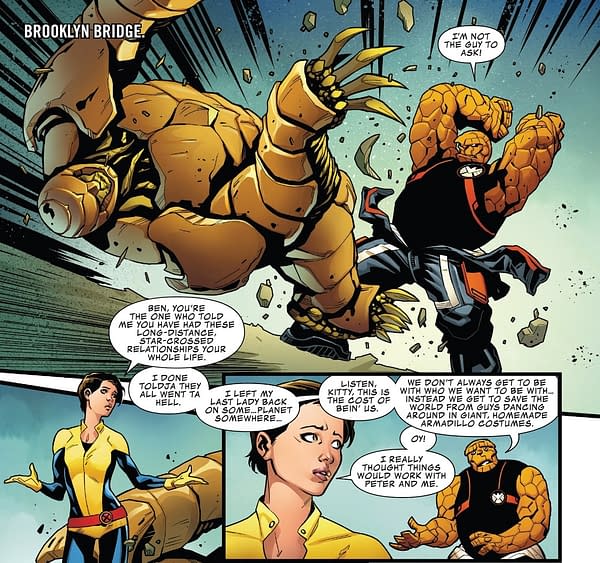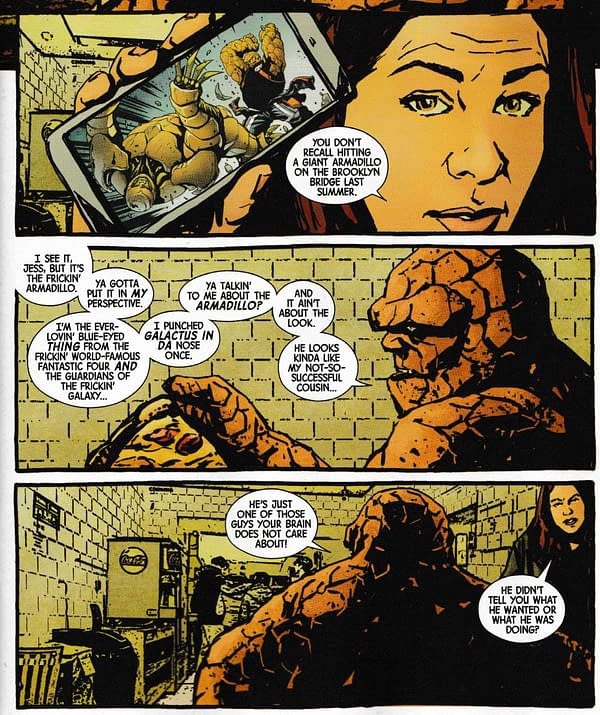 Her husband, Luke Cage in Harlem in Jessica Jones…
And in Philadelphia in Invincible Iron Man.
I mean, she didn't ask Groot, but you know what he would say.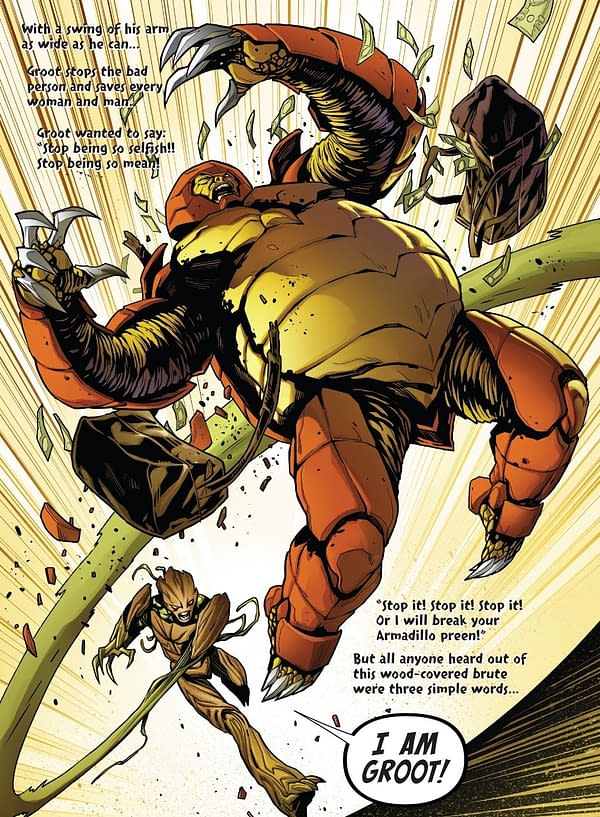 Every time, the joke. The butt. The man in an armadillo costume, having his butt handed to him. Except today…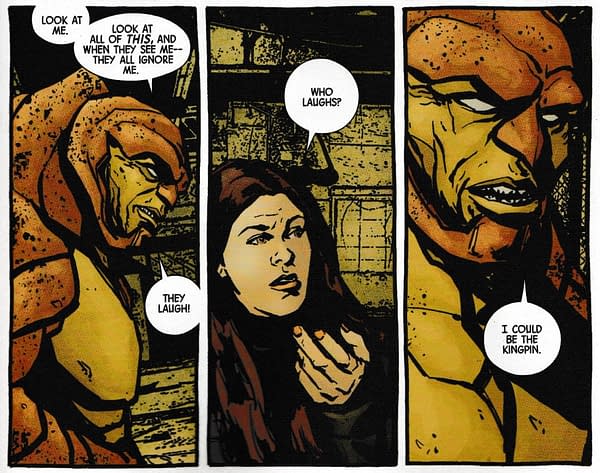 JESSICA JONES #18
(W) Brian Michael Bendis (A) Michael Gaydos (CA) David Mack
• As the creators of Jessica Jones leave her to an all-new team next issue, they bid her farewell with one last very special story – a truly incredible tale that no one ever gets to see.
• Be here for an unforgettable issue that ties threads together from all over the amazing Marvel Universe.
Parental Advisory In Shops: Mar 28, 2018
SRP: $3.99
Brian, Michael, and David are gone… but who will replace them?