Once upon a time, they both worked together on the Ultimate Universe at Marvel Comics, writing Ultimate Fantastic Four together.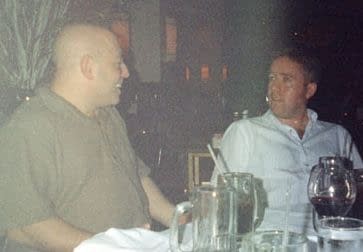 Both were favoured sons of Marvel. Brian Michael Bendis brought all his Jinxworld creator-owned comics to Marvel and joined the Creative Committee, driving the future of the publisher. Until recently he switched to DC Comics, taking on the Superman books and bringing all his creator-owned comics to DC as well.
Mark Millar was also a Marvel guiding missile, but also created Millarworld, publishing comics across different publishers, Dark Horse, Avatar, Top Cow and Image Comics before concentrating on Image and Marvel when artists were exclusive to that publisher, leaving all his work-for-hire behind. And now he has changed everything again, selling Millarworld to Netflix and making it all work-for-hire again.
And on Saturday, April 7th at C2E2., they will be going head-to-head discussing the industry and their own careers at the following panel. We expect Bleeding Cool will be barred at the door…
oh, it's happening! we get to find out if mark remembers ever meeting or working with me :) https://t.co/SJ5LlgbT8V

— BRIAN MICHAEL BENDIS (@BRIANMBENDIS) March 8, 2018
Brian Michael Bendis & Mark Millar One-on-One: Industry Giants in Conversation

Saturday 4/7

11:00 AM – 12:00 PM

The C2E2 Main Stage presents a once-in-a-lifetime dream panel. Join two of the most iconic names in the comic book universe, on stage together! Be there for a candid one-on-one conversation with these two creative titans as they discuss their monumental careers and incredible creations.
Enjoyed this article? Share it!