Hykrania Needs Bernie Sanders, but Red Sonja Will Have to Do in Red Sonja #14 [Extended Preview]
By this time tomorrow, the United States will likely know where it stands in terms of the next presidential election. Will socialist hero Bernie Sanders win enough delegates to prevent the DNC from stealing the nomination from him and handing it to senile grandpa Joe Biden? Or will a vast conspiracy once again subvert the will of their own voters and screw Bernie over because, when it comes down to it, party elites stand to profit more from another four years of Trump presidency than they do with Bernie serving the interests of poor and middle class? Well, we're trying to keep it neutral and unbiased here at Bleeding Cool, so we won't comment one way or the other.
But while America will have some answers, Hykrania will have none, as we see in this EX-X-XCLUSIVE EX-X-XTENDED preview of Red Sonja #14… er, after scrolling past all the variant covers.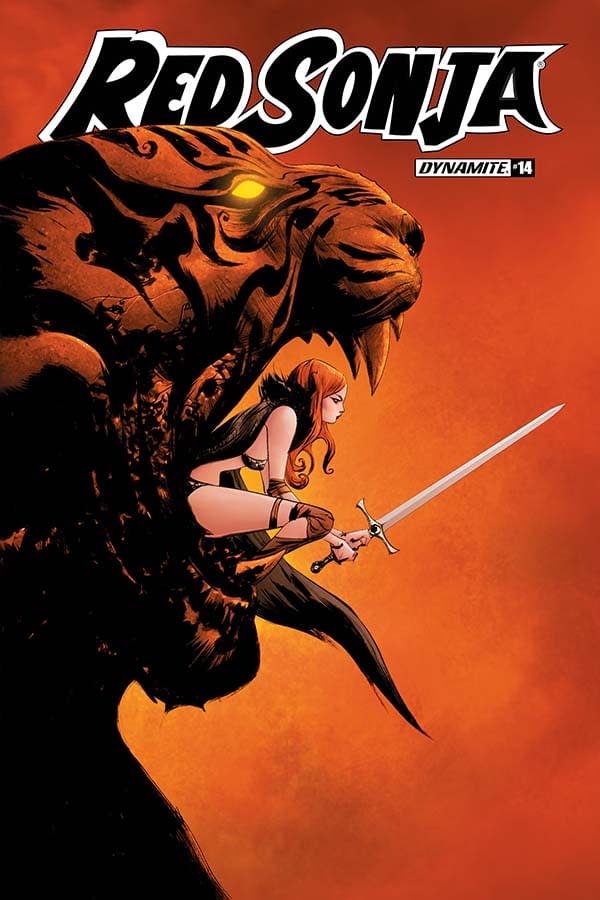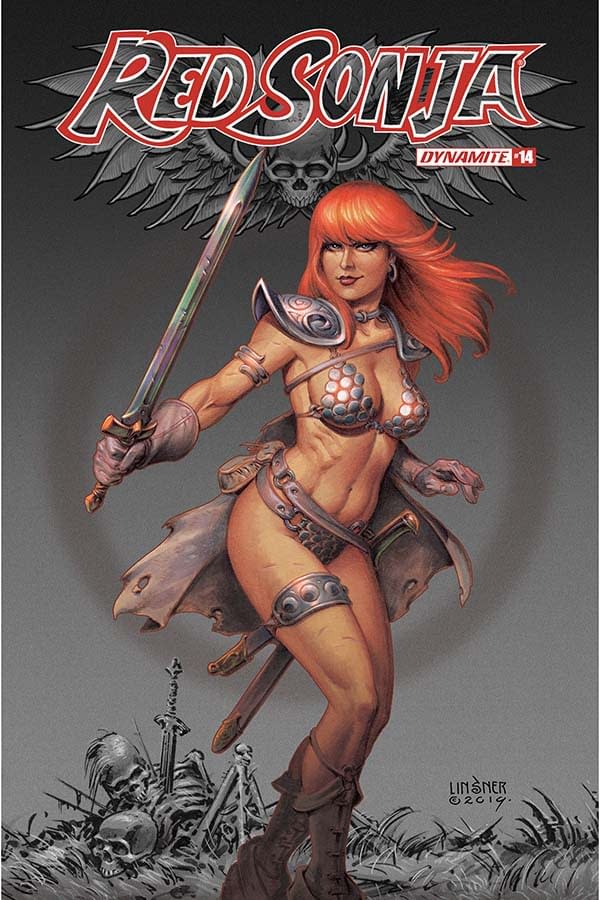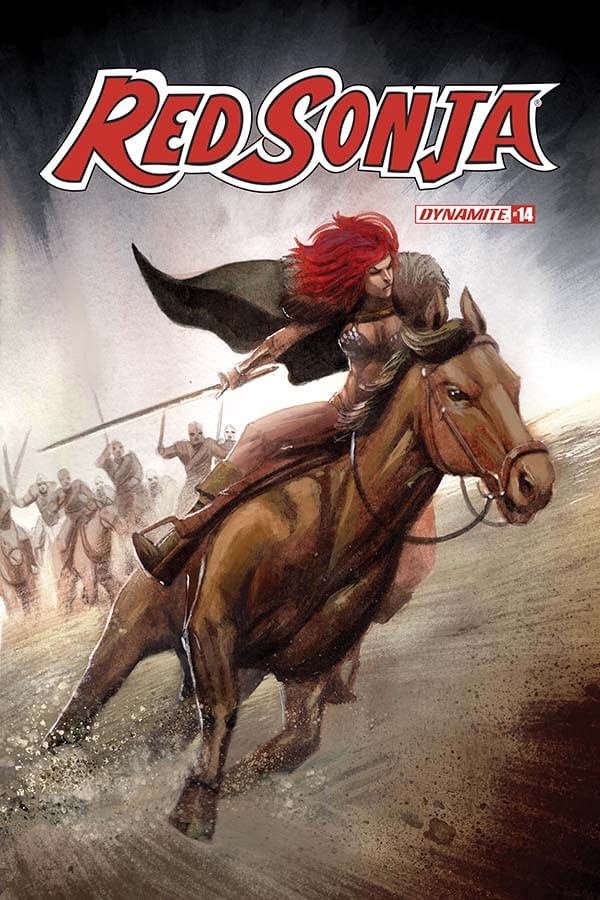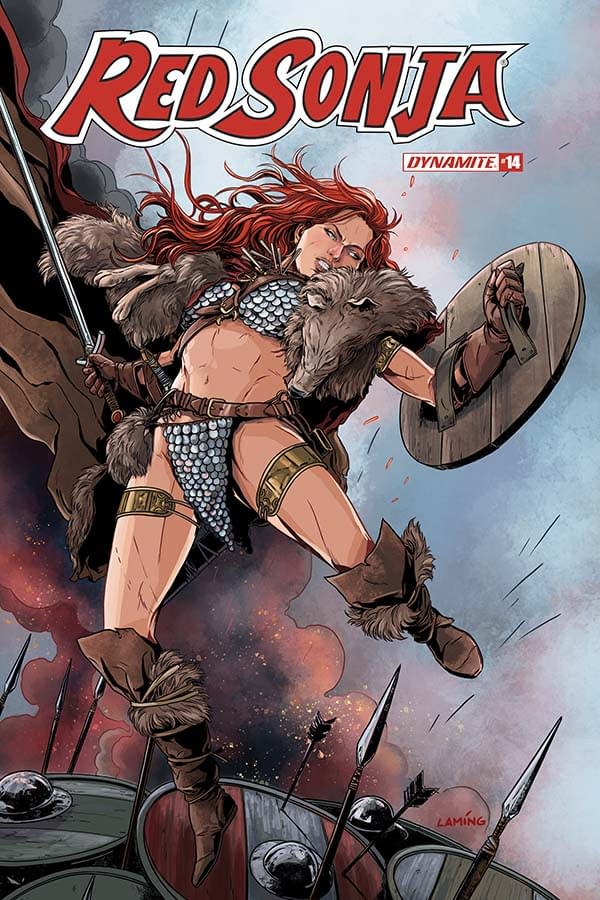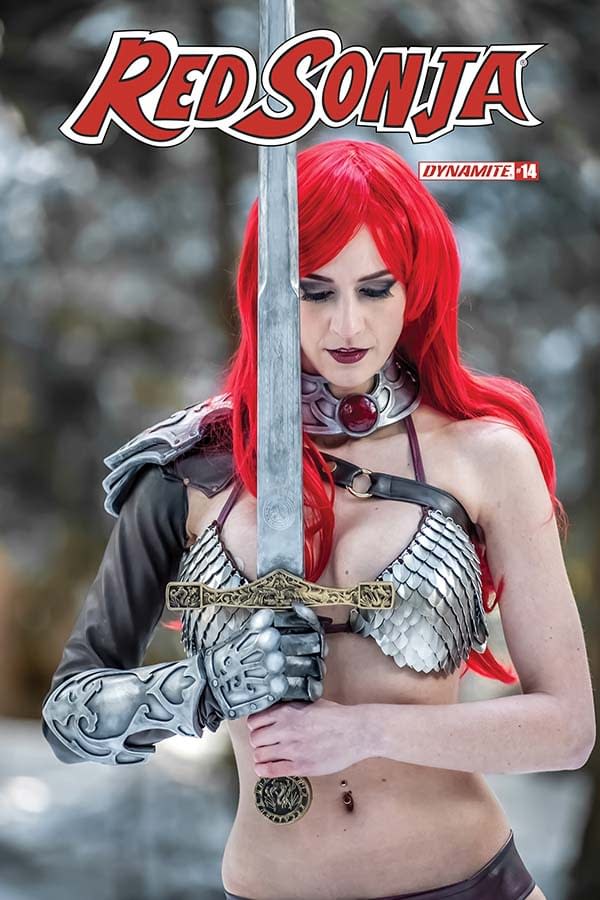 With Red Sonja off to Khitai to find funding for all of her social welfare programs such as feeding people, Regent Isolde holds court.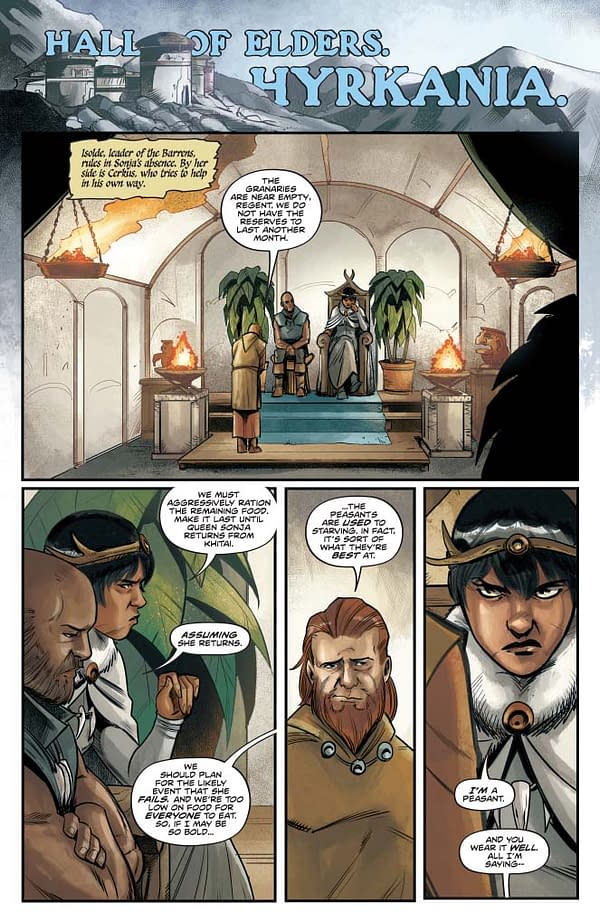 Unfortunately, starvation looms in Hykrania, and it's not a pretty sight.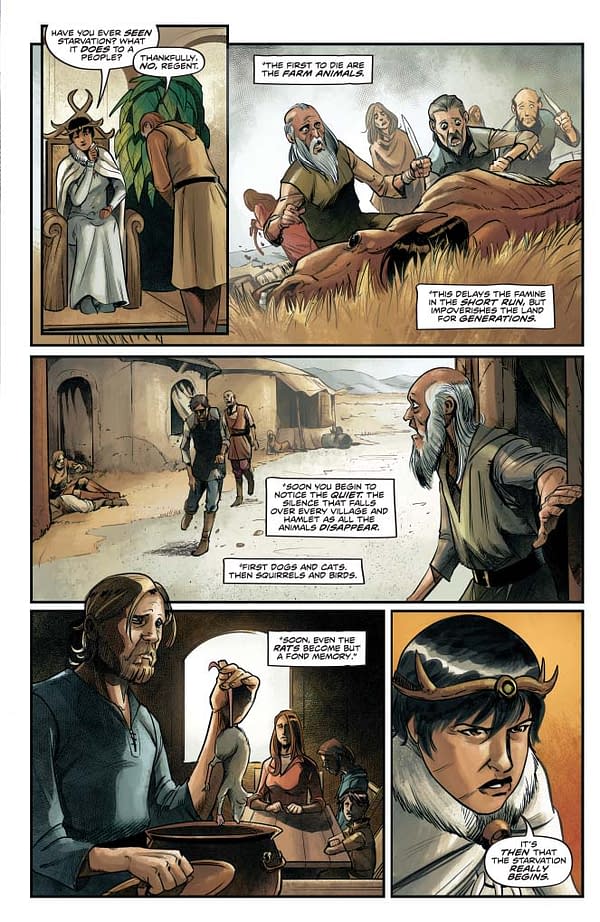 Though from what we hear, the Hykranian stock market is absolutely booming. So are things really that bad?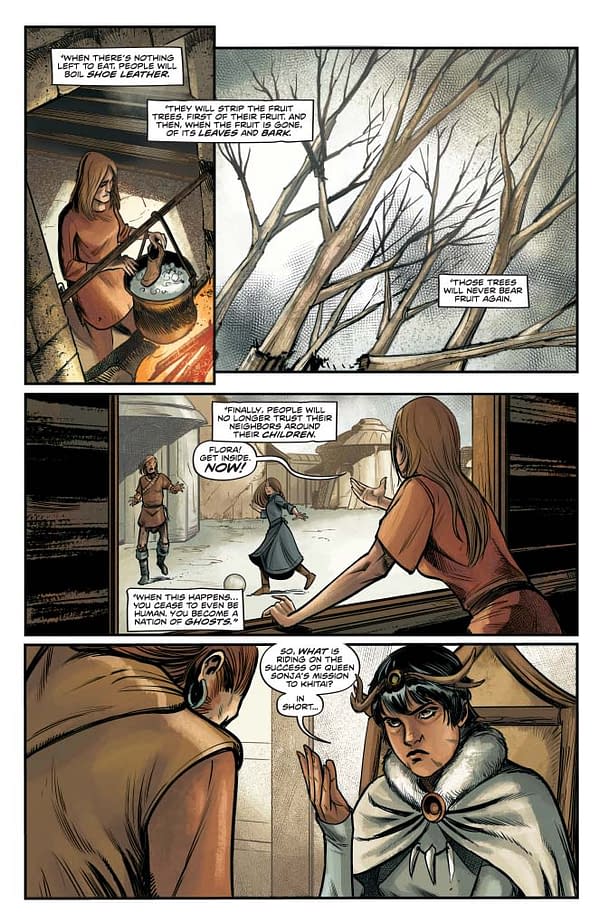 Meanwhile, Sonja and her delegation are brought to an audience with Prince Cyril.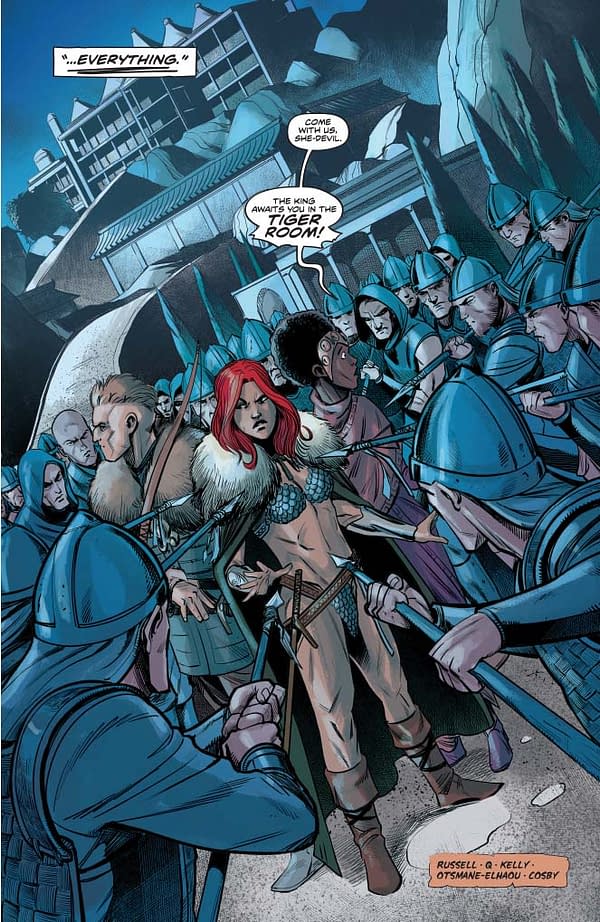 And the Prince seems relatively happy to see her.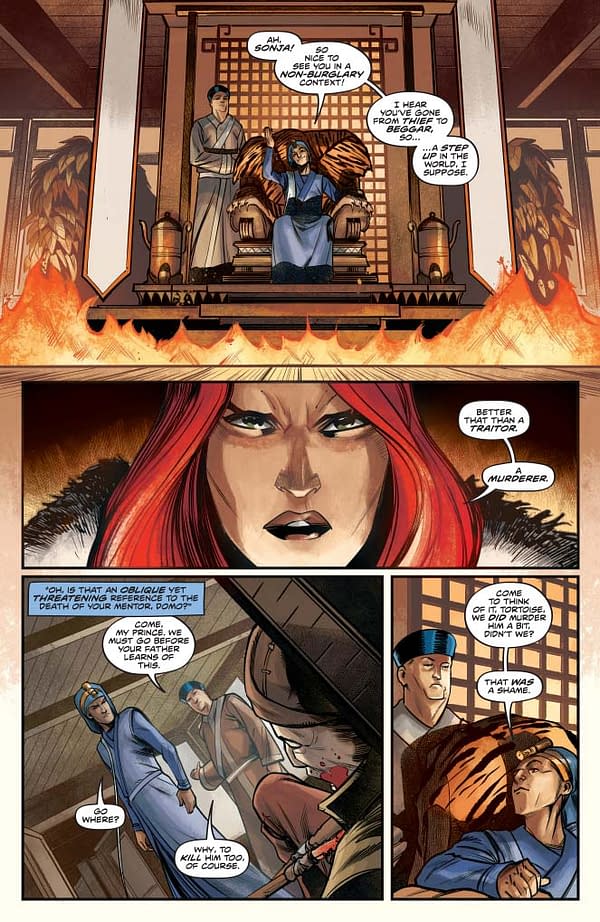 Which may be due to the fact that Sonja is at his mercy…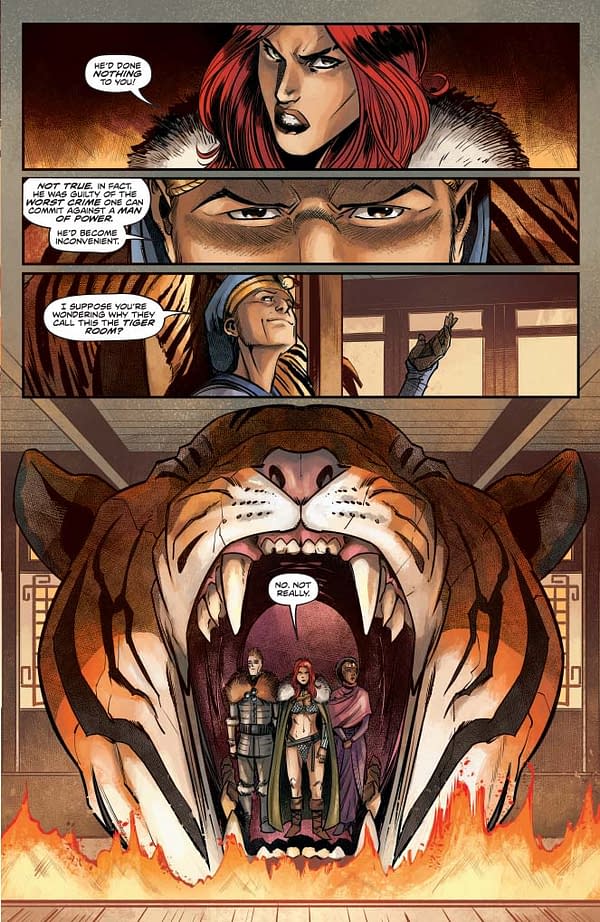 …literally seconds away from being crushed by the tiger's jaw.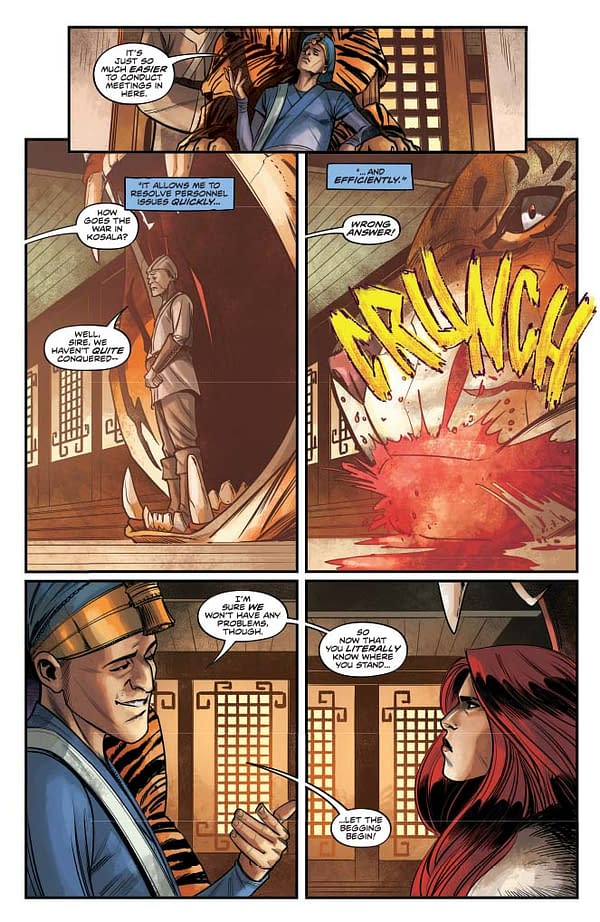 In other news, a giant tiger jaw is set to be the stage for the next Democratic Debate. Red Sonja #14 is in stores tomorrow… pick one up, but today, go out and vote for Bernie… unless you want to be boiling shoe leather this time next year.
Red Sonja (Vol.5) #14
writer: Mark Russell
artist: Bob Q
covers: Jae Lee (A)
Joseph Michael Linsner (B)
Bob Q (C)
Marc Laming (D)
Katy DeCobray Cosplay Variant (E)
Juan Gedeon "Zombie" Variant (RI)
Pepoy "Seduction" Cover (RI)
Juan Gedeon "Zombie" Variant (RI/Virgin)
Jae Lee (RI-B/W)
Joseph Michael Linsner (RI-B/W)
Bob Q (RI-Virgin)
Pepoy "Seduction" Cover (RI-B/W)
FC | 32 pages | Sword and Sorcery | $3.99 | Teen+
The epic continues. Sonja is queen but has nothing. She will wager everything to save her people. From MARK RUSSELL (Year of The Villain) and BOB Q (Captain America). And if you read Red Sonja, be sure to pick up KILLING RED SONJA #1, on sale in March.