Black Mirror Bandersnatch Comics On 'Sale'- But No One Can Open the Doors to the Shops…
London and Birmingham have seen two pop-up stores appear in the New Year to promote Black Mirror: Bandersnatch, the new Netflix interactive version of the streaming sci-fi anthology TV show from Charlie Brooker.
Both locations recreate a store from 1984, when the show is set and when the release of the very real Bandersnatch game from Imagine was meant to have been for the Spectrum.
Tucker's Newsagent & Games refers to Tuckersoft, the fictional version of Imagine from the show… which means amongst all the things on display are a number of Black Mirror comic books, with covers displaying scenes from previous episodes of the show.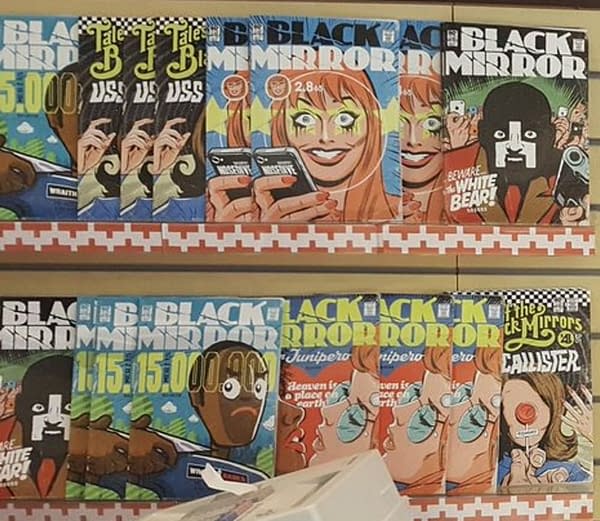 Now they are likely to be blank on the inside, covers created purely for display purposes. But without stepping inside the store we'll never really know. And the doors remain closed. Would Black Mirror and Netflix have created fully realised comic books/magazines that would never be seen just for the promotional gag? Maybe under the covers, it's just issues from Nightmare World…