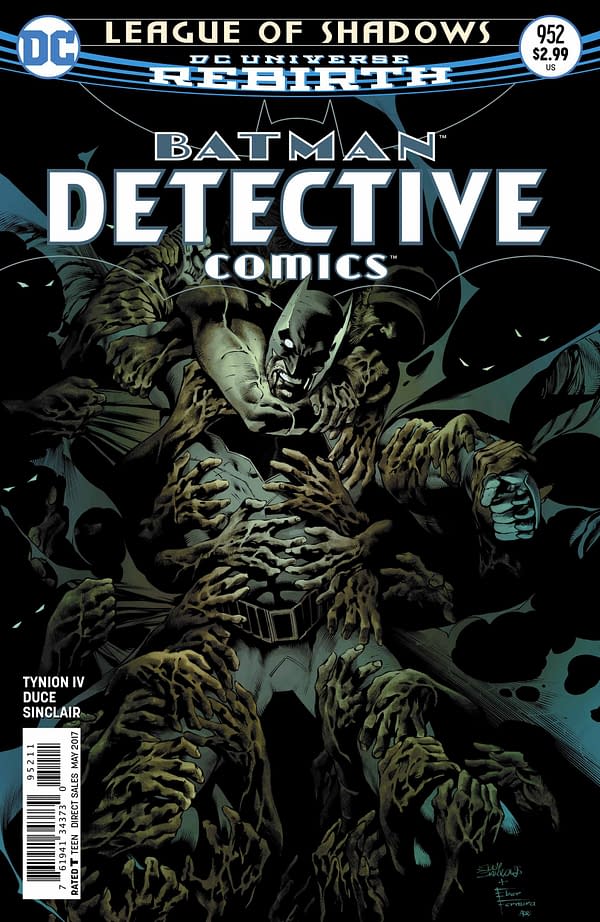 This is the Top Ten Bleeding Cool Bestseller List, as compiled by a number of comic stores from their sales on Wednesday and Thursday. It measures what are known as the "Wednesday Warriors", those who can't wait to the weekend to get this week's comics. We salute you, and the keenness you bring to your passion.
Seven DC, three Marvel and Old Man Logan given a little fillip by the movie. And DC Rebirth continues to push comics that performed less well previously higher up the top ten. And at the top? Back to the bat.
Detective Comics #952
Justice League Of America #2
Action Comics #975
Flash #18
IVX #6
Old Man Logan #19
Wonder Woman #18
Titans #9
Suicide Squad #13
Star Wars: Doctor Aphra #5
Thanks to the following retailers
Who had to say,
Nine DCs in our top ten, along with one Boom! title (the superb Grass Kings #1). The highest-ranking Marvel, Doctor Aphra #5, came in at 12th place in our store'sWednesday sales. Even the popularity of the Logan film couldn't push Old Man Logan #19 any higher than 15th place in our store. It's going to be a real uphill struggle for Marvel to regain readers at this point.

Strong interest in 80s/90s Batman and Flash books this week, along with increased demand for early Legion appearances (inspired, no doubt, by the Legion TV series).

—-
You say Logan and they come a running. Logan was the hottest property in the store followed by X-23. WE sold a ton of Superman and Deadpool books. However didn't make our top ten. We saw our best sell through week in our 8 year history. In two days we had sold over 75% of our inventory for new issues. It's a Great time to be a comic book store owner.

—-

Small week, but delinquent subscribers are finally showing up after the post-Christmas slump. (Which happens every year, so stores should be ready for it.) Not much to say about this week, business is usual. DC is on top. Marvel continues to slide. Old Man Logan did well, but not any better than usual, even with a movie going. Really, it sells because it's a well-done book. (Okay, it had a little bump from the awesome Venom variant. Lots of fun.) I still say DC is going to find out just how good an idea "Holding the Line at $2.99" was (despite what Marvel and some retailers claim about "leaving money on the table") when the sales on the books that they are bumping up to $3.99 dive off a cliff next month (or more likely, the month after). Mark my words. This will show in reverse what Marvel's numbers could possibly look like if they had kept the price down (and actually used their popular characters).

—–

For the first time this year Marvel only had ONE title in the top 10 this week. This store has traditionally been a Marvel store, but this isn't shocking given the lack of interest in the majority of the titles. Another first, Action Comics outsold Detective Comics because everyone is hella into the "Superman: Reborn" storyline. Dept H and Ether have cultivated a a bit of a Matt Kindt following here , so it's not a surprise that Grass Kings was a hit and is wonderful to see a Boom title in the top this week. Slight grievance that we hadn't ordered more of Man-Thing because it definitely would've been in the top 10 if we had more rack copies.

—–

A small, slow week. It would've been a good opportunity for Marvel or DC to throw a heavy hitter in like Amazing Spider-Man #25 or All Star Batman #8 to beef up their stats, but instead they're overcrowding next week. You'd think they'd have the ability to stagger the release dates to even out weekly volume at this point, but it doesn't affect them (or they think it doesn't) so they don't try too hard.

—–

Inhumans vs X-men had a strong spike as people were excited to see the conclusion and the hype is building for X-men Blue and Gold. Who would have thought we had so many musical fans, but Alexander Hamilton was gone from stock Wednesdayafternoon. Grass Kings debuted strong presumably based on Matt Kindt's reputation as a great author. Venomized variants are doing great across the board except for the cartoony Old Man Logan. Why wasn't that one Clayton Crain or Mike Deodato Jr?

Spawn. I can't keep Spawn in stock. In 2017.

—–

Good sales for a slow release week. Most customers took advantage of the slump to pick up TPBs. DC heavies took four of the top five. Detective, Action, WW, and JLA, with IVX being our #3 of the week. Bottom five is an even split of BigTwo books with Astro City in the middle (yes, its Vertigo but, not DCU.) Old Man Logan was our #6 of the week. This and Age of Ultron are about the only Marvel movies to have an impact on sales. Will these buyers be around for the next issue? I assume not. I never thought I would see the day Unbeatable Squirrel Girl outsells Captain America. Man-Thing had the best debut in a while but not enough for top ten numbers. My favorite book of the week was Grass Kings. I miss Peter Panzerfaust and Tyler Jenkins art is fantastic.

—–

The DC books absolutely demolished other publishers this week at FFF. Our Top Ten was #1 JLA, #2 Detective Comics, #3 Action Comics, #4 Flash, #5 the conclusion of IVX, #6 Justice League/Power Rangers, #7 Wonder Woman, #8 Hal Jordan & the Green Lantern Corps., #9 Suicide Squad, and rounding out the DC domination was Superwoman at #10. Only one Marvel book managed to break the Top Ten and two to make it into the Top 20 and while we usually have one or two indie books sell well, only three managed to make the top twenty. Meanwhile, DC had a staggering 14 books in the Top 20 (including Batman #18 which came out the previous week).
It's hard to tell if Marvel is actually trying to be new and different and is just tone deaf to what readers want, or if they're just going through the motions and waiting until the next relaunch to really get back in the game and put actual effort and heart into their line. The Marvel books that we actually managed to push this week were all X-related and all promise change that people actually want. IVX as a whole was a hot mess but the ending (and ResurrXion) promises a return to prominence for Marvel's Merry Mutants. The other two Marvel books, which came close to the Top Ten at 11th and 12th place were All-New Wolverine and Old Man Logan respectively. It doesn't take the eighth smartest person in the world to figure out why those books sold so high this week. They're two of the stronger books to come out of the House of (recently not great) Ideas so I'm hoping they can keep the interest of new people. As for the other books they put out this week, Spider-Man/Deadpool was doing well, but this crossover may kill a healthy book. People who normally pick it up are passing on it and I'm honestly not sure if they'll be back when the regular story starts back up. The rest of Marvel's usual sellers have slowed down considerably and books that were doing great when they first came out, are barely selling off the shelf. R.L. Stine's star power couldn't help push his comic debut and while we ordered heavy, we sold very few. The sad thing is, it's no longer a shock to see a Marvel #1 end up as a flop these days. On a positive note, one of our employees did enjoy the book despite the negative reviews (but he also enjoyed Howard the Duck). Oh Paul!
For the indie scene the big sellers were Walking Dead #163 (still doing well thanks to the 25 cent price tag), Paper Girls #12, and Walking Dead #165 in the very last place, also from last week. I hate to say it, but it looks like the "jump on" issue didn't do a ton to bring in new readers yet, other than give people a cheap read while they wait for the next trade. The big new books of the week, Grass Kings and Redline did okay sales wise, but they just didn't get the same push or success that books like God Country and Curse Words enjoyed.
Logan did wonders for our trade and back issues sales. Wolverine and X-23 back issues have been flying out of the long boxes. Even stories that have nothing to do with Old Man Logan. Legion stories (New Mutants and X-Men Legacy) saw an increase as well as the show seems to have found it's place on the small screen. Spawn has also picked back up in the back issue department which is interesting and probably means something, I just don't know what. Of course, Walking Dead, Saga, Amazing, and Batman always sell a decent amount of back issues, just like every week.
—
Better than last week. Old Man Logan and Captain America Steve Rogers made it into the top ten for Marvel. Rest went to DC.
Silver Surfer back issues were in demand this week. Shocked the heck out of me
Enjoyed this article? Share it!