Bleeding Cool Bestseller List, 19th March 2017 – "Shame On Marvel For These $9.99 Single Issue Pricing Stunts"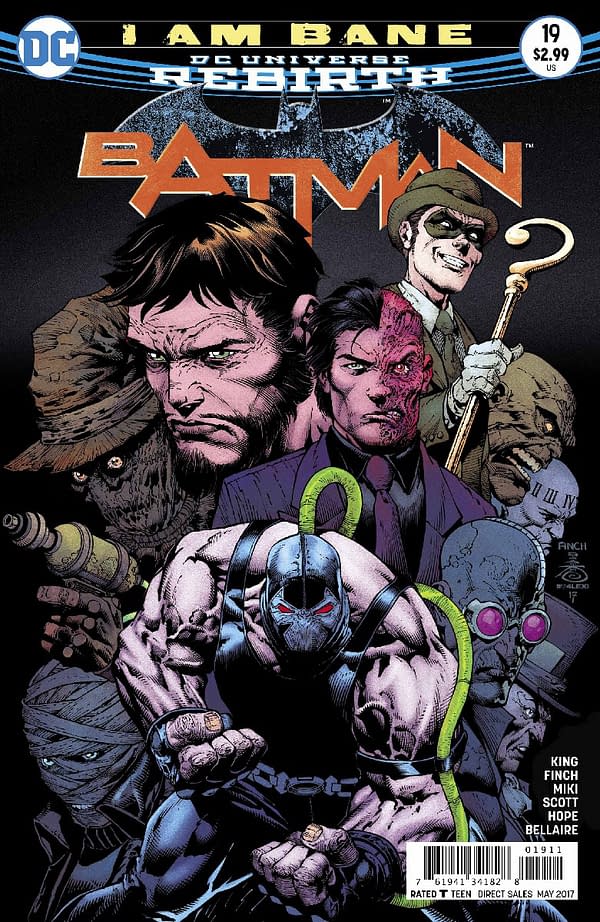 This is the Top Ten Bleeding Cool Bestseller List, as compiled by a number of comic stores from their sales on Wednesday and Thursday. It measures what are known as the "Wednesday Warriors", those who can't wait to the weekend to get this week's comics. We salute you, and the keenness you bring to your passion.
Detective Comics and Batman continue to top the chart, week in and week out. And DC as a whole dominates the top ten, but Amazing Spider-Man, Sex Criminals and Mighty Thor provide some relief from DC dominance…
Batman #19
Superman #19
All Star Batman #8
Justice League #17
Super Sons #2
Amazing Spider-Man #25
Sex Criminals #17
Mighty Thor #17
Batwoman #1
Trinity #7
Thanks to the following retailers
Who had this to say
God Country is a thing. A few out of down customers visited us because we ordered heavy, but not heavy enough. I am happy that the multiple printings are rolling out quickly. Image has always been very good at that. The Amazing Spiderman #25 was our number 9 top seller (ranked by units sold) so the $9.99 cover price was very kind on our cash register. Trinity sales are still strong but something would be wrong if a book featuring the 3 most popular comic book characters in the world didn't connect with fans. Our top 2 spots- Batman and more Batman. Thanks to Neil Gaiman and probably some aggressive ads by Dark Horse, American Gods was very strong in its first week as a comic book! When resetting the racks, we noticed that the recent bagged DC comics fill with air and we can't stock as many as usual. Forgive us, DC but we opened them.
My highest back issue sale was a Preacher 1 CGC 9.8 signature series (signed by Garth at his store signing here almost a year ago) for $1100 and my lowest sale was a mispriced Spawn issue for $1 (it should have been $4 but someone must have got distracted while pricing it).
—
DC sweeps all ten spots in our store's top ten this week; the best-selling Marvel was Venom at #11, followed by Poe Dameron at #13 and Amazing Spider-Man at #16. It's amazing that, nine months after the Rebirth launch, DC is still taking the top ten (and their other Rebirth title, Harley Quinn, came in at 12th, one copy behind Venom). Marvel will have a real challenge convincing readers to come back again. I hope they can do it; competition based on story quality is beneficial to every company!
Increased interest in Wolverine, X-23, and Old Man Logan back issues… wonder why?
—
Strong sales for the week with lots of heavy hitter titles out. DC took six of ten spots and 4 of the top five. Justice League and Superman have both pushed past All Star Batman and I can only assume the $4.99 price tag is the culprit. That being said, Amazing Spider-Man at $9.99 was our second best selling book of the week. Not as many people as I would have liked came back for Super Sons #2 but enough to put it at nine on our list with Nightwing just behind it at ten. The Uncanny Long-Box-Filler titles and the still great Mighty Thor make up 6-8.
Outside of the list God Country is gaining readers with each issue, American Gods: Shadows did well but I don't see it as a Wednesday reader book, Brubaker and Fraction books sell well but more so in trades, and my favorite book of the week not called Kill or be Killed was Felix Leiter #3.
—
Shame on Marvel for these $9.99 single issue pricing stunts. We have more copies of Amazing Spider-Man #25 out than we ordered for the rack, as several subscribers have put it back. This crap tanked our sales on Deadpool, and now they seemed determined to alienate Spider-Man fans as well. I hope customers and retailers alike are letting Marvel know how they feel. Not a single thumbs up in my store.
Otherwise it was business as usual with DC dominating the chart. Super Sons and Batwoman are proving spry additions to the publishing slate. The Wild Storm made it into the top ten, barely, but I know that'll be a slow burn success.
—
Batman #19 was the top book of the week, however the money maker was ASM #25 with almost a complete sell through on the regular cover. If you take out All Star Batman i am pretty sure the profit off that one issue equaled the same as all the DC book's on my top ten list…ouch not good for DC in that regard.
Justice League is on fire and all DC related mini series. Batman #52 is moving so briskly that a #1 that i picked up this week sold before i even had a chance to change the bag and board 2 minutes after the seller left the store.
—
Fairly typical week. DC with 7 of the top slots and Marvel in the other 3.
—-
DC absolutely swept the competition away at FFF this week. Our Top Ten were #1 Batman, #2 Justice League, #3 Super Sons, #4 Batwoman, #5 Superman, #6 Trinity, #7 All Star Batman, #8 God Country, #9 Nightwing, and #10 Wildstorm. To be perfectly candid, DC usually dominates our weekly list, but this go round they absolutely demolished the other publishers. I talk a big game about DC and I'll be the first to admit I'm one of their biggest fans, but the fact is they've gotten new people into the store and kept them coming back with their quality stories at approachable prices. I'd feel like I was just being an overzealous fangirl and blowing smoke if the majority of their books didn't also put their money where my mouth is. There was exactly ONE Marvel book in the Top Twenty and I'm actually shocked it sold as well as it did with the fact that it was a $10 book.
Venom #5 was a hot miss. Turns out people don't actually care about the return of Eddie Brock. Marvel would've done just as well if they'd decided to reintroduce Angelo Fortunato. Flash was the Venom who held the strongest fan interest in a while, and he's nowhere to be found. I have a hard time believing anyone will sell anything close to 30 copies, let alone 100 to get the rare variant. The big shock of the week was that we actually sold enough copies of $9.99 Amazing Spider-Man #25 to have it place in the Top Twenty (of which it placed #19). Even with the extra pages (I'm sure somebody somewhere was clamoring for more Clash and White Rabbit), the price was just too high for most people. We only sold a few copies from the shelf and some of our subs decided to pass on it. This should really be the last toad they lick, but the revelation that X-Men Blue & Gold will both be bi-monthly AND $4 books (and $5 on the first issues) tells me that Marvel is more interested in making a quick buck than sustaining their already struggling market. If you would have told me a year ago that Aquaman 19 would be outselling Amazing Spider-Man 25 in our store, I would have had trouble believing that.
Image managed to hold its own with the big boys and had five books in our Top Twenty (and one in our Top Ten). God Country has been a huge hit with our customers and I hope Donnie Cates can carry over some new fans into his future projects like Redneck when he finishes up with this (unfortunately) mini-series. I Hate Fairyland, Kill or Be Killed, Invincible, and Walking Dead #163 were #15, 17, 18, and 20 respectively. It's great to see the 25 cent issue of Walking Dead still do so great, I just wish it rub off on the regular issues as well. Maybe it will with the surprising events of the last few issues.
At least Spider-Man sells in back issues. We've been selling a variety of his titles, but lately a lot of middle JMS's run. If people want a quality story for cheap, they can always find something in the Web-head's past. We've also been selling a handful of Wolverine and other X-Men titles as well as more old Wildstorm titles. Wonder Woman back issue sales have gone up as well as people are gearing up for the upcoming movie. Of course we're still selling more recent back issues of Walking Dead, Saga, Batman, and tons of Rebirth issues, which it doesn't hurt that we have deep shelves and still have them going back to the first issue on most titles.
—
Strong week as Rick and Morty and Power Rangers Back Issues are flying out the door. ASM #25 took the #1 spot regardless of the cover price. God country continues to blow up the shelf's with massive sell-outs.