Bleeding Cool Bestseller List – A Very Batty Christmas Day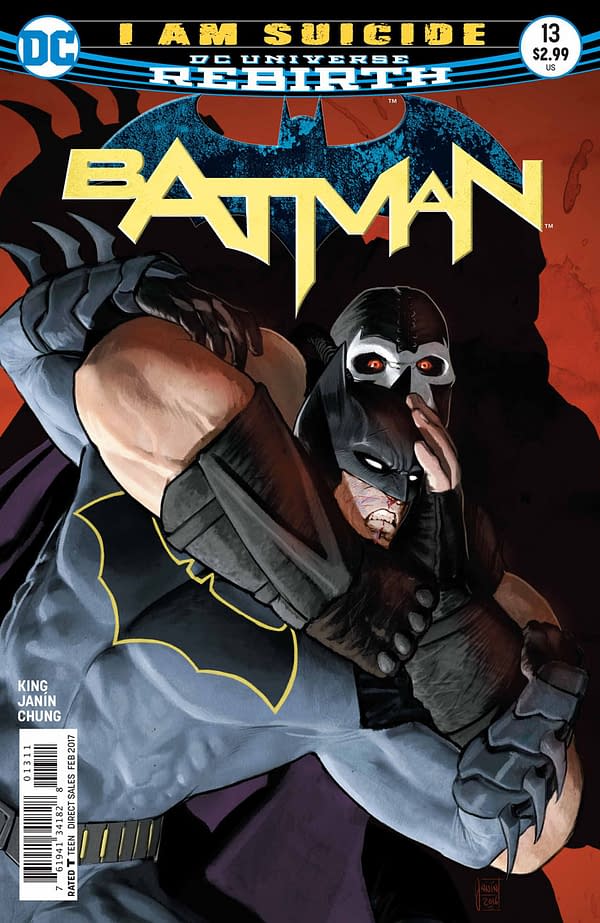 This is the Top Ten Bleeding Cool Bestseller List, as compiled by a number of comic stores from their sales on Wednesday and Thursday. It measures what are known as the "Wednesday Warriors", those who can't wait to the weekend to get this week's comics. We salute you, and the keenness you bring to your passion.
And it looks like DC Comics are having a very merry Christmas, with just a little Spider-Man and Dr Aphra to sweeten the pot.
Batman #13
Justice League Vs. Suicide Squad #1
Justice League #11
Superman #13
Harley Quinn #10
Trinity #4
Star Wars: Doctor Aphra #2
Green Lanterns #13
Green Arrow #13
Amazing Spider-Man #22
Thanks to the following retailers,
And here's what they had to say,
Justice League Vs Suicide Squad 1 was off to a great start outselling everything else this week. Our FFF top ten did actually feature two Marvel books and one was even a super-hero book. JL/SS, Batman, Trinity, JL, Superman, HQ, GA, Nightwing, SW: Dr Aphra at #9 and Uncanny X-Men at #10. Animosity was our 11th bestseller only copy behind Uncanny, so we're glad that title has done so well and stayed a big hit. Thanos was at #13, but it's still one of the bigger hits outselling most other Marvel Now. Amazing Spider-Man has taken a pretty big drop with this Clone Conspiracy story and our ASM sales are lower than they were before CC started, now at spot #16 for the week, although Marvel has a whole has dropped by 15% to 20% for most retailers I've talked to between increased competition from Rebirth books and more cool books from Image and independent publishers stepping up. Keep an eye out for CURSE WORDS and GOD COUNTRY to be the next two big hits from Image! 4 Kids Walk Into A Bank was also a solid indy hit for us tying as our 14th bestseller of the week so far! Dr Aphra is doing well, but seeing a fraction of Darth Vader sales, so I still think that was an odd choice, as only a small subset of Vader buyers will stick around with Aprha past the first few issues. Let's see what happens.

Action Comics 13 from last week sold almost as many copies since Wednesday that Amazing Spider-Man did, only being two copies behind ASM on it's second week and earning spot 20 for our store. Whatever you're reading, we hope you're enjoying it. and if you're not, try something new! There are plenty of great books out there if you're looking in the right direction.

Being Christmas week, we sold a lot of cheaper back issues, mostly for younger readers, including a lot of dollar books and first issues we marked down to a dollar each. Lots of parents coming in to buy cheap comics or half off graphic novels for their kids, who were newer to comics, but loved what they've read so far. We did sell a raw New Mutants 98 for $200 (CGC is not for us), and a few small runs of Uncanny, Batman, Amazing and Walking Dead as Christmas presents to fill in some want lists.

We wish everyone reading this a Merry Christmas! We just had our biggest sales week of all time, by almost 20% beating out last year's Christmas week and even our Free Comic Book Day weeks! We hope all the other retailers are seeing as many new faces as we are this holiday season and hopefully 2017 will be a strong one for this crazy industry. Merry Christmas, Happy Hanukkah and Happy Holidays!

Eight DCs take the top eight spots in our store's Top Ten this week; Boom takes 9th place with their Klaus oneshot, and AfterShock comes in at tenth place with Animosity. Marvel's highest-placing book, Venom #2, came in at 12th place. We also did a comprehensive review of Marvel overships for the past few weeks and discovered we yet to sell any of those overships, because we have yet to sell out of our initial orders. Free books don't do us any good if no one wants them–what Marvel needs to do is find a way to give readers the books they want to buy. Thankfully, DC is still bringing readers in week after week!

Strong interest in mid-range Silver Age issues ($50 or less) for Christmas gifts.

Dr Aphra took the top spot and JL/Suicide Squad #1 did really well and almost broke the century mark. The rest of the books were all clumped in the same sales bracket like cyclists on the road.

Christmas sales had the back-issue all over the place. Don't really matter since all books will be going to a good home for the holidays.

Very weird shipment. After a good few weeks of shipments this one hurt. How to make sure Batman doesn't have a chance to be the number one book of the week? Ship us only half of our order. To make matters worse it still outsold all the Marvel titles for us this week. Gamora 1 and Star Lord 1 didn't even make it into our top ten. I thank Marvel for over shipping on some of their titles but as a store that has been around for years I am not off on orders by double of what I order. I can be off by maybe three or fewer issues but have some confidence that we store owners that have done this for awhile do know or have a feel for what is in demand. Sadly on all the titles over shipped by Marvel we have not needed any of the extras. Right now Marvel titles are not in demand. Amazing and Doctor Strange did good and we still have them available. After pushing such poor titles such as Mockingbird, Red Wolf, Hyperion, Nighthawk, Solo, Prowler, Foolkiller, and more people have lost interest in Marvel Comics as a brand. Disney just had the movie Rogues One this month. If Disney cared about their comic publishing there would have been some type of Rogues One tie in giving Marvel and us an easy top selling comic.

Back issues are popular this year for gifts. Batman's first series is doing very well along with Amazing Spider-man's first series.

Smaller but expected sales week. DC wins the week by virute of putting out their best selling titles. Nothing unexpected about our list. Nice to see Amazing Spider-Man back to Marvel's top seller for us. Gamora and Star-Lord land with a thud. Little to no interest from our regulars. Dark Horse makes the list with Buffy S11 #2 coming in at #10. Dead Inside was my favorite book of the week.

Selling a good amount of variant cover back issues (including the McFarlane Venom #1!)

This was a great week with a lot of Silver and Golden age books sold.

Rick and Morty and Bobs Burgers was the X-mas gift choice all week.