Brad Meltzer Sees More Comic Book Hero Vs. Hero Fighting In President Trump's America
In the wake of the shocking results of last week's U.S. Presidential election, Bleeding Cool knows what our readers want – no, need – to hear: the political thoughts of comic book creators posted to social media. With that in mind, the latest comics pro to weigh in is bestselling author and famed writer of DC's Identity Crisis, Brad Meltzer. Meltzer took to Facebook to address the political tension and to promote his upcoming book with Chris Eliopoulos: I Am Ghandi.
"We can spend our next few months being atoms filled with negativity or atoms filled with something positive," Meltzer said, knee-deep in an atomic bomb metaphor, in the post which can be viewed in full above. "My solution? As always, I speak with my work. By coincidence or by fate, I've been working on I AM GANDHI. Usually, I never discuss a book until the work is done, but for months now, I've been lost in Gandhi's teachings, trying to channel him. I've never needed him more."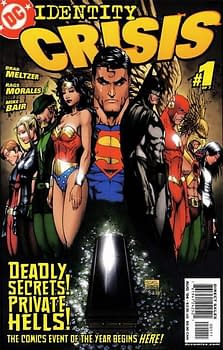 Meltzer sees the problems of the real world, like divisiveness, reflected in comics. Marvel, it seems, had it right all along.
"Make no mistake, we are in a modern civil war," he writes, referring not to the super-mega-crossover event sequel by Brian Bendis and David Marquez, but to the state of the country. "It's been brewing for years. I've said it before: It used to be, even in comic books, the good guys fought the bad guys. Today, Superman fights Batman; Captain America fights Iron Man. We are a country at odds with itself, each side convinced we're right."
Technically, Captain Marvel fights Iron Man now, Captain America fighting Iron Man is so 2006. That's beside the point though. Following up on the Facebook post, Meltzer continued to discuss the topic on Twitter:
Though he quickly changed his mind:
Meltzer looks to comic book heroes to lead us out of these dark times:
If we're counting on Marvel and DC to show us the way, the answer has been right there in front of our noses all along: America needs a line-wide reboot! It's long overdue.