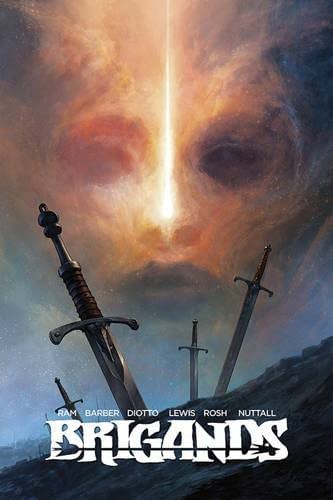 Last month, Action Labs – Danger Zone collected The Brigands in a print collection for comic stores, by Ram V, Nick Barber, Alex Diotto, Jason Lewis, ROSH and Kel Nuttall. It just hit Amazon.
But what next for the comic about a rat-pack of medieval conmen, thieves, cut-throats, has-beens and never-will-bes set to carry out the heist of their lives?
Well, returning to the scene of the crime.
Ruin of Thieves: A Brigands Story is Volume 2 in the Brigands Trilogy and continues the story from Volume 1. Scheduled for the late summer, it involves just one more job.
Our band of conmen, cat-burglars, cut-throats and conjurers have arrived on foreign shores to steal an artefact known as The Myros Pendulum. The Myros comet has set the sky ablaze and the world beneath awaits like tinder to a wayward spark. War is on the horizon, rebellion and treachery brewing beneath. Our Brigands will need every bit of their skill, wit and luck to come out unscathed. But ask any rogue and they'll tell you, the only constant to luck is that it is bound to change.
From Ram V, Sumit Kumar, Rosh and Aditya Bidikar, again from Action Lab: Danger Zone, here's a look ahead…

Enjoyed this article? Share it!