It takes courage to do break away from the status quo, to move away from what's comfortable and risk your career by creating something close to your heart.
The new Kickstarter project Sabre: the Early Future Years is a celebration of that risk.
Sabre: The Early Future Years, by writer Don McGregor and artist Trevor Von Eeden, brings these creators' intensity and unique visions to the printed page with an intense action/adventure romance filled with outlandish science fiction and deeply real emotions. As Don likes to remind potential readers, "it's swordplay! Flintlock lasers! Robot stallions! Nocturnal Trackers! It's honor! It's passion! It's love! It's lust! It's corruption. It's ideals! It's all in one disturbingly entertaining epic!"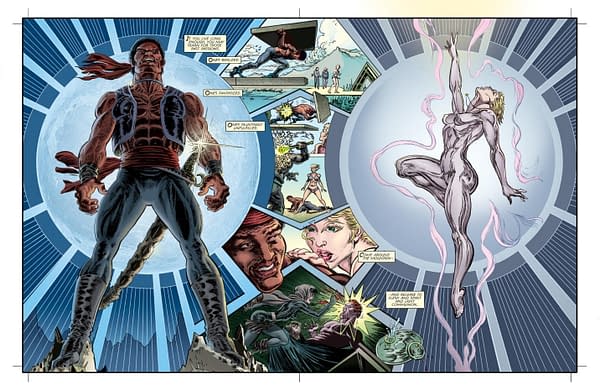 Don McGregor was one of the pioneers of the creator's rights revolution, one of the first creators to reject the dehumanizing work-for-hire system and create characters that were uniquely his, and fully owned by him. The premiere Sabre graphic novel, Slow Fade of an Endangered Species, was created by Don and artist Paul Gulacy far outside the stifling comics market of the era. That graphic novel was published in 1978 to thunderous critical acclaim and high sales.
It included explicit violence and nudity – story content far outside the boundaries of material that was presented in the comics of the time – but Slow Fade also included a frankness, intensity and deep insight into its characters that stood out as unique in that era.
The main character of the book is Sabre, an intense action hero who's part street fighter rebel and part romantic idealist. He's a freedom fighter who can't turn away from cruelty and injustice. In a post-apocalyptic world shaped by plague and famine, nuclear meltdowns and political oppression; armed with flintlock lasers and samurai skill with a sword, Sabre fights for freedom, justice and love with his beloved Melissa Siren – the first test tube fetus – at his side.
Now Sabre and Melissa are back, in a new graphic novel as grand and epic as any that comics have seen recently. This new graphic novel doesn't require the reader to know anything about the character or his world before reading this new volume. The Early Future Years stands on its own and is new reader friendly.
If this project goes over $10,000 in pledges by August 15th, every supporter before that mark will receive two free comics either written by Don McGregor or illustrated by Trevor Von Eeden selected from our collection of back issues.
"Sabre is not only important historically for its groundbreaking place in the early chronicles of the graphic novel; it is a gut-wrenching, provocative, free-thinking piece of fiction. Like his work on Killraven, Black Panther, and Nathaniel Dusk, Don McGregor not only delivers, he delivers in spades. What's more, he challenges his readers," critic J.C. Vaughn wrote of the 20th anniversary edition of Sabre in 1998.
McGregor's whole career has been driven by his passion for the material he's created. Don is a writer of singular vision. He is a humanistic, compassionate, and deeply intelligent writer about a world in which powerful men and women fight for everything that Don cares about – love, freedom, truth, friendship. Don's characters always have to battle valiantly for the things that are important to them, whether they're The Black Panther, Killraven, Warrior of the Worlds, Luke Cage, or his most explosive character, Sabre.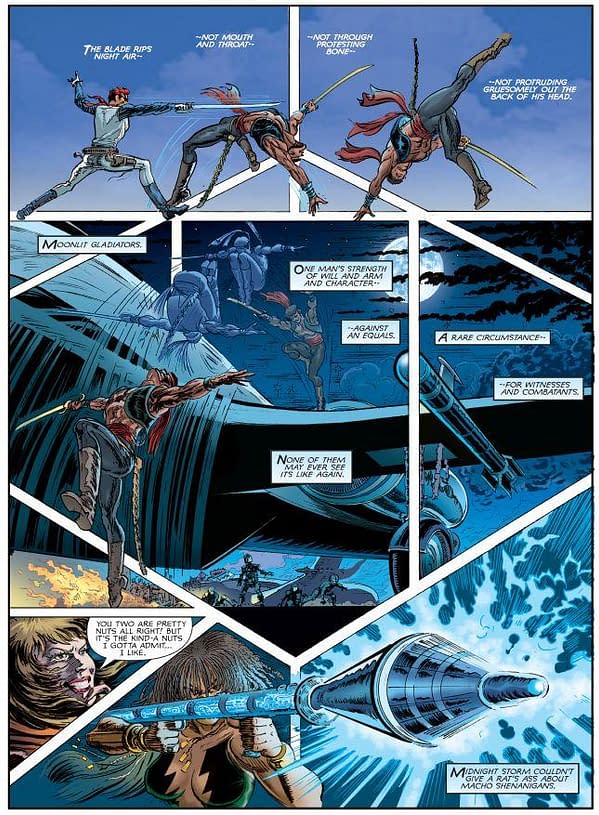 Trevor Von Eeden is the co-creator of Black Lightning, the first original black super-hero published in his own title by DC Comics. Trevor drew a run of beautiful Batman and Green Arrow comics that displayed his deeply illustrative approach to storytelling, and also drew the cult classic series Thriller, a legendary "lost" DC comic that may have been thirty years ahead of its time.
Trevor was attracted to this graphic novel because of its intelligence and independent-minded approach to the story: "I don't generally care for superficial, shallow-minded, or hypocritical people in real life–and even less for comics that promote that kind of corporate designed/controlled mentality. Don's entire outlook seems to be one designed to communicate to a mature, intelligent, independent and thinking audience–one that lives in the same real world that I do. Therefore, it's a real pleasure for me to be able to sink my teeth into, and express, the concepts that he creates in his work."
Don and Trevor brought this book to Kickstarter because they felt it was the best place for fans to become involved in bringing Sabre and Melissa back to life. They're looking to raise $17,000 for production of the first 40-page chapter, with stretch goals of delivering the full 190-page book. Those stretch goals are listed on the project page along with a slew of exciting incentives, including digital books, print books, signed books, original art and more.
Enjoyed this article? Share it!