Batman: The Last Knight On Earth was originally announced as a three-issue 48-page oversized series, with the dimensions used for Batman: Damned. As of today's May 2019 DC Comics solicitations, they are specifically saying that this comic will no longer be oversized. The original preview copy told us:
Batman wakes up in a desert. He doesn't know what year it is or how the Joker's head is alive in a jar beside him, but it's the beginning of a quest unlike anything the Dark Knight has undertaken before. In this strange future, villains are triumphant and society has liberated itself from the burden of ethical codes. Fighting to survive while in search of answers, Bruce Wayne uncovers the truth about his role in this new world—and begins the last Batman story ever told.
Instead, at the DC Nation panel at Toronto's Fan Expo, we were told that Bruce Wayne rather wakes up in Arkham Asylum. A place he has been for twenty years, after being arrested for killing his own parents, Thomas and Martha Wayne. He finds Joker's living head in a jar as they set off for an adventure together. As you do.
Either way, it still felt a little Head Lopper-ish… Today we get the actual solicitation and discover that Batman…isn't Batman. He seems to be a bit more Old Man Batman in the process.
Bruce Wayne wakes up in Arkham Asylum. Young. Sane. And…he was never Batman. So begins this sprawling tale of the Dark Knight as he embarks on a quest through a devastated DC landscape featuring a massive cast of familiar fates from the DC Universe. As he tries to piece together the mystery of his past, he must unravel the cause of this terrible future and track down the unspeakable force that destroyed the world as he knew it… From the powerhouse creative team of writer Scott Snyder and artist Greg Capullo, the team that reinvented Batman from the emotional depths at "Court of Owls" to the bombastic power of DARK NIGHTS: METAL, DC Black Label is proud to present the bimonthly, three•issue miniseries BATMAN: LAST KNIGHT ON EARTH, published at DC's standard comic trim size. This could be the lost Batman story ever told._
No, it couldn't. From Scott Snyder, Greg Capullo and Jonathan Glapion, $5.99 from Black Label/DC Comics on the 29th of May, 1 of 3. 56 pages. No Batpenis.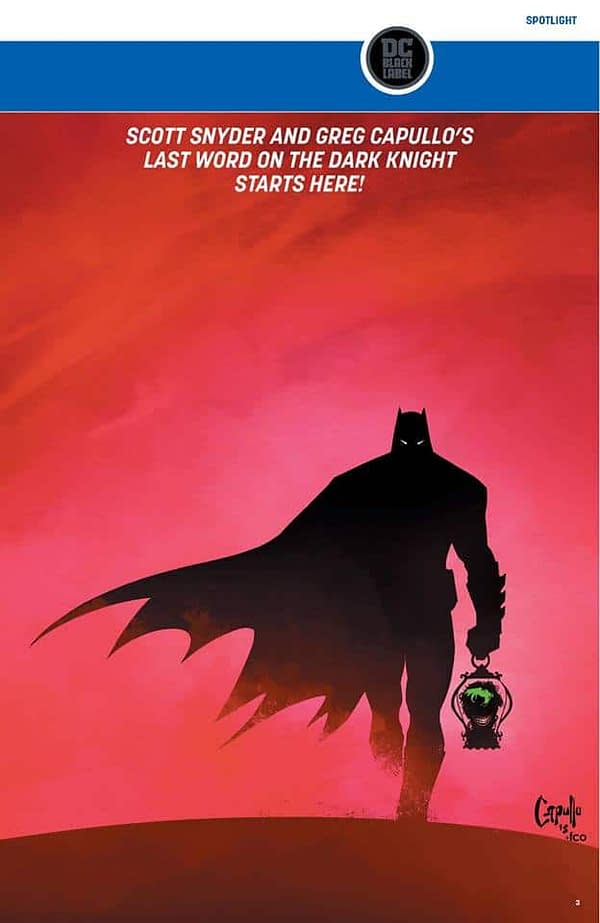 Enjoyed this article? Share it!