Captain Britain Calls Elves 'Wankers' In Today's The War Of The Realms #5 From Marvel
Today sees the publication of The War Of The Realms #5, the penultimate issue of the main series of this event comic book by Jason Aaron and Russell Dauterman, which has seen the Lord Of The Rings and the Game Of Thrones come to the Marvel Earth, divvying it up and seeing the heroes of Earth – and of Asgard – divided, and fighting a war on multiple fronts. Given such am insane threat on all levels, you might forgive the superheroes of this Earth a little laxity when it comes to their choice of language. Such as a Asgardified She-Hulk as Thunder Hulk fighting Ulik, king of the trolls, in Australia.
And yes, of course the trolls go to Australia…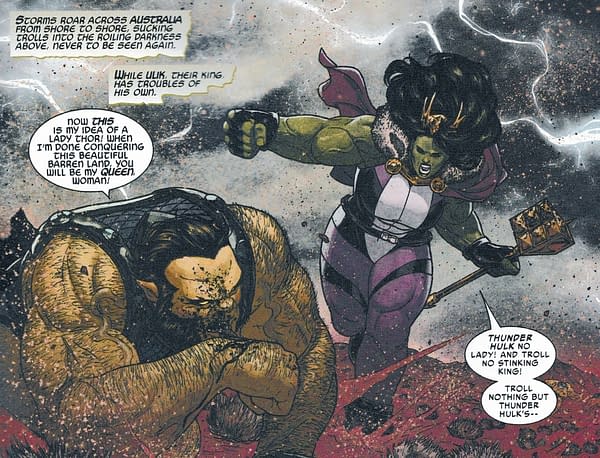 …that was going to be 'Troll nothing but Thunder Hulk's bitch', wasn't it, Jennifer? But we cut away too soon.
London's calling…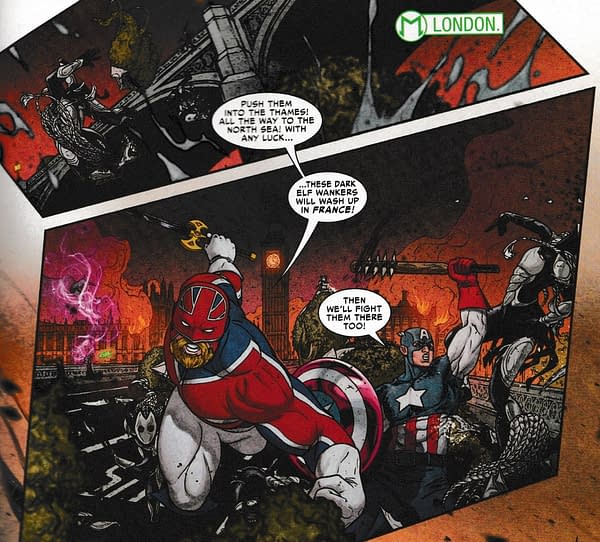 As Europe is overrun with dark elves. But come come, Brian Braddock, Captain Britain, lord of the maor, is that any way for the gentry to behave? It may be acceptable to publish for Marvel Comics in the USA, but in the UK you can't use that word before 9pm on the TV and was counted as the fourth most offensive word in the English language, behind the C word, the F word, and the N word. The B words, the A words, the S words and the P words don't get a look in. Wanker Of The Realms it is…
Captain America is, of course, a grizzled soldier who has fought in Europe before – and also doesn't know what the word means. He has heard it before though, even his shield swears like a trooper.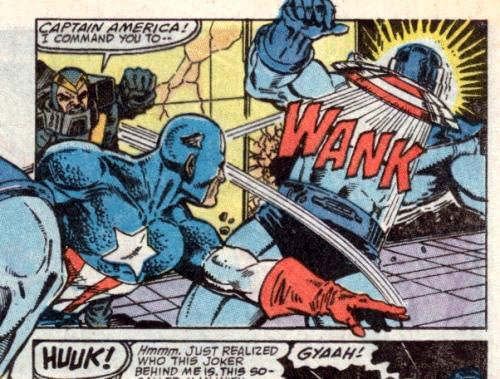 WAR OF REALMS #5 (OF 6) WR
(W) Jason Aaron (A) Russell Dauterman (CA) Arthur Adams
MIDGARD'S LAST STAND
Malekith's army gets a whole new crop of recruits – the dead! As Midgard transforms under the rule of Malekith and his allies, the dead rise up to form a new Niffleheim! The Black Panther calls in every hero on his roster to fight for Earth, from Spider-Man and the Spiders of Hel to Ghost Rider and Balder the Brave. But if there's any hope for the Ten Realms, it'll come from the skies…
Rated T+ In Shops: Jun 05, 2019
SRP: $4.99