The Civil War Over Poison Ivy at DC Comics
Alongside Harley Quinn (figuratively and literally), Poison Ivy is the most popular DC Comics character to cosplay as, at comic conventions. For pretty much everyone.
But her appearance in DC Comics of late has been a bit up in the air.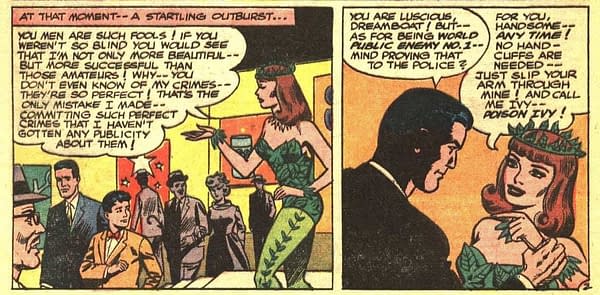 Introduced as a Batman villain who wanted people to know about the perfect crimes she'd committed because no one gave her credit for them, she turned into a super-villain who creates pheromones, gaining powers to make her touch deadly while staying immune to all other toxins, and developing plant-like abilities and control and generation, connected to The Green. She became an eco-terrorist, eventually having strongly understandable motives, even if her methods were questionable — or deadly. However, unlike Harley Quinn and Catwoman, she wasn't driven by selfish desires, but by communal ones.
It should have been an easier route to redemption, but DC Comics does have a habit of taking what one creator develops with the character and returning to square one. There almost seem to be a bit of a civil war within DC Comics over how to handle her.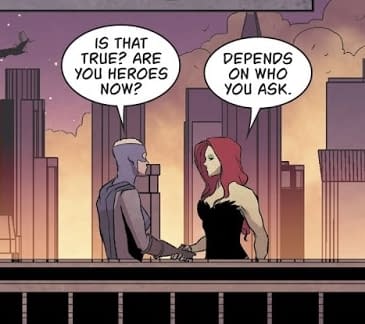 So… does Poison Ivy want to enslave the world under mind control with her pheromones, and remove humanity? That certainly used to be a motivation… of late, she has been written more of a hero.

One of the points behind the Gothtopia is that she didn't want to see Gotham in mind control. And by helping Batman defeat the threat to Gotham, he lets her go.
In All-Star Batman, Batman says that he understood she doesn't want to enslave the world through mind control anymore, and this is why Batman makes the Pamela Islet fund.

In Trinity, Poison Ivy creates a portal to a dream world inhabited by an entity of the Green called White Mercy and uses that to help stop Mongul, before leaving.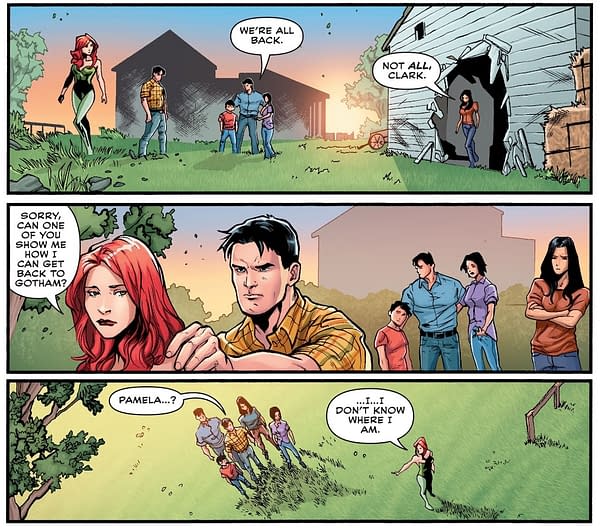 She works under Barbara Gordon in Birds of Prey — who bought a whole company for her.

She is the closest person to Catwoman and spend their nights watching TV together…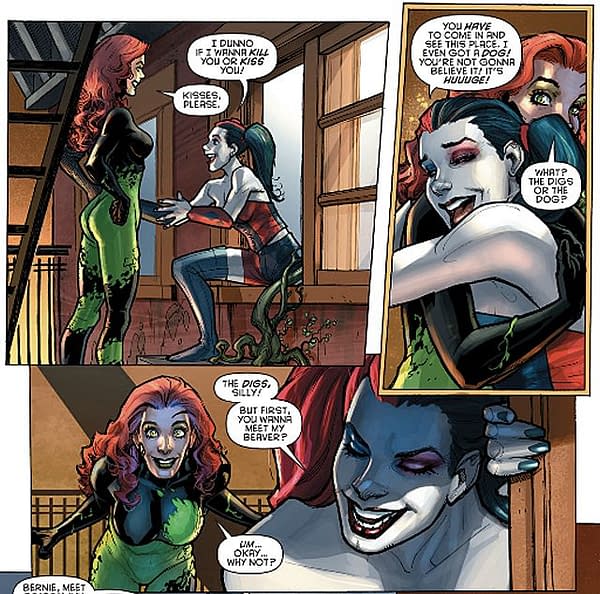 …when she's not doing the same with Harley Quinn, whom she has described as her non-exclusive girlfriend. She fed everyone during Convergence, she helped Swamp Thing regenerate after he died in Justice League Unlimited, she's even volunteering at Gotham's botanical gardens in times of crisis in recent Batgirl.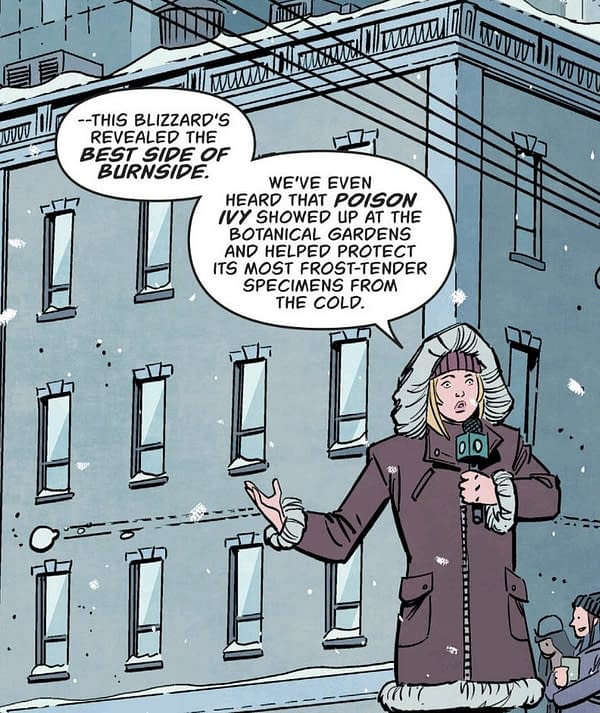 She also just saved all the men in Gotham — including Batman — in Batgirl & The Birds of Prey. Though right from the beginning she was under suspicion…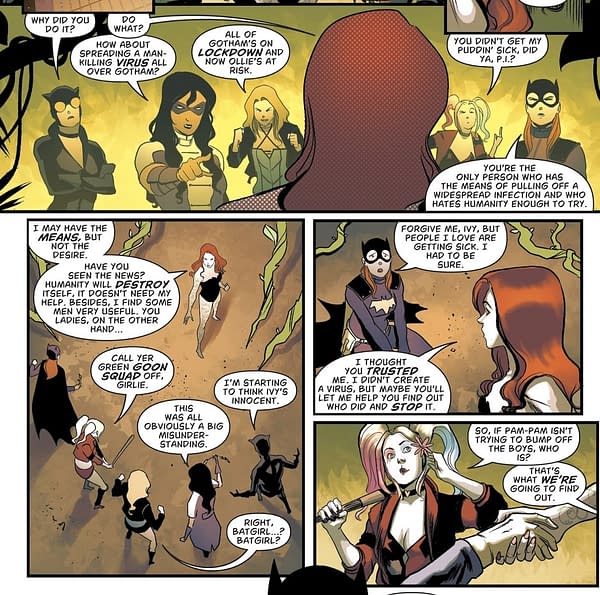 Isn't it time to give her a break? The only time of late she's been portrayed as a villain was in flashback in 'The War of Jokes and Riddles' in Batman by Tom King and Mikel Janin. Which did seem to go against Tom King's stated plans. But it seems that may be the interpretation he is taking going forward.
BATMAN #41
(W) Tom King (A/CA) Mikel Janin
"EVERYONE LOVES IVY" part one! Mikel Janin returns to BATMAN for a brand-new epic! Pamela Isley's influence can spread as far as vegetation will allow, putting the whole world at her fingertips. Can Batman and Catwoman stand their ground against an entire planet of Poison Ivys?In Shops: Feb 21, 2018
SRP: $2.99
BATMAN #42
(W) Tom King (A/CA) Mikel Janin
"Everyone Loves Ivy" part two! Poison Ivy has taken control of every man, woman and child on the planet, and only Batman and Catwoman have escaped her influence. But will the pair of them be enough to nip this in the bud?In Shops: Mar 07, 2018
SRP: $2.99
ATMAN #43
(W) Tom King (A/CA) Mikel Janin
"Everyone Loves Ivy" part three! The quest to end Ivy's domination heads toward a close, but can Batman offer Ivy redemption on the other side of this crime? It's an epic showdown between the Caped Crusader and one of his most popular foes, brought to you by the creative team behind "The War of Jokes and Riddles."In Shops: Mar 21, 2018
SRP: $2.99
It's maybe quite a jump from this…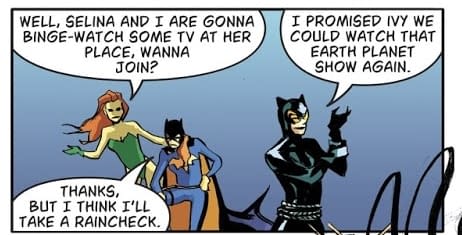 …to this…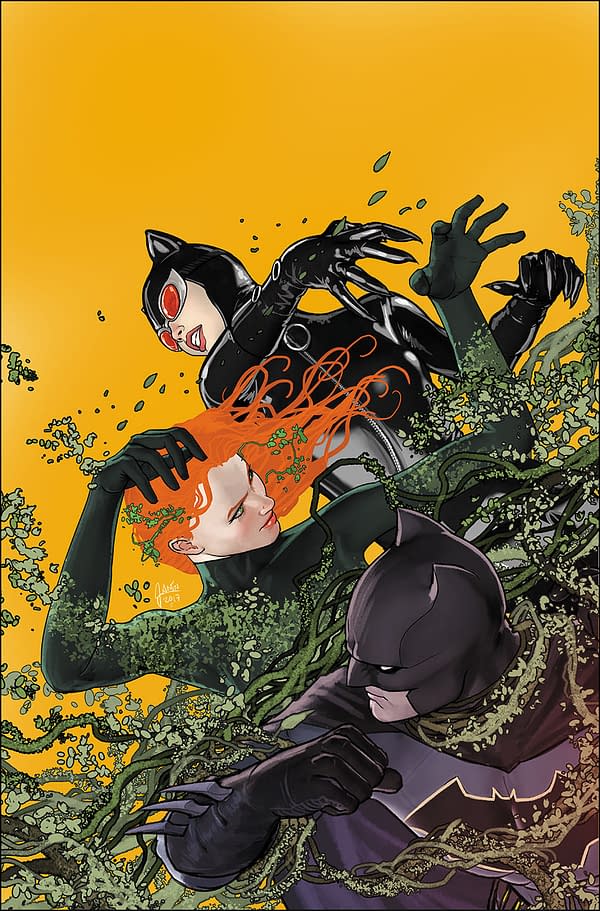 Depending on how that final solicit is interpreted, some Poison Ivy fans seem more likely to want to use those comics as fertiliser… will this pacify?
Because this may not…
Batman #41 is published in one and a half weeks…