Comic Store In Your Future Has A Year To Be Thankful For
We often take for granted what we should be thankful for. A year ago, many wondered if comics would survive COVID-19. Some businesses did not survive, but many did. Things are far from perfect, but they could have been far worse. So at this time of year, what am I thankful for?
Comics, of course. This printed material has entertained people for decades. Comics will always change; they have to, there's no choice if they want to keep up with the times. I am still very glad to be a part of the comic industry.
Family and friends. When I was younger, I took for granted family and friends. I also had no regrets. Now, as time has passed, I regret not spending more time with the ones that are no longer in my life. I still have friends and family, and for that, I am thankful.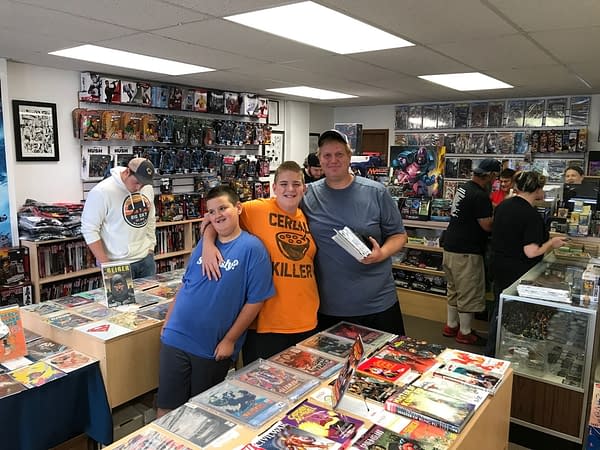 My customers. As I have stated before, if COVID had shut us down when the store was in its first few years of existence, it would never have survived. During the first few years of any business, it is all about surviving and establishing a customer base. It is also about learning. We lost customers after coming back from the shutdown. Collecting is a habit. That habit was interrupted by covid causing people to stop coming to their local comic store. Fortunately, when we reopened, many returned, and new customers came. Our customer base grew along with a lot of very good people becoming our friends.
Bleeding Cool for letting me write for them. I am, of course, thankful for the staff of Bleeding Cool for putting up with me. At times I most likely seem like Captain Caveman to them, heck I may still. By writing for Bleeding Cool, I hope that people learn and see things from another viewpoint, along with pushing comics as a form of entertainment. I have spent years writing for Bleeding Cool; time flies when you are having fun.
My store, Rodman Comics. I am very thankful not to worry about the comic shop anymore. Long gone are the days of "will this make it" from when we first opened. Now, I believe the store will outlive me. I, of course, could be wrong; the Magic 8 ball never said "beware of Covid" back in 2019.
I am, of course, thankful for all of you that read this. I hope everyone had a good Thanksgiving.