This morning, two gunmen in jihadi gear walked into the Paris publishing offices of satirical cartoon magazine Charlie Hebdo. Occurring during a special meeting of all cartoonists and writers on the paper, they began calling out the names of writers and cartoonists they believe to have offended them, and shot the place up with assault rifles. They were also armed with a rocket launcher. Joined by another gunman, they then entered into a firefight with police in the street before fleeing, precipitating a chase and gunfight through Paris, leaving twelve dead and others severely injured, including two policemen, the editor of the magazine and three legendary cartoonists. A manhunt for the three gunmen is currently underway, and police have stated that they have identified the three suspects.
UPDATE: It has now been reported that the three suspects have been arrested. Among the dead were editor Charb, also known as Stephane Charbonnier, and the legendary cartoonists Cabu, Tignou, Georges Wolinski and recently reported Philippe Honoré. Cartoonist Riss, one of the publication owners, alongside Charb is one of the seriously wounded.
The reaction of the world has been one of shock and horror. There has been condemnation from world leaders, vigils have been held across the world, including in Trafalgar Square, London.
And cartoonists have united against this assault on free speech. Here are just a few of the responses. Ian Hislop, editor of Britain's own satirical cartoon magazine, Private Eye.
I am appalled and shocked by this horrific attack – a murderous attack on free speech in the heart of Europe. I offer my condolences to the families and friends of those killed – the cartoonists, journalists and those who were trying to protect them. They paid a very high price for exercising their comic liberty. Very little seems funny today.
Guardian cartoonist Steve Bell told the BBC:
We've got to stand up for the right to take the piss out of these monsters, these idiots, these fools, these posturing maniacs who strut around in their black gear as a kind of death cult trying to frighten us all.
There have been so many public reactions in the comics industry. Here are a few:
I'm an artist. The very French xenophobia of some work in Charlie Hebdo is shit.I'm devastated by these murders and respect fuck-you bravery — Molly Crabapple (@mollycrabapple) January 7, 2015
Charlie Hebdo definitely crossed lines and made me angry a few times, but it is the press, and it's unacceptable to be KILLED for that. — Marie (@MarieMJS) January 7, 2015
Our thoughts are with the rest of the Charlie Hebdo staff and the families of the victims. — Fantagraphics Books (@fantagraphics) January 7, 2015
It's odd, but I feel like I should only tweet using the je suis charlie hashtag when I have enough courage to deserve it. — Moose Allain (@MooseAllain) January 7, 2015
#CharlieHebdo #JeSuisCharlie — Mahmud Asrar (@MahmudAsrar) January 7, 2015
Je suis Charlie… — Xteve Abanto (@xtewy) January 7, 2015
The attack on Charlie Hebdo in Paris today was an attack against the very concept of civilization. Je suis Charlie. — Julian Darius (@JulianDarius) January 7, 2015
Today any of us who ever expressed an opinion with paper and pen stand with Charlie Hebdo. #JeSuisCharlie — Paul_Dini (@Paul_Dini) January 7, 2015
Your gun will run out of bullets. Our pencils are always sharp. #jesuischarlie — Rob Wickings (@Conojito) January 7, 2015
In honour of the slain Charlie Hebdo cartoonists, today's #Sketch_Dailies subject should be the prophet Muhammad. — Nathan Fairbairn (@nathanfairbairn) January 7, 2015
Cartoonists drawing the Prophet in response to the Paris attack would be horrible, a slap to *every* Muslim, a spur to extremist recruiting. — Paul_Cornell (@Paul_Cornell) January 7, 2015
@Paul_Cornell Precisely what critics have been saying about Charlie for years. Cartoonists have the right, even duty, to be irresponsible. — David Hine (@HineDavid) January 7, 2015
lots of Americans probably confused by the "jesus is charlie" hashtag trending this morning #jesuischarlie — Nathan Fairbairn (@nathanfairbairn) January 7, 2015
Hoping that "we will react with more democracy, more openness, more humanity", not with more violence #JeSuisCharlie pic.twitter.com/eZgzi4stuV

— Lorena Cotza (@LorenaCotza) January 7, 2015
These guys were killed because they like putting their thoughts about the world into the powerful form of cartoons. #JeSuisCharlie — Scott Allie (@ScottAllie) January 7, 2015
It could've been you. It could've been me. *raising skinny fist into the air #JeSuisCharlie #SolidariteCharlieHebdo — Leah Borromeo (@monstris) January 7, 2015
I love that #JeSuisCharlie undermines everything these pathetic, insecure murderers attempted to do. Cartoonist solidarity!! — Tim Pilcher (@Tim_Pilcher) January 7, 2015
Why yes, I do have a response for the swivel-eyed fucks who think it's big to pick on cartoonists #jesuischarlie pic.twitter.com/Ja996drP2D — Rob Wickings (@Conojito) January 7, 2015
Just keep drawing. #CharlieHebdo #JeSuisCharlie — Andy Diggle (@andydiggle) January 7, 2015
Woke up to some pretty horrific news from France. Thoughts are with the victims, whose only crime was celebrating free speech #JeSuisCharlie — Declan Shalvey (@declanshalvey) January 7, 2015
#JeSuisCharlie 12 dead in Paris because maniacs prioritize their dogma above the lives of creative people with a different point of view. — Joe Kelly (@JoeKellyMOA) January 7, 2015
The most eloquent responses to today's tragedy have come from the cartoonists. #JeSuisCharlie RT @MaximeHaes pic.twitter.com/m8sVQYieM3

— Dara Ó Briain (@daraobriain) January 7, 2015
I was unfamiliar with Charlie Hebdo before today, but what insanity over some drawings. How deranged do you have to be? — Ryan Higgins (@RyanHigginsRyan) January 7, 2015
Like most, I saw terrible news earlier of Charlie Hebdo attack. Just senseless/horrible. Hearts go out to families/friends. #JeSuisCharlie — Jimmy Aquino (@jimmyaquino) January 7, 2015
Well if you wanted to stop people printing and sharing Charlie Hebdo's cartoons that was one brutal and disgusting failure. — Giles Dilnot (@reporterboy) January 7, 2015
I'm headed to Paris in a few weeks–if anyone knows of charities that help #JeSuisCharlie victims, I'd love to donate art. — Sean Gordon Murphy (@Sean_G_Murphy) January 7, 2015
Be louder. #JeSuisCharlie pic.twitter.com/7ScjxQSpPf — sohmer (@sohmer) January 7, 2015
Fear and force doesn't work on intelligent people. #jesuischarlie — Terry Moore (@TerryMooreArt) January 7, 2015
Killed cartoonists. I am so, so sad. Cartoonists, editors, satirists, my friends, colleagues, life-long heroes .#JeSuisCharlie #madmagazine. — Patty Jeres (@PJeres) January 7, 2015
Today is an even better day to create than usual, and every day is a good day to create. #JeSuisCharlie — Greg Rucka (@ruckawriter) January 7, 2015
@ruckawriter Greg. thx for adjusting my attitude.Changing the channel in my head, Honor with creativity! (Love to you & Jen). #jesuischarlie — Patty Jeres (@PJeres) January 7, 2015
If we cared more about reality than spandex or Lovecraft, most people I follow would be looking over their shoulders today. #JeSuisCharlie — Scott Allie (@ScottAllie) January 7, 2015
Trafalgar Square #JeSuisCharlie pic.twitter.com/KV8aK3Tfbi — Äl Mürräy (@almurray) January 7, 2015
#JeSuisCharlie pic.twitter.com/GfOxuJFQeC — Dan Panosian (@urbanbarbarian) January 7, 2015
all virtues of clarity and wisdom to angouleme's organizers, exhibitors and attendees in the hours and days ahead — http://t.co/qflB6t0lNK — Tom Spurgeon (@comicsreporter) January 7, 2015
That's right, the French comics festival Angouleme begins in ten years, the world's largest such event. I expect this will be at the forefront of everyone's minds. Plenty of cartoonists have offered their own take on the situation, in response, collected by many media organisations.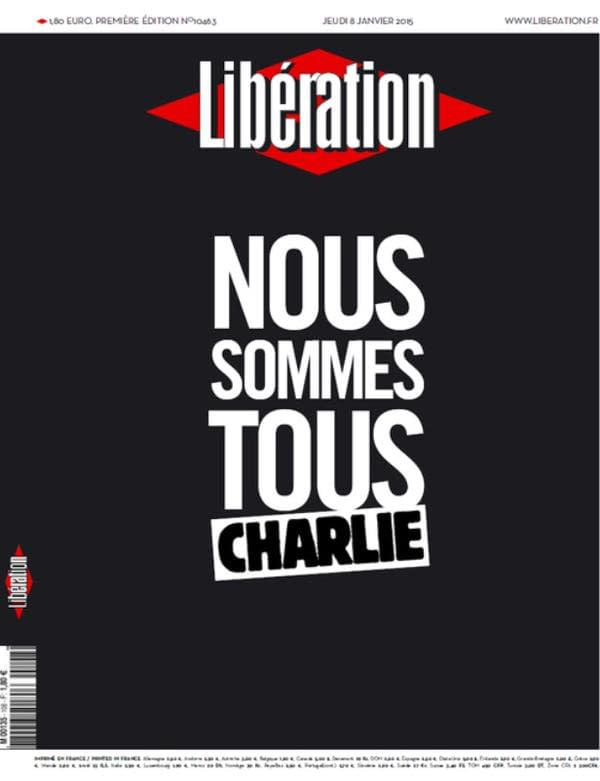 That is tomorrow's cover for French newspaper Liberation, Famous longstanding French comics magazine, Spirou, have announced a tribute issue to Charlie Hebdo. They will likely not be alone.
In that spirit, here's my own take. Enjoyed this article? Share it!