The Miami Herald has an unusual front page headline yesterday, amongst the family tragedies, the White House and Cuba, and sport coverage which may have delayed the paper. They put #comicsgate on the front page. The article by Leonard Pitts Jr, with the headline 'alt-right fan boys go after women in comic world' can be read in full here, with an online headline prefix of 'Comicsgate'.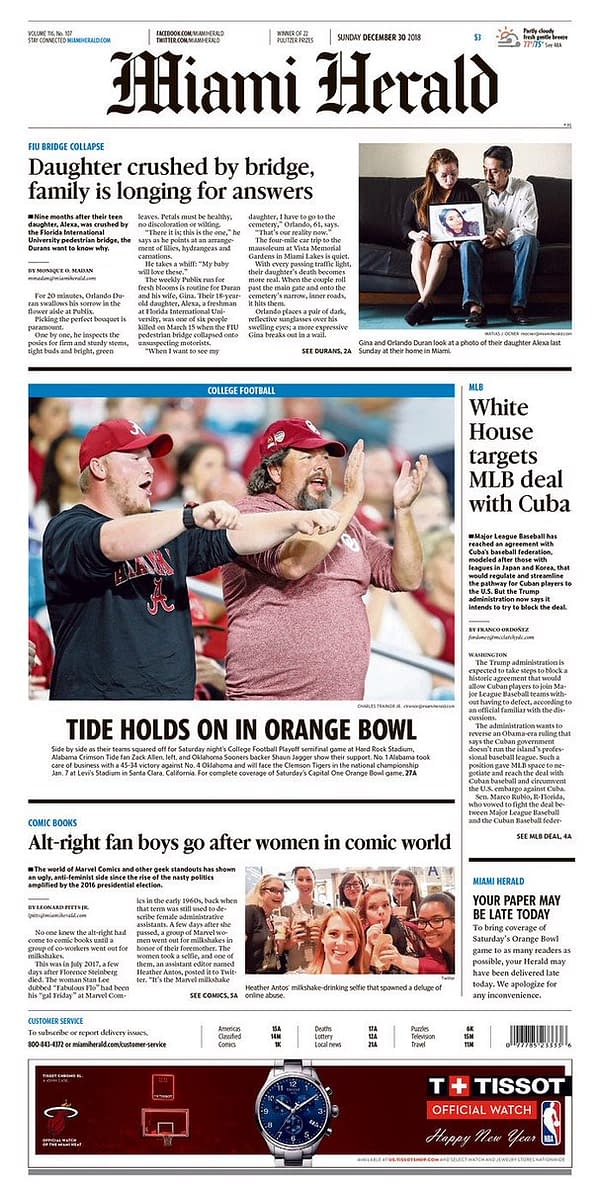 It's a runaround of stories and details that regular Bleeding Cool readers may be familiar with, but the front page of a newspaper like the Miami Herald is new territory.
The writer talks to the likes of Dr. Morten Bay of the University of Southern California Annenberg School for Communication and Journalism, University of Baltimore professor Dr. Bridget Blodgett, comic book writers Kwanza Osajyefo and Mark Waid and quotes Chelsea Cain, Richard Meyer, Stan Lee and more. It's pretty much anti-comicsgate through and through.
As a result, the majority of the comments are, as you may expect, against the tone of the article, including one stating that 'the stuff produced by Marvel and DC today is largely from a perspective which sees communism as a Utopian ideology'.
I'm not sure if anyone has told Marvel chairman Ike Perlmutter. That would be an interesting discussion.
Enjoyed this article? Share it!