Could Flash #81 Explain Why Those Doom Sigils Are Breaking the DC Comics' Timeline? (Spoilers)
Yesterday, Bleeding Cool looked at the Doom Signal sent out by Lex Luthor to indicate that Doom has won the public vote over Justice, signifying the beginning of the Hostile Takeover part of DC's Year of The Villain, Scott Snyder's take on the dangers of populism. And running through all ongoing DC Comics this month, and a few mini-series as well.
But the execution of this across tie-in DC Comics titles has been rather patchy. And so yesterday, Wonder Woman managed to see the signal for the first time in both Justice League Dark and her own solo title, published on the same day, in very separate and contradictory versions.
While Batman has encountered it as Bruce Wayne, with Mr and Mrs Freeze in Gotham, also simultaneously as Batman captured by The Batman Who Laughs in the Hall of Justice, all of which happen long before the events of Batman's City Of Bane – with Harvey Bullock seeing the Doom signal as it appears over Gotham for the first time, long after that.
Which makes a mockery of DC Comics' recent aim to have a unified timeline, to emphasise connective tissue and to create a cohesive common continuity.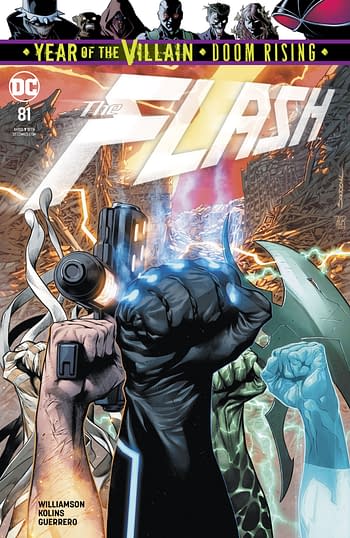 But could yesterday's Flash #81 have a get-out clause for DC Comics?
With a godly Perpetua-based destruction of time and space, tied in with Luthor's actions? Which might allow the Doom sigils to appear all over time and space, to pop up before and after the death of a butler, and to even appear for the first time to people more than once. To be and not to be…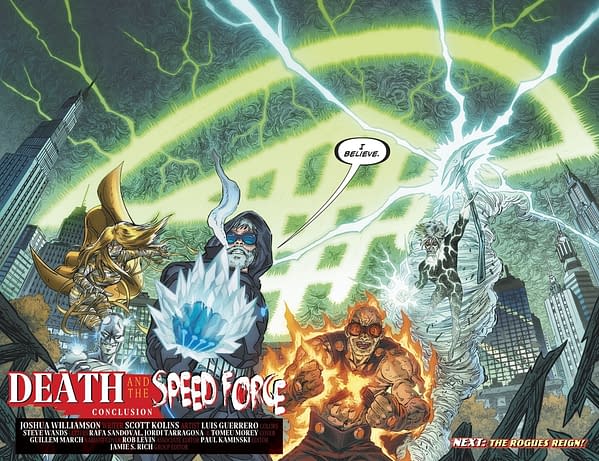 Okay, it's a stretch. But there you go, DC Comics, you can have that on us.
FLASH #81 YOTV
(W) Joshua Williamson (A) Scott Kolins (CA) Rafael Sandoval
"The Hunter and the Hunted" part two! This is one issue you cannot miss! The last gasp of the Speed Force! Can Barry Allen and Hunter Zolomon work together long enough to beat death and save the Speed Force? Can Kid Flash and Avery, the Flash of China, discover what the Rogues want within the wreckage of Iron Heights? Even if the Flash survives, nothing will ever be the same again for the Flash family!In Shops: Oct 23, 2019
SRP: $3.99