 My mother is a 3rd grade teacher, and anytime I'm done reviewing a graphic novel aimed at kids that I've been sent by a publisher, I donate it to her classroom. I always feel good about this, because a part of me feels like I'm encouraging a small group of kids to continue on the tradition of being inspired by and loving comics. Kids aren't going to understand anything happening in the New 52 or Secret Wars, they need a comic that's targeted directly at them, with fun art and entertaining stories. Therefore, in today's column I'll be looking at the Best Publication for Kids (ages 8-12) category with the eyes of an eagle, for it's important to get quality books into the hands of the next generation.
Keep in mind I cannot vote for who wins (nor can you, probably), as per the rules. However, that's not keeping me from being vocal regardless!
Who is eligible to vote?
Comic book/graphic novel/webcomic creators (writers, artists, cartoonists, pencillers, inkers, letterers, colorists
All nominees in any category
Comic book/graphic novel publishers and editors
Comics historians and educators
Graphic novel librarians
Owners and managers of comic book specialty retail stores
Who is not eligible to vote?
Comics press or reviewers (unless they are nominees)
Non-creative publisher staff members (PR, marketing, assistants, etc.)
Fans
Before I get back to writing Tiny Li'l Titans of Gotham so I can be eligible for next year, let the games begin!
Best Publication for Kids (ages 8-12)
Batman Li'l Gotham, vol. 2, by Derek Fridolfs & Dustin Nguyen (DC)
Think of it as "Diet Batman" for the younger readers. Comprised of Batman and the extended Bat-Family, we follow the vibrant cast of characters and their many adventures throughout Gotham. One storyline featuring Batman and Damian searching for Clayface during the Gotham Comic-Con was especially entertaining with all the Meta commentary from Fridolfs and Nguyen. Beautifully illustrated by Nguyen, it's a great Batman title for all-ages.
El Deafo, by Cece Bell (Amulet/Abrams)
Cece Bell lost her hearing when she was 4-years-old, and had to rely on a bulky Phonic Ear hearing aid growing up. While the chords were unsightly and she felt people were constantly staring at her, she managed to make good friends along the way while trying to fit in at school and in the neighborhood. A fascinating look at a severely deaf girl's world during the 1970s, El Deafo encourages kids to be true to themselves in a heart-warming way. Wonderfully illustrations to accompany an equally wonderful message.
I Was the Cat, by Paul Tobin & Benjamin Dewey (Oni)
Reporter Allison Breaking is approached by a mysterious client who wants her to ghostwrite a memoir about his life. Nothing weird there, until Allison discovers that the client, Burma, is actually a cat. Not only a cat, but a talking cat who has lived several different lives throughout history. As soon as Allison can wrap her mind around the situation, she starts to question Burma's motivations, for not all is what it seems. In my opinion, this title would be better suited in the Best Publication for Teens category, due to the adult content and violence that would give some parents pause before letting their 8-12 year old read it.
Little Nemo: Return to Slumberland, by Eric Shanower & Gabriel Rodriguez (IDW)
In the royal palace of Slumberland, the Princess is desperately in need of a playmate. Her father, King Morpheus, has his wisest of wise men select the perfect playmate for her: James "Nemo" Summerton. Only problem is, getting Nemo to Slumberland to play with her in the first place. Upon arriving to the majestic kingdom and meeting the Princess, things go awry as the rascal Flip tries to throw a monkey wrench into the equation and wake Nemo up, melting Slumberland. A true nod to Winsor McCay with a wonderfully fun story from Shanower and gorgeous art from Rodriguez.
Tiny Titans: Return to the Treehouse, by Art Baltazar & Franco (DC)
After Psimon and Braniac shrink the Titans' Treehouse for their shrinking badges, it's up to the Titans to find a suitable replacement. They try everything from a Batcave, Atlantis, a piece of the Rock of Eternity, even their own Fortress of Solitude, but to no avail. Watching the Titans interact with their older mentors while trying to find a suitable replacement is part of the charm of Baltazar & Franco's series, making it a continuously fun read for young readers as well as longtime ones.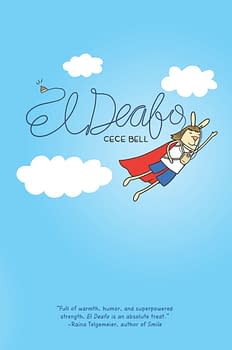 Who I think should win:
El Deafo, by Cece Bell (Amulet/Abrams)
It's not often that you come across a comic that not only amazes you, but also impresses younger readers. What Bell accomplishes in El Deafo is a thing of beauty; retelling her deafened childhood in an entertaining manner, while simultaneously inspiring children who have disabilities or are somehow different to own it. She truly does become her own superhero in her quest to fit in at school, and now is a superhero to others as well. I'm also a fan of everyone being illustrated as rabbits.
Great storytelling filled with humor, El Deafo left me with a huge smile on my face. I'm definitely recommending this book to my mother's 3rd grade classroom.
Who I think will win:
Little Nemo: Return to Slumberland, by Eric Shanower & Gabriel Rodriguez (IDW)
As I mentioned in the Best Limited Series category, this miniseries was a lot of fun. Such a well-crafted tale from Shanower and Rodriguez, which McCay himself would approve of the final result. Watching "Nemo" explore Slumberland for the first time was such an enjoyable adventure, and it brought a wonderful feeling of nostalgia to the reader. Not once did it feel like a bastardization of the property, but rather a fitting homage to the original Little Nemo strips. It's as if I was a little kid again, hungry for more of the fantastical world.
It's also great seeing Rodriguez's illustrations again after Locke & Key, for the man can draw intricate settings as if they were nothing. In Return to Slumberland, every page was eye-candy, and I found myself scanning each page throughout with the biggest grin on my face.
Who I think should have been nominated:
Costume Quest: Invasion of the Candy Snatchers, by Zac Gorman (Oni Press, Double Fine)
The story was extremely fun, and I found myself laughing out loud on several occasions. Gorman brings lots of humor to the story both visually and with the dialogue, as a trio of friends adventure forth to another world in search of candy. I strongly feel that this Oni Press title is better suited for the category than I Was the Cat is.
Who do you think should win / been nominated?
Cameron Hatheway is a reviewer and the host of Cammy's Comic Corner, an audio podcast. You can lend him your Phonic Ear earbud on Twitter @CamComicCorner.
Enjoyed this article? Share it!