I Am Awesome Encourages Self-Discovery Through Imagination I remember when I was younger, I would feel awesome some days, and not-so-hot others. It really depended on the day or the people I surrounded myself with. It's just part of being a kid. But sometimes kids don't feel special whatsoever, and at that age you shouldn't be feeling sad and depressed, you should be living life and playing all day. You have plenty of time to feel depressed and mopey when you become a teenager (or an adult). Whether it be a bully making you feel worthless, or you don't feel that you're good at anything, every once in a while you need to be reminded that you are in fact awesome, and have so many skills that you should be proud of.
The latest children's book from the Stranger Kids I Am series, I Am Awesome, focuses on just that. Starring Jay and Nia (influenced by Garcelle Beauvais' own children) and their friends, I Am Awesome focuses on celebrating the best qualities that every one of us embodies, no matter how small or insignificant, and also introduces the idea of self-discovery. While I was reading through the book, the song "Everything is Awesome" was playing in my head on a loop. Like the first two books, I Am Mixed and I Am Living in 2 Homes, the book is meant to be enjoyed and shared by both parents and children.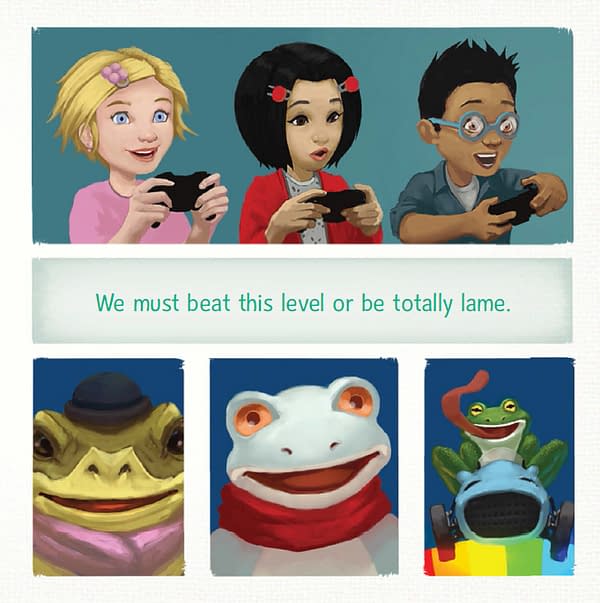 Because children have such wild and brilliant imaginations, there's a theme of superheroes that flows throughout the book, because what's more awesome to kids than superheroes? Jay can leap couches in a single bound, while Nia can run faster than a locomotive, but those aren't the only things that qualifies as "awesome," as the reader discovers Jay and Nia's ensemble of friends also have unique and different skills that make them individually awesome. Whether it's simply being brave and not scared of ghosts in the dark, or simply sticking up for your friends, Sebastian A. Jones and Garcelle Beauvais ensure the message of being special and awesome no matter who you are rings loud in this third installment of their I Am series.
Artist James C. Webster returns as artist, with his pleasant painted style bringing Jay and Nia's adventures to life. One of my favorite staples of the I Am series, the frogs, return with costumes and tiny cars aplenty, always providing a good laugh throughout the panels. "Find the frogs" is a possible fun game to play with your young reader. The warm colors and welcoming illustrations continue to pair well with the story, and at this point it wouldn't be a true I Am book without Webster's art.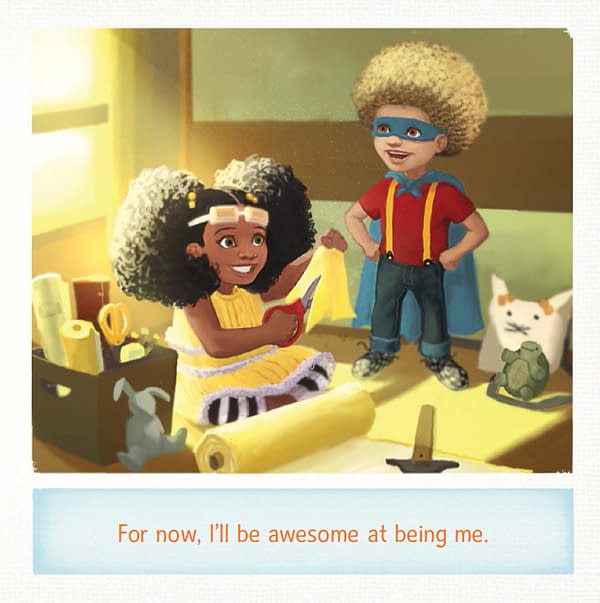 From racing on rainbow roads to Jay and Nia's own Justice League of friends, I Am Awesome has plenty for both child and adult to enjoy. In the back of the book is the usual interactive section for kids to do various things, such as draw themselves as a superhero, and describe what makes them so awesome. Also included are some questions for both parents and children to explore together. It's a great ending that Jones and Beauvais continue to include with each book. Looking for a great series to have in your classroom and library? The I Am series is definitely the one I constantly recommend because of its mission to bring parents and kids together and bond over the fun story they just read.
I Am Awesome has made me realize that I am awesome because I write comic reviews for fun, and because I can fit eleven Oreos in my mouth. What makes you so awesome?
I Am Awesome (Stranger Kids)
Written by Garcelle Beauvais & Sebastian A. Jones
Illustrated by James C. Webster
52 Pages, FC
$14.99
Available August 25, 2015
Cameron Hatheway is a reviewer and the host of Cammy's Comic Corner, an audio podcast. You can witness him being awesome on Twitter @CamComicCorner.