Cameron Hatheway writes;
By far one of the fastest growing Eisner categories is digital, because all you need is an internet connection and suddenly you have a plethora of free comics at your fingertips. Creators going the digital route also have less to worry about when it comes to distributing their comic, because there's less need to run things by editors and publishers, and the middleman is cut-out completely. The creator is able to publish their work with 100% control, never having to worry about "The Man" thinking their comic isn't good enough and ending the run prematurely. And even if your digital comic never catches on, you can always print it up and sell it as a physical copy. Today I'll be focusing on the Best Digital Comic category. If you need a reminder of what's been nominated, you can find the entire list right here, and see what I chose last time right here.
Keep in mind I cannot vote for who wins (nor can you, probably), as per the rules. However, that's not keeping me from being vocal regardless!
Who is not eligible to vote?
Comics press or reviewers (unless they are nominees)
Non-creative publisher staff members (PR, marketing, assistants, etc.)
Fans
Before I get back to tracing old xkcd comics and claiming them as my own I can be eligible for next year, let the games begin!
Best Digital Comic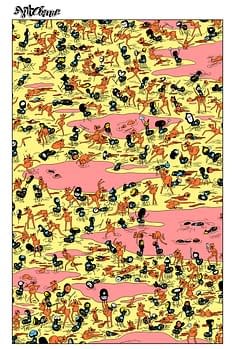 Ant Comic, by Michael DeForge
From the first page alone I had no idea what I was in for. DeForge tells a story of a black ant colony under duress, with a series of events separating the ants from their queen. We watch relationships unfold, battles between rival colonies occur, and a band of misfits travel aimlessly while looking for a new colony. DeForge has an interesting take on both black and red ants, bumblebees, centipedes and spiders, as he illustrates them all in his bizarrely quirky style.
Bandette, by Paul Tobin and Colleen Coover
A delightful little series from Monkeybrain, Bandette follows the thief of the same name as she steals from the bad guys and keeps some of the spoils for herself. Sometimes she's hired to retrieve valuable items that find their way into the wrong hands, sometimes she's called by the police inspector for help. Bandette with the help of her crew the Urchins have their ways of getting certain items back. Absolutely gorgeous art from Colleen Coover, and fun storytelling by Paul Tobin.
It Will All Hurt, by Farel Dalrymple
"It Will All Hurt is a weird, sad, silly, and sketchy, fantasy adventure strip with magic and science-fiction and some fighting action." That description basically sums-up the webcomic in a nutshell, but what it lacks mentioning is the beautiful art of Farel Dalrymple on every page. We follow three characters, one in space and two on Earth, as they battle the eerie shadow people in a post-apocalyptic landscape. It's survival of the fittest, and you'll be fine as long as you have a colored fire of some sort to protect you.
Our Bloodstained Roof, by Ryan Andrews
A flock of geese fall from the sky and land on Ryan's roof. With the help of his brothers, they remove the carcasses but are still left with a blood-splattered roof. Their father plans on just dumping the bodies at the dump, but the boys sneak out at night to give the geese a proper burial. Beautiful use of watercolors by Andrews.
Commander Davidson Bulloch is assigned with the mission to hunt down a nefarious crew of oyster pirates who have been plundering the Chesapeake Bay. After putting together a rag-tag crew to search and capture Treacher Fink, Bulloch learns that his oyster pirate may be a part of some questionable acts on a hidden island in connection to the tomb of John Clark Monk. Entertaining story featuring some wonderful art that definitely helps set the tone.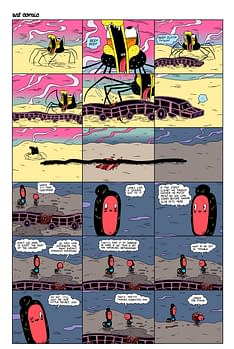 Who I think should win:
Ant Comic, by Michael DeForge
While DeForge's Lose #4 was hard to follow at times, Ant Comic was a thrilling twisted adventure following several different species in the insect kingdom. The way the black ants were somewhat transparent and their insides could be seen helped differentiate which ant was which, and the way the other bugs and insects were illustrated were both wild and original. I especially loved the spiders and their dog heads.
Every ant had a story; infertile queen, homosexual, godlike child, policeman who lost a partner, etc. A fascinating look at a colony, who knew that nature could be so psychedelic?
Who I think could win:
Our Bloodstained Roof, by Ryan Andrews
The art and layout was just terrific, and the story a sad yet enjoyable one. For the brothers to go against their father's wishes and bury the geese showed true courage, but ultimately they did end up being put to task for it. It was rather eerie that the blood never came off, but then again it's eerie in general having a flock of geese fall out of the sky dead.
The watercolors were very well done, and I felt the Schindler's List motif (black and white with red) proved to be the best way of telling the story.
Who I think should have been nominated:
Valkyrie Squadron, by Jules Rivera
A sci-fi adventure featuring a team of badass women versus hordes of autodrones; what's not to love?
Who do you think should win / been nominated?
Cameron Hatheway is the host of Cammy's Comic Corner and Arts & Entertainment Editor of the Sonoma State STAR. You can feed him royal jelly on Twitter @CamComicCorner.
Enjoyed this article? Share it!