Crescent City Comics Opens Second New Orleans Location
Guignol creator Brett Schwaner writes for Bleeding Cool:
Crescent City Comics recently celebrated the opening of their new flagship location in Uptown New Orleans. Located at 3135 Calhoun Street, Crescent City Comics is located near Tulane University's baseball stadium, steps from the landmark Frostop Diner.
Visitors to the store's Freret Street location may have noticed that the shop had exploded wall-to-wall with comics and merchandise in recent years, simply outgrowing the space which it had called home since 2009. Store owner Les Arceneaux had no choice but to think BIGGER:
The original Crescent City Comics opened its doors in 1994, operating on the second floor of a shopping strip on Elysian Fields Ave. in New Orleans' Lakefront University-area. I lived just a few blocks away from the shop during my undergrad years and had the pleasure of visiting the original store frequently, back during the heyday of Jim Lee's Batman and Bendis' Daredevil. Hurricane Katrina devastated the neighborhood in 2005, but being situated on the second floor, much of Crescent City's stock was spared from flooding, though holes ripped into the ceiling led to some losses (indeed, when the store finally reopened at a new location in 2009, the gaps in the back issue stock alphabetically from Thunderbolts to Venom and elsewhere in-between told the story of where the rain had come in).
With Crescent City Comics' flagship location now up and running on Calhoun Street, the Freret Street store remains open with a new focus on games, toys, novelties, and a selection of best-selling comic titles. The new location offers almost double the floor space, a full selection of weekly mainstream and underground comic book releases, as well as numerous comics for readers of all ages, toys, paperbacks, back issues, and novelties.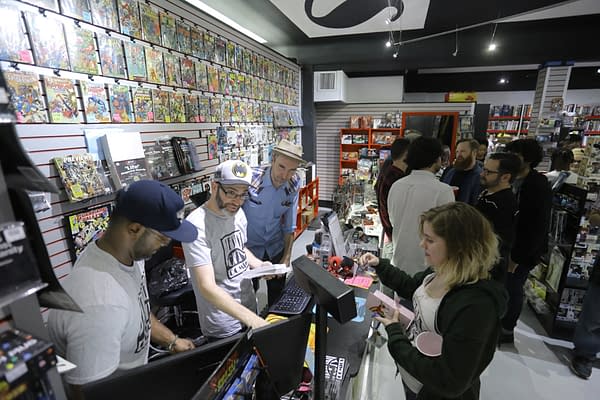 Crescent City Comics staffers Justin Colomb, Leo McGovern, and Store Owner Les Arceneauxgreet guests during the store's opening party: Saturday, April 16, 2016.
Fans gather for Crescent City Comics' opening party: Saturday, April 16. 2016. Something on the local creators shelf must have scared this poor pooch! But what? : Saturday, April 16, 2016. The line for comics outstretches the free beer line : Saturday, April 16, 2016.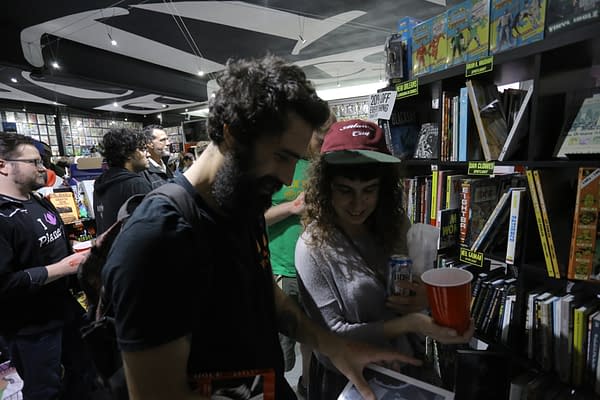 Lots to discover on the shelves at Crescent City Comics: Saturday, April 16, 2016.
Crescent City Comics staffers (Left to Right): Alex Rooney, Leo McGovern, DB Wells, Store Owner Les Arceneaux, Richard O'Brien, Justin Colomb : Saturday, April 16, 2016.
Crescent City Comics' next in-store event is Free Comic Book Day on Saturday, May 7th. They are a Gold-Level participant and will offer a full selection of free titles, as well as in-store specials. Visit Crescent City Comics online at http://www.crescentcitycomics.com
Brett Schwaner is a New Orleans-based horror author. Guignol Book One is out now. Photos by Nathan Tucker and Greg Morris.