He wasn't listed as a guest. But when Dan Fogler, star of Fantastic Beasts And Where To Find Them, asks to turn up at the Heavy Metal booth in the Comic Zone at the London Film And Comic Con to sign copies of prints for his comic book work Brooklyn Gladiator, Moon Lake (which was inspired by his love for Heavy Metal), you kind of shuffle around and make room. As hundreds and hundreds of people realise what's going on and start to line up. And the line starts to snake around London Film And Comic Con – they expect this over by the film and TV star sections. This may have taken the organisers by surprise, however… And it's not just his love for the magazine that saw Fogler pitch up here, he has work printing in upcoming issues of the magazine. And now a fair few of his fans know it. Prints for his comic book projects Brooklyn Gladiator and Moon Lake there…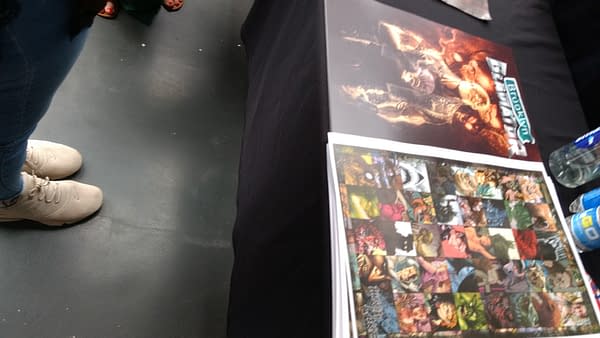 Look forward to his Heavy Metal Magazine work in subsequent issues… Enjoyed this article? Share it!