Posted in: Comics | Tagged:
---
Dark Horse Launches Frozen, Predator, Terminator, Seeds, Incognegro, Beasts Of Burden, Conspiracy Of Ravens in August 2018 Solicitations
Coming from Dark Horse Comics in August 2018 – and beyond…
SEEDS #1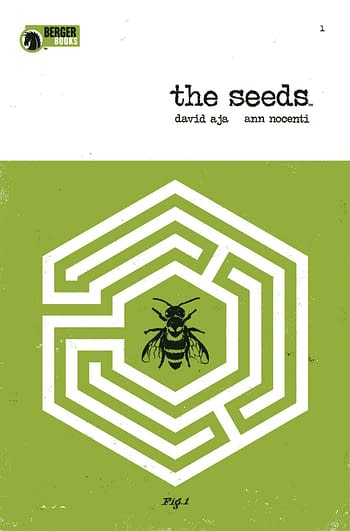 JUN180299
(W) Ann Nocenti (A/CA) David Aja
The bees are swarming. What do they know that we don't?
The rich have built walls around their wealth and scramble into escape rockets. The romantic and the ruthless cross over into the lawless wilds of Zone-B. A few cantankerous aliens have come to collect the last dregs of humanity's essence for the celestial embryo bank. One of them falls in love.
Astra is an idealistic journalist who stumbles into the story of a lifetime, only to realize that if she reports it, she'll destroy the last hope of a dying world. How far will she go to get her story? An eco-fiction tech-thriller where flora and fauna have begun to mutate, The Seeds is also a story of love beyond race and gender, and of the resilience of both human and animal kind.
A new four-issue series, by award-winning artist David Aja (Hawkeye, Immortal Iron Fist) and filmmaker, journalist, and comics writer Ann Nocenti (Daredevil, Catwoman).
o For mature readers.
In Shops: Aug 01, 2018
SRP: $3.99
INCOGNEGRO RENAISSANCE HC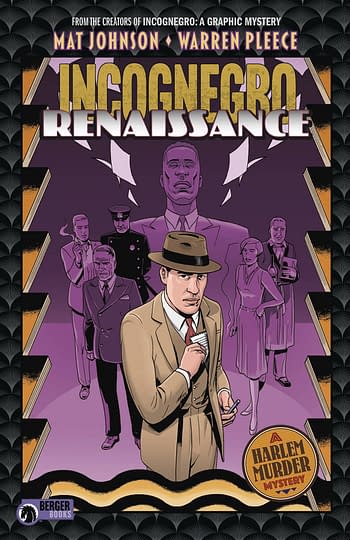 JUN180300
(W) Mat Johnson (A/CA) Warren Pleece
When a black writer is found dead at a scandalous interracial party in 1920s' New York, Harlem's cub reporter Zane Pinchback is the only one determined to solve the murder. Zane must go "Incognegro" for the first time, using his light appearance to pass as a white man to find the true killer, in this prequel miniseries to the critically acclaimed Vertigo graphic novel, now available in a special new 10th Anniversary Edition.   Â
A page-turning thriller of racial divide, Incognegro: Renaissance explores segregation, secrets and self-image as our race-bending protagonist penetrates a world where he feels stranger than ever before. Collects the five-issue miniseries.
In Shops: Oct 03, 2018
SRP: $19.99
SHE COULD FLY #2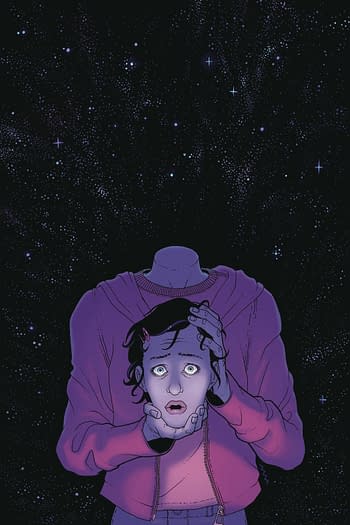 JUN180301
(W) Christopher Cantwell (A/CA) Martin Morazzo
She could fly, but then she blew up. Luna mourns the loss, unable to let go, while Bill Meigs returns to Chicago to secretly investigate the Flying Woman's identity. Meanwhile, Eon-Def Industrial moves to put a cap on dangerous technology in hopes of avoiding federal prying eyes. And the Brewsters discover that Kido may not be as at peace as she claims. Â
o Written by Christopher Cantwell, co-creator/showrunner of AMC's critically acclaimed Halt and Catch Fire.
o Martín Morazzo has worked on Nighthawk, Elektra, and the recently released creator-owned Ice Cream Man.
In Shops: Aug 08, 2018
SRP: $4.99
DISNEY FROZEN BREAKING BOUNDARIES #1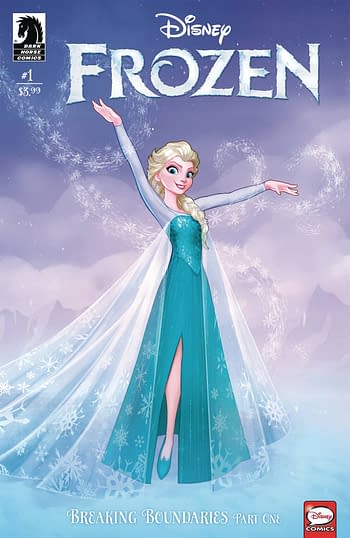 JUN180302
(W) Joe Caramagna (A/CA) Kawaii Creative Studio
Elsa and Anna are ready to get to the bottom of things when the peace of their beloved kingdom is disrupted: a wild animal is loose in the village, there is destruction in the forest, and tension is brewing in a nearby kingdom. Luckily this queen and princess will have the help of Olaf, Kristoff . . . and a mysterious, adventurous young woman!
o Disney's Frozen comes to Dark Horse in its first multi-issue comics tale!
o Kawaii Creative Studio from the Frozen film graphic novel adaptation will create the art for this series!
In Shops: Aug 01, 2018
SRP: $3.99
DISNEY FROZEN BREAKING BOUNDARIES #1 FRANCISCO CVR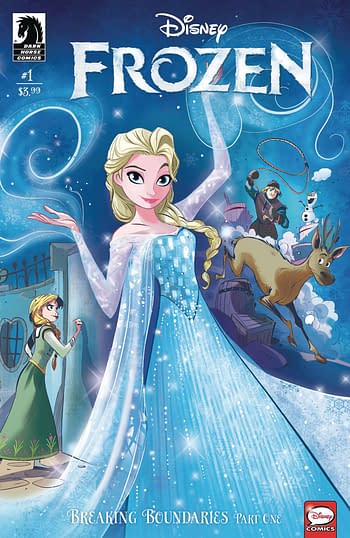 DISNEY PIXAR INCREDIBLES 2 #2 CRISIS MIDLIFE & OTHER STORIES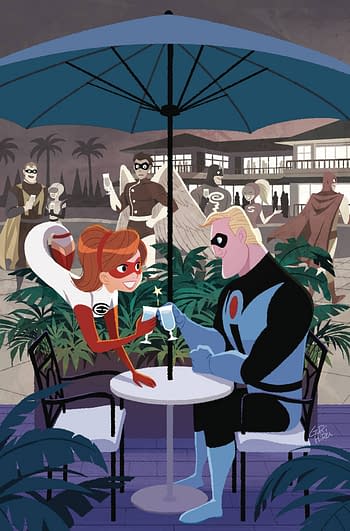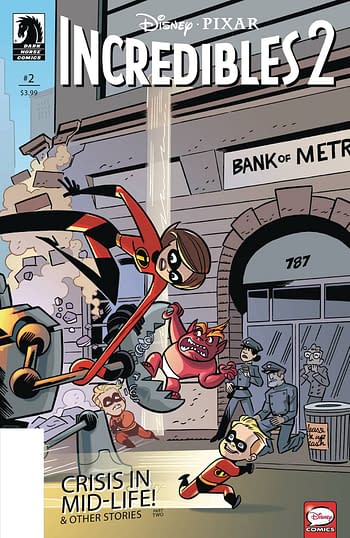 JUN180304
(W) Christos Gage, Landry Walker (A) J. Bone, Andrea Greppi, Roberta Zanotta, Dan Jackson, Angela Capolupo (A/CA) Gurihiru
Bob and the kids have begun Superhero training-to make this generation of the Incredibles family the most incredible ever! Helen's reservations about the intensity of the training are realized when Dash and Violet's rookie mistakes lead Bob to redouble their training . . . Meanwhile, Bob's continued bedtime story turns into something the kids can never unhear-it began as a mushy date night with Elastigirl! Then in an adventure all his own, Jack-Jack drops a cookie and receives unexpected assistance from an army of ants!
oThree original stories are set during and after DisneyoPixar's The Incredibles 2 feature film!
In Shops: Aug 15, 2018
SRP: $3.99
DISNEY PIXAR INCREDIBLES 2 #2 CRISIS MIDLIFE & OTHER STORIES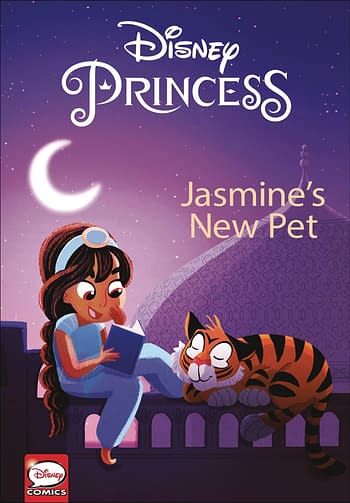 DISNEY PRINCESS JASMINES NEW PET HC JUN180306
(W) Nidhi Chanani (A/CA) Nidhi Chanani
Princess Jasmine loves Rajah, her new tiger cub. But living in the palace has rules, and Rajah finds them difficult to follow! He ruins pillows with his claws, knocks over plants, chases the palace peacock, and wakes Jasmine in the middle of the night with his yowling. If Jasmine can't teach Rajah to behave better, her father the Sultan will send Rajah away to live with someone else! Will they learn how to follow the rules together . . . in time?
o Tie-in to the Disney classic Aladdin for younger readers!
In Shops: Oct 10, 2018
SRP: $7.99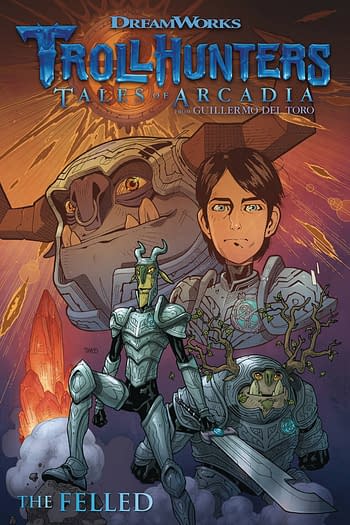 ART OF TROLLHUNTERS HC JUN180307
(W) Guillermo Del Toro (A) Guillermo Del Toro
Dark Horse Books and DreamWorks Animation are pleased to present the definitive chronicle of the making of Trollhunters. Including hundreds of pieces of concept art and creator commentary from Guillermo del Toro and the talented minds behind the Emmy® Award-winning animated series!
o The art from the hit Netflix series!
o Featuring over 200 pages of concept art and notes from the art team.
o Includes a foreword by Guillermo del Toro, an introduction from Marc Guggenheim, and an afterword by Mark Hamill.
In Shops: Oct 24, 2018
SRP: $39.99
TROLLHUNTERS TALES OF ARCADIA THE FELLED TP
JUN180308
(W) Richard A. Hamilton (A) Omar Lozano (CA) Joseph Silver, Wes Dzioba (A/CA) Timothy Green
The title of Trollhunter weighs heavy the shoulders of Jim Lake, Jr.-as does his new title of "boyfriend"-and it has lead him to a crisis of identity. To help, the Trolls review the misadventures of six previous Trollhunters, at times when they, too, were questioning themselves. Through their stories Jim discovers how they used their different attributes to be the best they could be . . . And how he can try to do the same.
o From Guillermo del Toro and DreamWorks Animation's Emmy® Award-winning Netflix series, comes a graphic novel with another quest for teenage Trollhunter, Jim Lake, Jr.!
In Shops: Oct 03, 2018
SRP: $10.99
SUPER MARIO ENCYCLOPEDIA LTD ED HC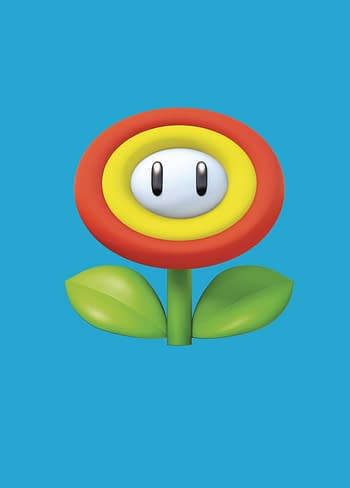 JUN180311
(W) Usa Nintendo
The Super Mario Encyclopedia is jam-packed with content from all seventeen Super Mario games and spans more than 30 years of the franchises history-from the original Super Mario Bros to Super Mario 3D World. Track the evolution of the Goomba, witness the introduction of Yoshi, and relive your favorite levels. This tome also contains an interview with producer Takashi Tezuka, tips to help you find every coin, star, sun, and mushroom–even explanations of glitches! With information on enemies, items, obstacles, and worlds from over thirty years of Mario, Super Mario Encyclopedia is the definitive resource for everything Super Mario!
This deluxe limited edition comes with an embossed slipcase specially designed to look like the iconic Super Mario Question Mark Block! Inside, you'll find one of four covers-Super Mushroom, Fire Flower, Super Star, or 1-Up Mushroom-each accentuated with shimmering holofoil! The book also includes a ribbon bookmark, printed with the original vine design from Super Mario Bros., and a sky-and-cloud design printed along the pages' edge.
o Buyers will receive one of four covers, chosen randomly (Super Mushroom, Fire Flower, Super Star, or 1-Up Mushroom), each in the "Question Mark Block" slipcase.
o Specific cover image cannot be requested or guaranteed.
o Each cover variant is printed in equal quantities.
In Shops: Oct 24, 2018
SRP: $79.99
YOSHITAKA AMANO THE ILLUSTRATED BIOGRAPHY HC BEYOND THE FANT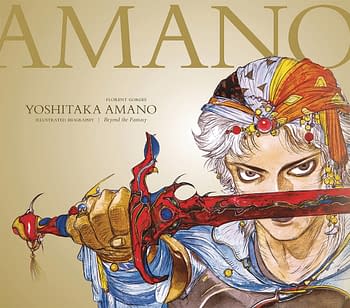 JUN180312
(W) Florent Gorges (A/CA) Yoshitaka Amano
A beautiful celebration of the life and imagery of Japan's master of fantasy and science fiction art! This landscape-style hardback contains nearly 400 illustrations and photos from the incredible career of Final Fantasy designer Yoshitaka Amano-a journey that began with his first job at 15, working on Speed Racer!
This ultimate tribute to fantasy and science fiction artist Yoshitaka Amano includes a slipcase containing the 328-page hardback Yoshitaka Amano: The Illustrated Biography-Beyond the Fantasy, Amano's 96-page Paris Sketchbook, a region-free Blu-ray with almost 3 hours of discussion, commentary, and live drawing, 2 mini-lithographs, and a signed card! Limited to 500 copies for the direct market.
o Author Florent Gorges is one of France's leading videogame historians.
o Amano contributed rare archival images, photos, and artwork to book.
In Shops: Oct 10, 2018
SRP: $49.99
YOSHITAKA AMANO THE ILLUSTRATED BIOGRAPHY LTD ED HC BEYOND T
SRP: $149.00
PREDATOR HUNTERS II #1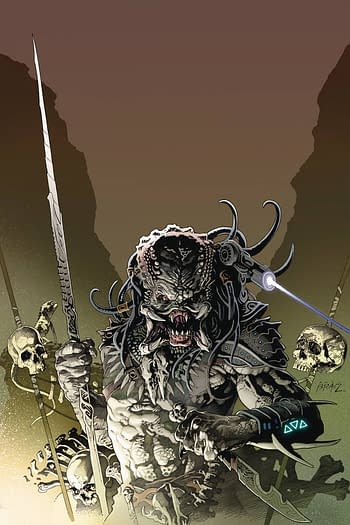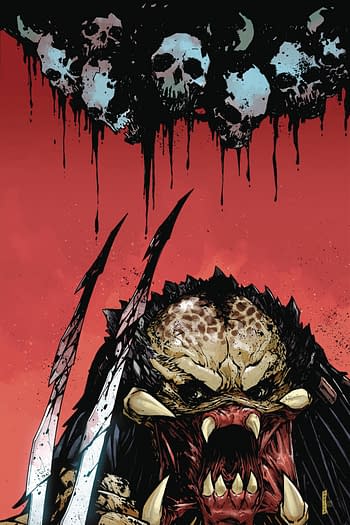 JUN180314
(W) Chris Warner (A) Agustin Padilla, Neeraj Menon (CA) Andy Brase
From the islands of the South Pacific to the mountains of Afghanistan, the Hunters go wherever the Predators appear-even it's in a warzone and into conflict with a mysterious government group hunting the same prey!
Despite the casualties suffered during their fist mission, the Predator Hunters are on the prowl again!
"A true testament to the savagery of the Predator franchise, this series just doesn't quit…"-Infinite Earths
In Shops: Aug 08, 2018
SRP: $3.99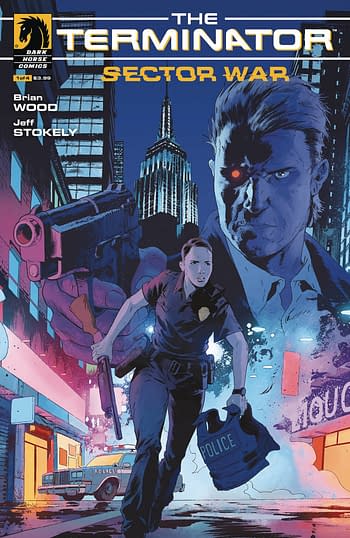 TERMINATOR SECTOR WAR #1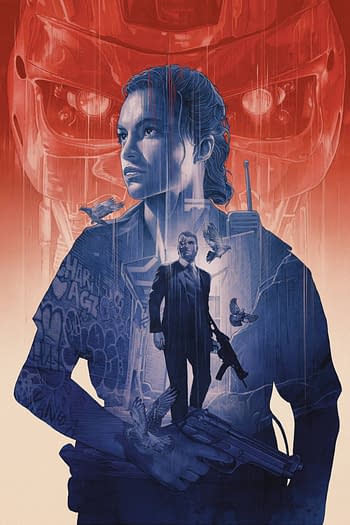 JUN180316
(W) Brian Wood (A) Jeff Stokely (CA) Robert Sammelin
Two Terminators went back in time to 1984, one to kill Sarah Conner, and another targeting NYPD Officer Lucy Castro, a rookie cop assigned to one of the worst sections of the city.  Isolated and unable to call for backup, Castro faces off against the relentless T800, relying on unlikely allies to see her through to dawn.
o Brian Wood delves into the world of Terminator.
In Shops: Aug 15, 2018
SRP: $3.99
BLACK HAMMER AGE OF DOOM #4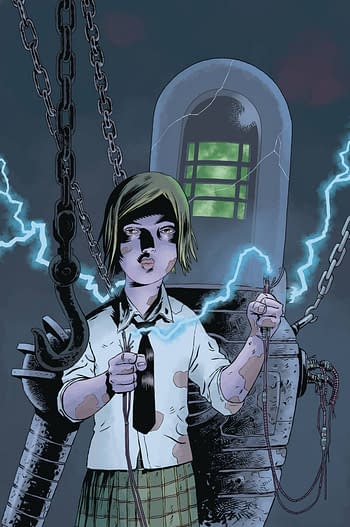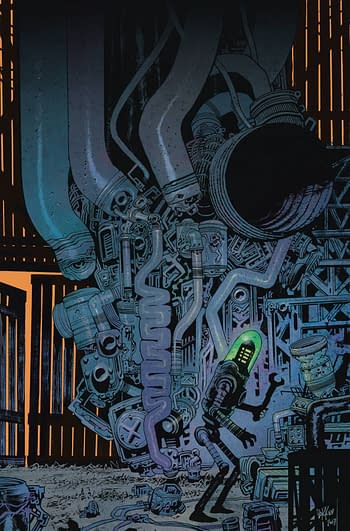 JUN180318
(W) Jeff Lemire (A/CA) Dean Ormston
The Eisner Award-winning superhero saga returns with lots of revelations!
All is revealed when Lucy makes her way back to the farm from Dreamland, confronting the mastermind of their current situation. The revelations here will alter the fate of the Black Hammer family forever!
In Shops: Aug 22, 2018
SRP: $3.99
BLACK HAMMER LIBRARY ED HC VOL 01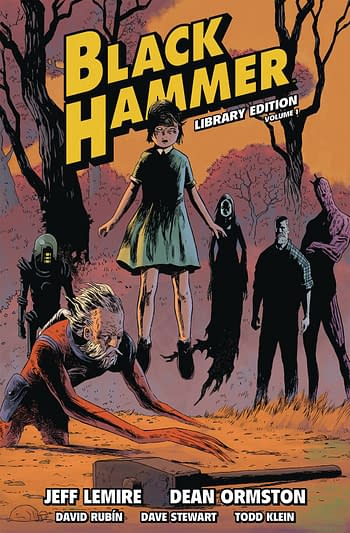 JUN180320
(W) Jeff Lemire (A) David Rubin, Various (A/CA) Dean Ormston
The first chapter of the highly acclaimed, Eisner Award-winning superhero saga in deluxe, oversized hardcover format.
Mysteriously banished from existence by a multiversal event, the old superheroes of Spiral City now lead simple lives on a bizarre farm from which there is no escape! But as they employ all of their super abilities to free themselves from this strange purgatory, a mysterious stranger works to bring them back into action for one last adventure!
Collects the first and second volumes of Black Hammer, and Black Hammer: Giant Sized Annual in a deluxe, hardcover, and oversized format with a new cover, sketchbook extras, and more!
"Every so often, you read a comic that grabs hold of you and won't let go. Its world is fascinating, its characters are captivating and its art is mesmerizing." – IGN
In Shops: Oct 24, 2018
SRP: $49.99
DOCTOR STAR & KINGDOM OF LOST TOMORROWS TP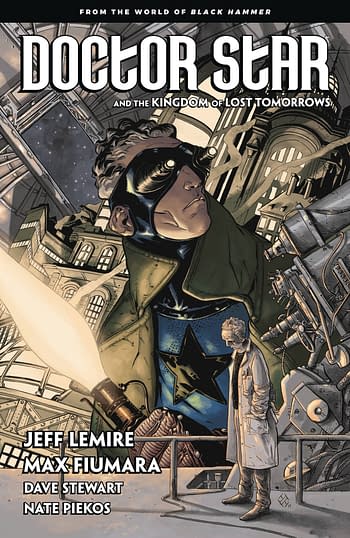 JUN180321
(W) Jeff Lemire (A/CA) Max Fiumara
This dual-narrative story set in the world of the Eisner-Award winning Black Hammer series chronicles the legacy of a Golden-Age superhero.
An aged crime fighter desperately wants to reconnect with his estranged son, who he hoped would one day take the mantle of Doctor Star. Over the course of the story we learn his World War II-era origin, how he got his powers, his exciting astral adventures, the formation of some of Black Hammer's greatest heroes, and more in this heartbreaking superhero tale about fathers and sons.
Collects the first four issues of Doctor Star from New York Times bestselling and Eisner-winning creator Jeff Lemire!
In Shops: Oct 17, 2018
SRP: $17.99
QUANTUM AGE FROM WORLD OF BLACK HAMMER #2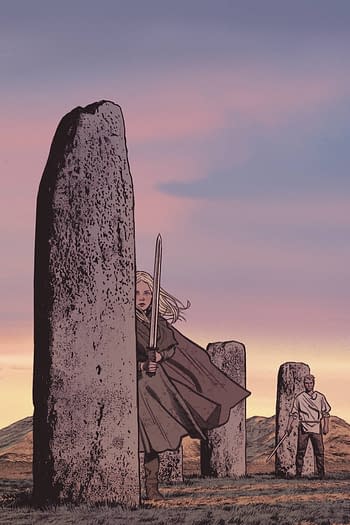 JUN180322
(W) Jeff Lemire (A/CA) Wilfredo Torres
A rogue Martian joins forces with the down-and-out heroes of the Quantum League only to find themselves on the run from powerful, oppressive militia forces. Shocking events come to light from both the Martian's past and the Leaguers ties to the heroes of Black Hammer farm.
o Based on Jeff Lemire's Eisner Award-winning Black Hammer!
In Shops: Aug 01, 2018
SRP: $3.99
SWORD DAUGHTER #3
JUN180324
(W) Brian Wood (A) Mack Chater (CA) Greg Smallwood
For ten years Dag slept, hiding from the horror that ripped his family apart. At the rocky outpost of Raven's Fate, he comes face to face with the first of the Forty Swords, and the extent of his failure as a father.
o Brian Wood and Mack Chater team up again!
o A premiere format: 28 story pages, deluxe cover.
In Shops: Aug 01, 2018
SRP: $4.99
SWORD DAUGHTER HC VOL 01 SHE BRIGHTLY BURNS
JUN180326
(W) Brian Wood (A) Mack Chater (CA) Greg Smallwood
One thousand years ago, a murderous clan known as the Forty Swords burned a village to the ground, leaving just two people alive: a shattered father and his teenage daughter. Setting off on a revenge quest that will span the width of Viking Age Europe, they find the key to repairing their damaged relationship lies in the swords they carry. Â
In Shops: Oct 31, 2018
SRP: $19.99
ETHER COPPER GOLEMS #4
JUN180334
(W) Matt Kindt (A/CA) David Rubin
From New York Times bestselling Mind MGMT creator Matt Kindt and Black Hammer's David Rubín comes this fantasy adventure about a science-minded hero intent on keeping the balance between Earth and a magic world!
Coming off the heels of a mummy packed cliffhanger, Boone Dias and co. battle their way through an enormous Copper Golem. With the last portal nearly in their grasp, the team has to get past a reality-warping goblin who is more than he seems!
In Shops: Aug 15, 2018
SRP: $3.99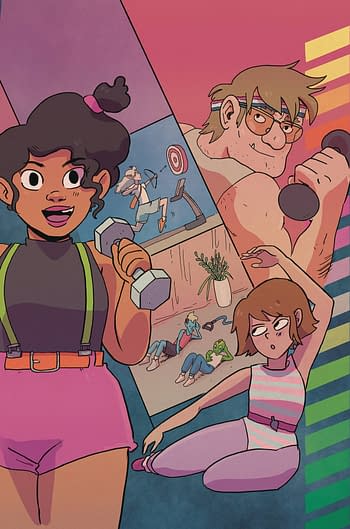 MODERN FANTASY #3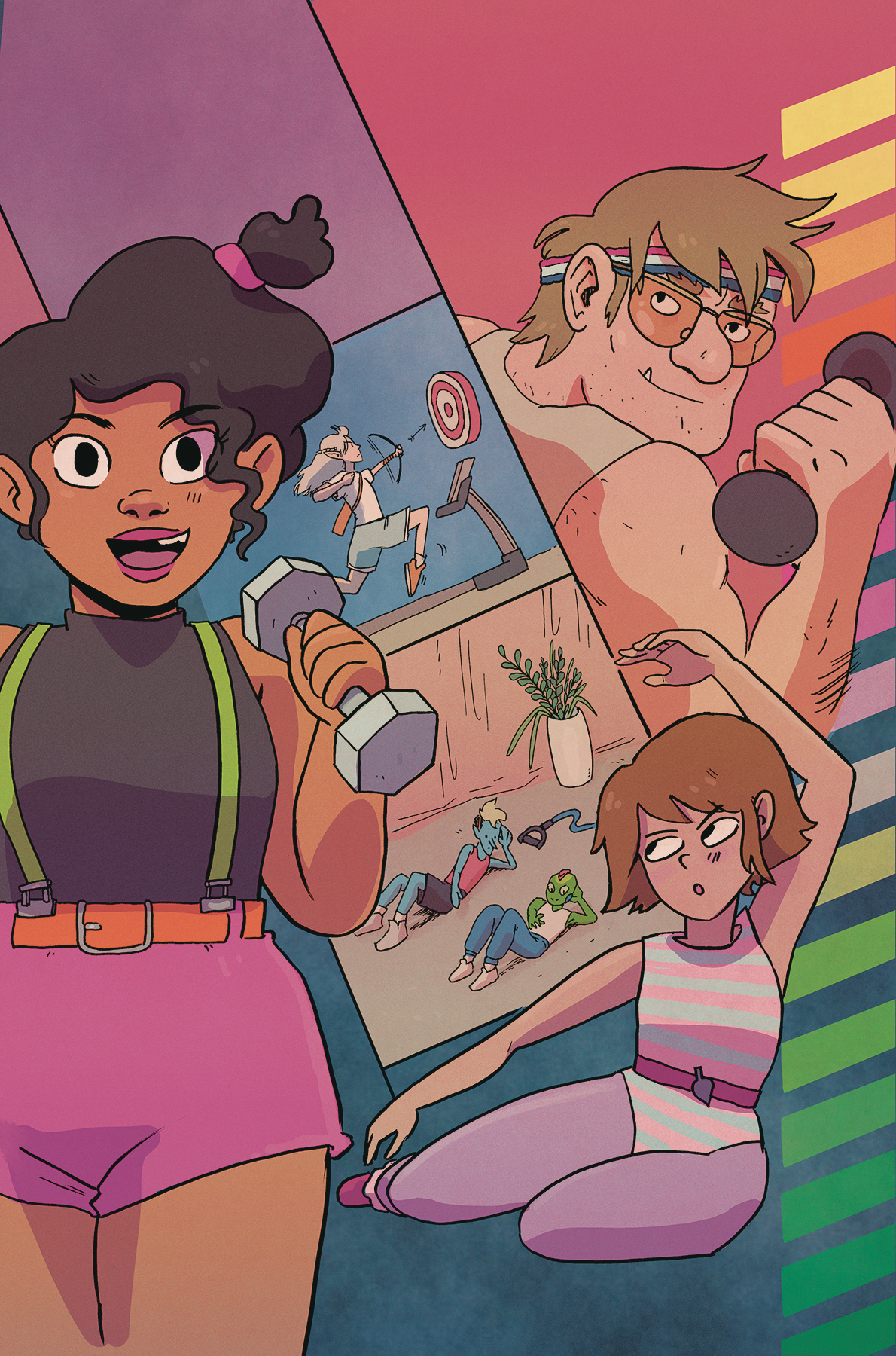 JUN180336
(W) Rafer Roberts (A/CA) Kristen Gudsnuk
The journey to reclaim the magical amulet continues! After recruiting her coworker, Sage and the team begin to train as they track down the cult in possession of the artifact. A prophecy they discover foretells the amulets power to summon a giant fire demon on the equinox . . . Just a few days away! Â
o From the creator of Henchgirl!
o Rafer Roberts (A&A: The Adventures of Archer and Armstrong) makes his Dark Horse debut!
In Shops: Aug 29, 2018
SRP: $3.99
MOEBIUS LIBRARY INSIDE MOEBIUS HC VOL 03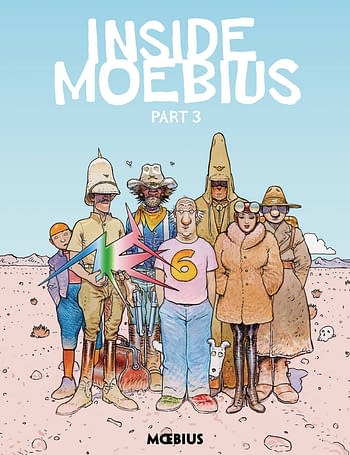 JUN180337
(W) Moebius (A/CA) Moebius
In this third and most surreal volume of Inside Moebius, Jean "Moebius" Giraud exists in a magical desert locale within his subconscious. He not only meets and talks with several of his own creations-but he encounters versions of himself from multiple decades and argues with them about art and creativity. Collects Inside Moebius chapters 5 and 6
o The final volume in Meobius's unique, self-reflective Inside Moebius book series.
"Drawn in a sketchier, looser style than his typical work, Inside Moebius is a fascinating, frank semi-retrospective of the works of this late artist. If you ARE a fan of his work, pick up this Volume…"-Fanboy Factor
In Shops: Oct 03, 2018
SRP: $39.99
XERXES FALL OF HOUSE OF DARIUS #5 (OF 5)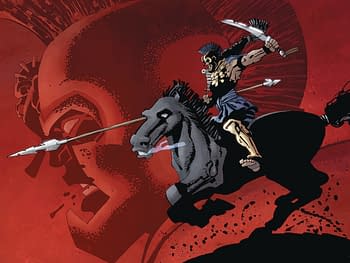 JUN180341
(W) Frank Miller (A/CA) Frank Miller
The Persian Empire is vast beyond imagining. It seems destined to last a thousand years . . . But a whirlwind comes from the west: the greatest warlord the world will ever know. Alexander!
o Deluxe collector format!
o 40+ pages of story!
In Shops: Aug 01, 2018
SRP: $4.99
EMPOWERED & SISTAH SPOOKYS HIGH SCHOOL HELL TP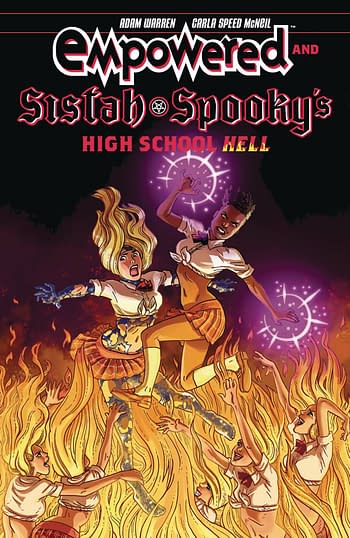 JUN180343
(W) Adam Warren (A/CA) Carla Speed McNeil
Hell is for heroines! Empowered and "frenemy" Sistah Spooky are trapped in high-school hell, with Spooky's blonde ex-classmates plotting ritual murder to claim her magic for themselves! Beset by giant biology-class frogs, deadly emoji, and a monstrous junk-food elemental, Emp and Spooky fight for their lives against straight-fire blonde ambition! Collects the six-issue miniseries.
o First Empowered series in standard comics format.
o Artist Carla Speed McNeil is the acclaimed creator of Finder and artist of No Mercy, Queen and Country, and many more.
In Shops: Oct 31, 2018
SRP: $19.99
COMPLETE ANGEL CATBIRD TP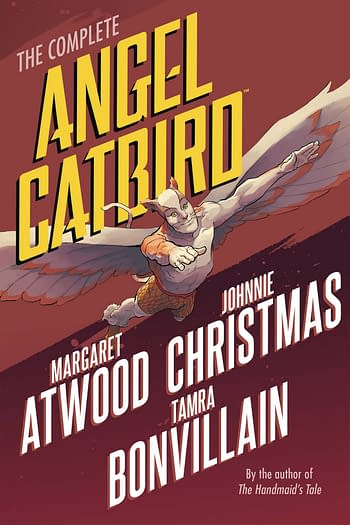 JUN180344
(W) Margaret Atwood (A/CA) Johnnie Christmas
From the Booker Prize-winning author of The Handmaid's Tale, comes the complete collection of the #1 New York Times bestselling graphic novel.
A genetic engineer caught in the middle of a chemical accident all of a sudden finds himself with superhuman abilities. With these new powers he takes on the identity of Angel Catbird and gets caught in the middle of a war between animal/human hybrids. What follows is a humorous, action-driven, educational, and pulp- inspired superhero adventure-with a lot of cat puns. Collects Angel Catbird volumes 1-3.
"An eccentric and entertaining combination of a superhero comic . . . and an appeal to consider the impact of cats on the environment."-Publishers Weekly
In Shops: Oct 03, 2018
SRP: $24.99
FLUTTER COLLECTION TP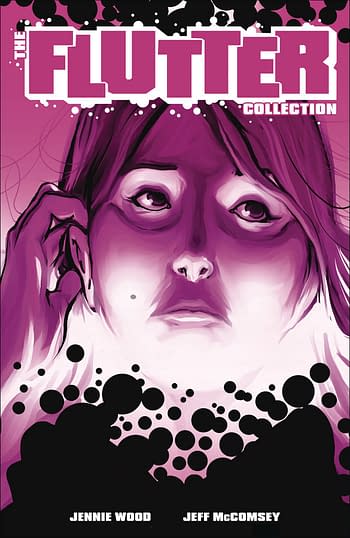 JUN180345
(W) Jennie Wood (A/CA) Jeff McComsey
The entire Flutter saga in a single volume for the first time!
Fifteen year-old Lily shape-shifts into a boy to get the girl. Chaos ensues from pretending to be someone she's not. While coming to terms with who she really is and what she's done, Lily learns that life as a boy is just as difficult.
o The Advocate called Flutter "one of the best LGBT graphic novels of 2013".
In Shops: Oct 03, 2018
SRP: $24.99
STEPHEN MCCRANIES SPACE BOY TP VOL 02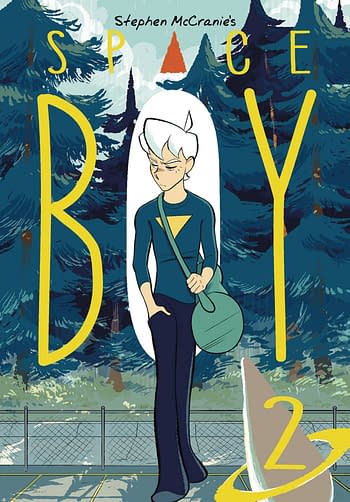 JUN180346
(W) McCranie, Stephen (A/CA) McCranie, Stephen
To Amy, everyone has a flavor. Jemmah, her best friend from the colony, is the flavor of pineapple and jalapeño. Cassie, from Earth, is like red pepper.
After being forced to leave her space-colony home when her dad was fired, Amy starts to adapt to a new life on Earth. High School seems difficult at first, but a close group of friends begin to make the transition easy for Amy, and she finds herself falling down a rabbit hole in her relationship with the mysterious, flavorless Oliver.
o Currently serialized on Webtoons.com with over 50,000 unique readers (19,000 from the US alone)
o From the creator of Mal and Chad (published by Penguin Young Readers and carried in the scholastic Book Fair)
In Shops: Oct 31, 2018
SRP: $10.99
AVATAR THE LAST AIRBENDER IMBALANCE PART ONE TP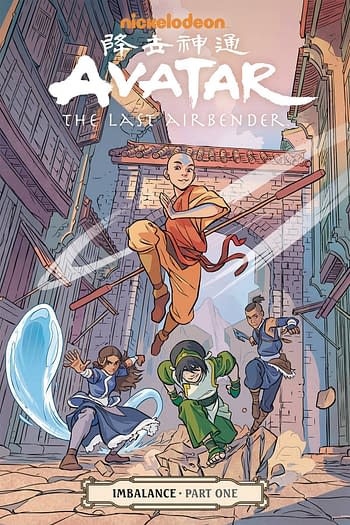 JUN180347
(W) Faith Erin Hicks (A/CA) Peter Wartman
When Team Avatar return to Earthen Fire Industries, the factory owned by Toph's father, they find that the once small town is now booming, yet a strange mood hangs over its residents. When Aang is asked to join a business council meeting, the reason becomes clear: a massive bender versus non-bender conflict is threatening to turn violent.
Written by Faith Erin Hicks (The Nameless City) and drawn by Peter Wartman (Stonebreaker), in collaboration with Avatar: The Last Airbender creators Michael Dante DiMartino and Bryan Konietzko, this is the ultimate continuation of Avatar!
In Shops: Oct 10, 2018
SRP: $10.99
USAGI YOJIMBO #5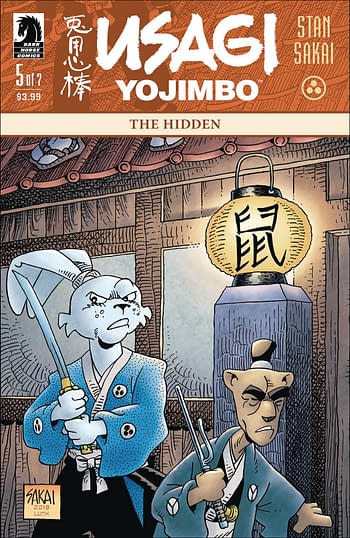 JUN180348
(W) Stan Sakai (A/CA) Stan Sakai
Usagi and Inspector Ishida resort to enlisting the help of Nezumi the thief in order to locate Oda, who is in hiding after the assassination attempt. Meanwhile, the mysterious foreign box falls into the possession of government agents. However, after an illuminating meeting, Usagi and Ishida find themselves suddenly hot on the trail of a secret that could topple the Shogunate.
o Legendary comics creator Stan Sakai's ongoing, original masterpiece!
In Shops: Aug 15, 2018
SRP: $3.99
STARCRAFT SCAVENGERS #2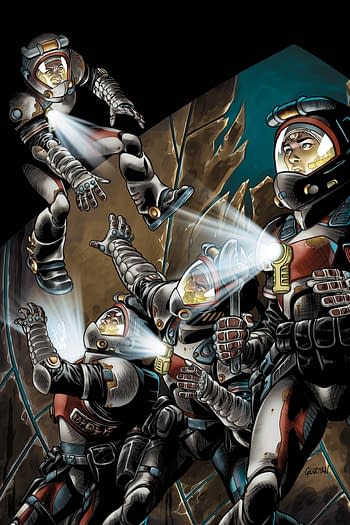 JUN180349
(W) Jody Houser (A/CA) Gabriel Guzman
Terran space scavengers find several shocking surprises on the derelict protoss ship they're hoping to pillage. Will Caleb, a newcomer to this group, discover their leader's secret mission? Writer Jody Houser (Mother Panic, Faith) and artist Gabriel Guzmán (Mass Effect: Discovery, Star Wars) join forces for a new series that expands the universe of Blizzard's hit game.
o Produced by Dark Horse Comics in close collaboration with Blizzard Entertainment.
o Writer Jody Houser takes readers on a sci-fi-horror thrill ride in space!
In Shops: Aug 29, 2018
SRP: $3.99
HALO COLLATERAL DAMAGE #3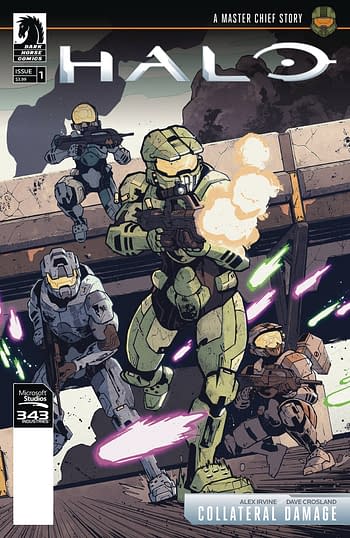 JUN180350
(W) Alex Irvine (A) Dave Crosland (CA) Zak Hartong
Trapped by a cave-in and surrounded by the Covenant, Blue Team must work together with Insurrectionist rebels to fight off the alien invaders. Outnumbered and outgunned, the Spartans must do whatever it takes to complete their mission and keep a Forerunner artifact out of Covenant hands.
o Based on the popular Halo video game series!
o Story focuses on the iconic Master Chief!
In Shops: Aug 01, 2018
SRP: $3.99
TOMB RAIDER INFERNO #3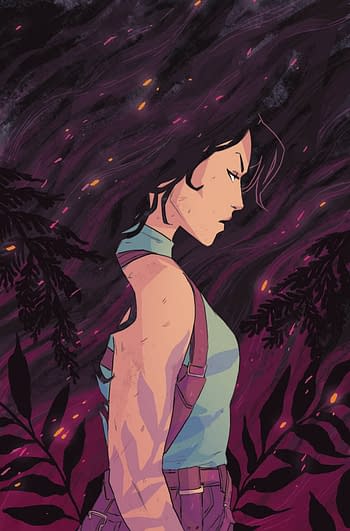 JUN180351
(W) Jackson Lanzing, Collin Kelly (A) Phillip Sevy (CA) Hannah Templer
The lines of reality are blurred and Lara is lost in a mind-altering state caused by the most improbable of circumstances. Lara is forced to face her own memories-however painful they may be-and relive all of her worst experiences. However, Lara ultimately comes to a realization that may just be her salvation . . . or possibly her demise, and must make an imperative choice, once and for all. Â
o The penultimate chapter!
In Shops: Aug 08, 2018
SRP: $3.99
WORLD OF TANKS CITADEL #4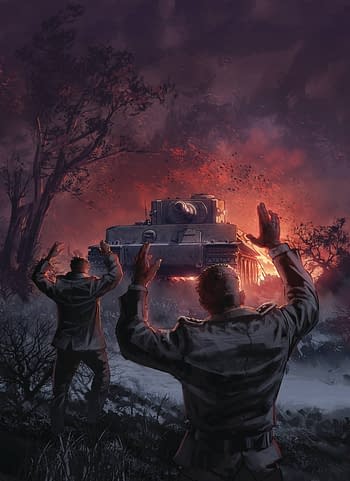 JUN180352
(W) Garth Ennis (A) P. J. Holden (CA) Isaac Hannaford
Kraft and Stadler resort to desperate measures to return to the safety of their own lines, but may end up outsmarting themselves. Meanwhile, Piotr and Ginger prepare for the climax of the terrible Battle of Kursk-as a massed Russian armored offensive smashes full-tilt into the unsuspecting Germans.
o World of Tanks has a global audience of 110 million players!
In Shops: Aug 08, 2018
SRP: $3.99
DRAGON AGE LIBRARY EDITION HC VOL 2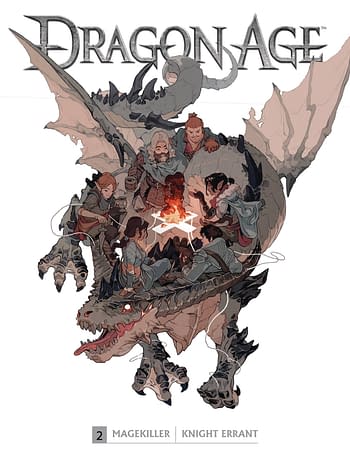 JUN180354
(W) Greg Rucka, Nunzio Defilippis, Christina Weir (A) Carmen Nunez Carnero, Fernando Heinz Furukawa (CA) Sachin Teng
Tessa and Marius are mercenary partners who eliminate those using magic to hurt others. When they're taken captive during an Inquisition mission, it's up to an unwitting agent to rescue them: elven squire Vaea. A talented thief, Vaea takes on an easy job . . . but when she changes the terms of the deal mid-heist, she is entangled in this dangerous recovery mission that is surely above her pay grade.
Featuring work by Greg Rucka, Nunzio DeFilippis, Christina Weir, Carmen Carnero, and Fernando Heinz Furukawa, this oversized hardcover edition collects Dragon Age: Magekiller #1-#5 and Dragon Age: Knight Errant #1-#5 and features creator commentary and behind-the-scenes material!
In Shops: Oct 03, 2018
SRP: $39.99
WITCHER LIBRARY EDITION HC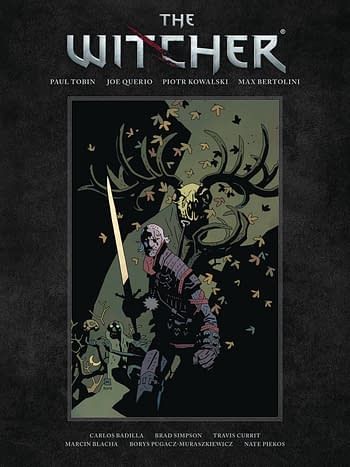 JUN180355
(W) Paul Tobin (A) Joe Querio, Piotr Kowalski, Max Bertolini (CA) Mike Mignola
Featuring story art by Joe Querio, Piotr Kowalski, Max Bertolini, with a bonus sketchbook section and additional art by Dave Johnson (100 Bullets), Dan Panosian (Slots), Stan Sakai (Usagi Yojimbo), Duncan Fegredo (MPH), Simon Bisley (Lobo), and a cover by Mike Mignola (Hellboy).
Collects issues #1-#5 of the Witcher comic series House of Glass, Fox Children, Curse of Crows, and the Killing Monsters one-shot-and features annotations from the creators of the comics, as well as a sketchbook section. Â
"Tobin has the world and characters down pat now, this is an authentic Witcher story through and through."-Bloody Disgusting
In Shops: Oct 24, 2018
SRP: $49.99
PLANTS VS ZOMBIES HC BOX SET VOL 04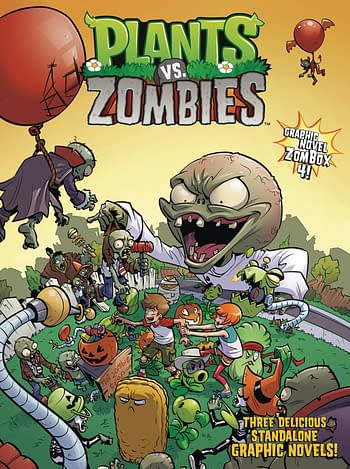 JUN180356
(W) Paul Tobin (A) Jacob Chabot, Jamie Coe, Kevin Burkhalter, Christianne Goudreau (A/CA) Ron Chan
Collecting three Plants vs. Zombies graphic novels into one deluxe boxed set, perfect for any PvZ fan! The set also features an exclusive, double-sided poster and a brand new piece of never-before-seen art by fan-favorite artist Ron Chan on the back of the slipcase for you to display with your collection! Spring an assortment of traps with Zomboss in Lawn of Doom, join the zombies and run away to the circus in The Greatest Show Unearthed, and finally, dive in and discover the mysteries underneath Neighborville's local aquatic retreat in Rumble at Lake Gumbo! This is a collection you won't want to miss!
o The hit video game franchise continues its comic-book invasion!
In Shops: Oct 03, 2018
SRP: $29.97
PLANTS VS ZOMBIES WAR AND PEAS HC
JUN180357
(W) Paul Tobin (A) Brittney Williams (CA) Ron Chan
When Dr. Zomboss and Crazy Dave find themselves members of the same book club, a literary war is inevitable! The position of leader of the book club opens up and Zomboss and Crazy Dave compete for the top spot as Nate, Patrice, and their intrepid plants take on the zombies in a scholarly scuffle for the ages!
o A New York Times best selling series!
o Featuring new PvZ artist, Brittney Williams!
In Shops: Oct 10, 2018
SRP: $9.99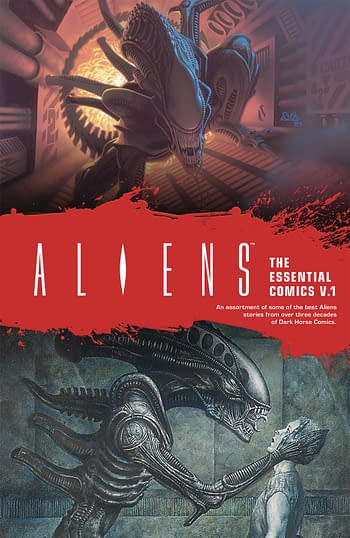 ALIENS ESSENTIAL COMICS TP VOL 01
JUN180361
(W) Mark Verheiden (A) Mark A. Nelson, Sam Kieth (CA) John Bolton (A/CA) Denis Beauvais
These are the Aliens Essential Comics-stories which have stood the test of time . . . and kept readers awake at night.
Complete in this first volume is the initial Aliens trilogy-Outbreak, Nightmare Asylum, and Earth War, in which Hicks and Newt-and eventually Ripley-join forces to battle an infestation of Aliens both on Earth and in the wider galaxy.
In Shops: Oct 24, 2018
SRP: $24.99
COLOSSAL CONAN THE CIMMERIAN HC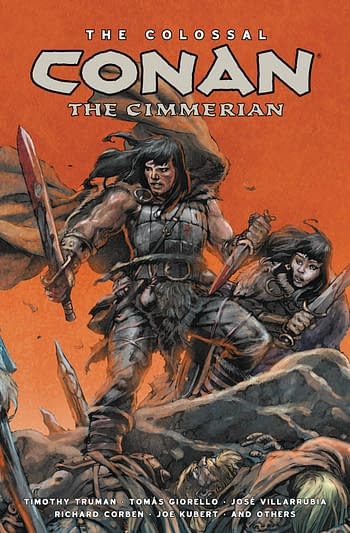 JUN180362
(W) Timothy Truman (A) Richard Corben, Joe Kubert, Joseph Michael Linsner, Paul Lee (A/CA) Tomas Giorello
Conan returns to his homeland to explore his roots and find renewed purpose as a young mercenary. This complete collection of Dark Horse's Conan the Cimmerian run gathers issues #0 to #25 of that celebrated series together, including all variant cover work! The award-winning creative team of Truman, Giorello, and Villarrubia adapt several of Robert E. Howard's original Conan stories and tell new tales that tie everything together chronologically.
o Presenting all Dark Horse's Conan the Cimmerian comics in a deluxe, oversized hardcover!
In Shops: Oct 17, 2018
SRP: $99.99
HELLBOY WILD HUNT TP 2ND ED
JUN180363
(W) Mike Mignola (A) Duncan Fegredo (CA) Mike Mignola
Serving as the inspiration for the new feature film, Hellboy is called to England to take part in an ancient ritual of hunting giants, but quickly faces a much more dangerous enemy: Nimue, the Queen of Blood, who has risen with plans to create a monstrous army.
Lauded as "one of the greatest sagas of the modern comic book industry" (IGN), Hellboy's story has spanned 20+ years and led to multiple spin-off titles, prose books, and films.
o The inspiration for the new Hellboy film from director Neil Marshall and starring Strangers Things' David Harbour!
In Shops: Oct 10, 2018
SRP: $14.99
BPRD THE DEVIL YOU KNOW #9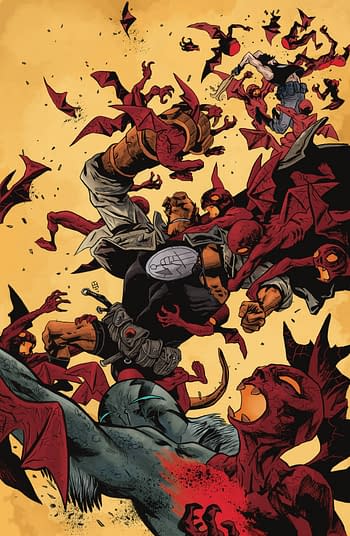 JUN180364
(W) Mike Mignola, Scott Allie (A) Laurence Campbell (CA) Mike Mignola, Max Fiumara
The B.P.R.D. arrive in New York to an immediate attack by cultists-turned-zombies and familiar demons.
In Shops: Aug 08, 2018
SRP: $3.99
BPRD HELL ON EARTH HC VOL 03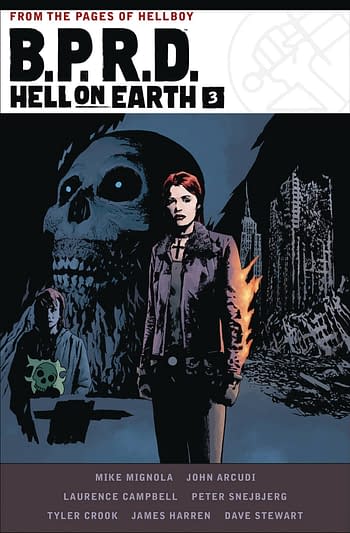 (W) Mike Mignola, John Arcudi (A) Laurence Campbell & Various (CA) Laurence Campbell
The B.P.R.D. fight to protect the world from the rise of the monstrous Ogdru Hem, as teams hit a blizzard-torn Russia and the ruins of both Chicago and New York City. Meanwhile, Liz Sherman fights a deranged doctor in Utah, and the young psychic Fenix goes head to head with a monster-worshipping cult.
This deluxe hardcover edition collects B.P.R.D. Hell on Earth volumes 7-9 plus an expanded sketchbook section.
WITCHFINDER GATES OF HEAVEN #4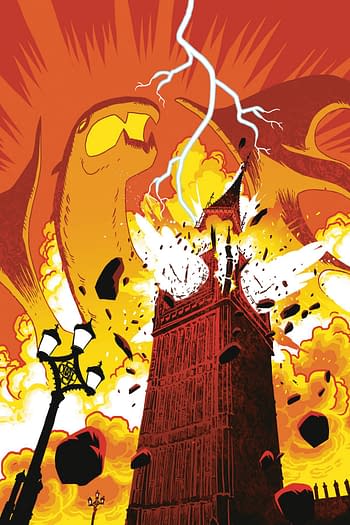 t
JUN180366
(W) Mike Mignola, Chris Roberson (A/CA) D'Israeli
A terrible loss draws The Witchfinder ever deeper into the hunt for the source of the supernatural terror gripping London. Recruiting new allies to his cause, Grey's search brings him to the very doorstep of those responsible, but is he in time to stop their horrific scheme from engulfing the entire city in darkness?
In Shops: Aug 15, 2018
SRP: $3.99
EC ARCHIVES HAUNT OF FEAR HC VOL 05
JUN180367
(W) Bill Gaines, Al Feldstein, Otto Binder, Carl Wessler (A) Al Feldstein, George Evans, Jack Kamen, Jack Davis, Reed Crandall (A/CA) Graham Ingels
his fifth and final volume of the EC Comics horror classic The Haunt of Fear collects a scary assortment of unforgettable frights! Featuring work from the legendary talents of Bill Gaines, Al Feldstein, Graham Ingels, George Evans, Jack Kamen, Jack Davis, and Reed Crandall, this volume collects The Haunt of Fear #25-#28!
In Shops: Oct 10, 2018
SRP: $49.99
HARROW COUNTY LIBRARY EDITION HC VOL 01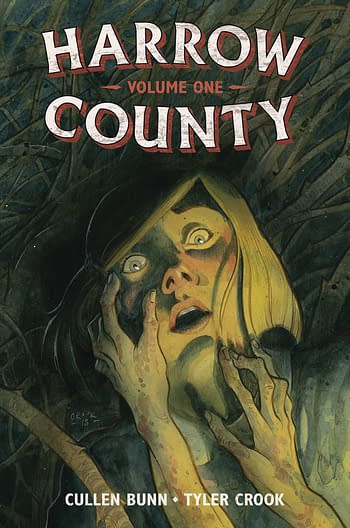 JUN180372
(W) Cullen Bunn (A/CA) Tyler Crook
The first chapter of the highly acclaimed, Eisner nominated horror fantasy tale in deluxe, oversized hardcover format.
Emmy always knew that the woods surrounding her home crawled with ghosts and monsters. But on the eve of her eighteenth birthday, she learns that she is connected to these creatures-and to the land itself-in a way she never imagined.
Collects the first two volumes of Harrow County in a deluxe, hardcover, and oversized format with a new cover, sketchbook material, essays, "Tales from Harrow County" bonus stories by guest creators, and more!
"A rare thing-both wonderfully charming and genuinely disturbing."-Mike Mignola (Hellboy)
In Shops: Oct 24, 2018
SRP: $39.99
HARROW COUNTY TP VOL 08 DONE COME BACK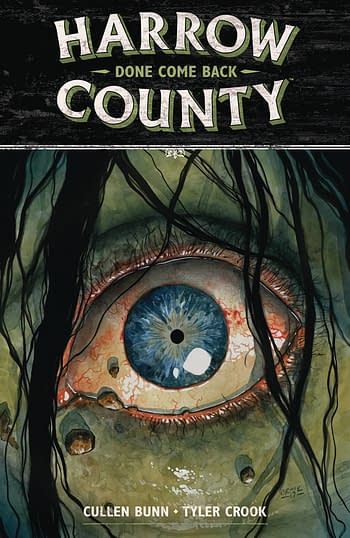 JUN180373
(W) Cullen Bunn (A/CA) Tyler Crook
This final arc of the hit supernatural fantasy series pits two powerful witches against each other in an all out magic war! Â
An old enemy of Harrow County has returned with more power than ever and intent on consuming Emmy and her powers in this terrifying final chapter! Collects issues #29-#32 from the Eisner-nominated series!
o Recently optioned for TV by the SyFy Channel. Â
"Harrow County has become a gold standard for horror comics."-Horror Talk
In Shops: Oct 03, 2018
SRP: $17.99
BEASTS OF BURDEN #1
JUN180374
Evan Dorkin (W), Benjamin Dewey (A/Cover), and Rafael Albuquerque (Variant cover)
A heroic pack of canines known as the Wise Dogs set off on a mission to clean up a Pennsylvania corridor plagued by seemingly unrelated occult disturbances that include a fire salamander and a horde of mutant lurkers. A link is found among the various disturbances, leading our heroes to a mountain village inhabited by a survivalist witch-cult who have discovered the existence of a "Blood Lure" attracting occult forces, creatures, and many more terrors to Burden Hill!
o The eight time Eisner-winning series is back!
o Variant Cover by Rafael Albuquerque!
"Beasts of Burden balances humor, heart, and horror and fosters the contrast necessary to elevate a genre."-MTV
In Shops: Aug 22, 2018
SRP: $3.99
BEDTIME GAMES #3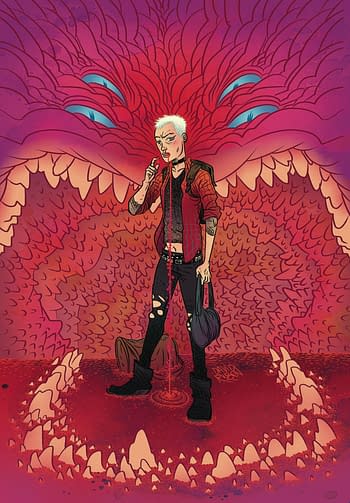 JUN180376
(W) Nick Keller (A/CA) Conor Nolan
After discovering a powerful game that can transform them into their worst nightmares, three friends plan ways to use it for themselves, not knowing that the monstrous creator of the game is coming to get it back-and destroy whoever gets in his way.
In Shops: Aug 22, 2018
SRP: $3.99
BLACKWOOD #4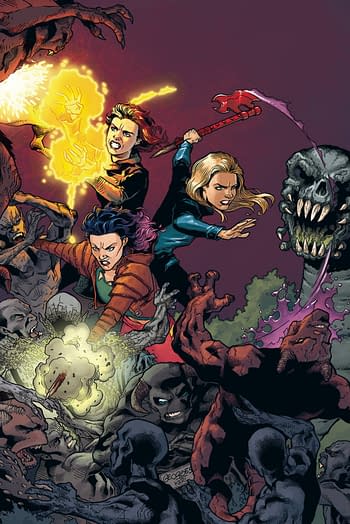 JUN180377
(W) Evan Dorkin (A/CA) Veronica Fish
From the multi-Eisner award-winning creator of Beasts Of Burden and the artist of Archie and SLAM comes this supernatural fantasy about a magical murder in a sorcery school.
The occult students race to uncover the secrets of Dean Ogden's hidden past in order to save Blackwood from the Bug Mother's ultimate vengeance–an insect plague of biblical proportions, including a hungry horde of over-sized bloodsuckers and flesh-eaters.
"I adore what Evan Dorkin does. I think he's the funniest guy in comics." -Frank Miller
In Shops: Aug 29, 2018
SRP: $3.99
BTVS SEASON 12 THE RECKONING #3
JUN180379
(W) Christos Gage, Joss Whedon (A) Georges Jeanty (CA) Stephanie Hans
The battle against future vampire and Slayer twin, Harth, and his legion of evil, has already begun in the present when Buffy, Fray, and the Scoobies return from the future ready to fight. The Reckoning is now, and if the future can be changed, it will take everything that Buffy has to save the Slayers and our world!
o The Reckoning will be the culmination of all the Buffy Seasons!
In Shops: Aug 22, 2018
SRP: $3.99
CONSPIRACY OF RAVENS HC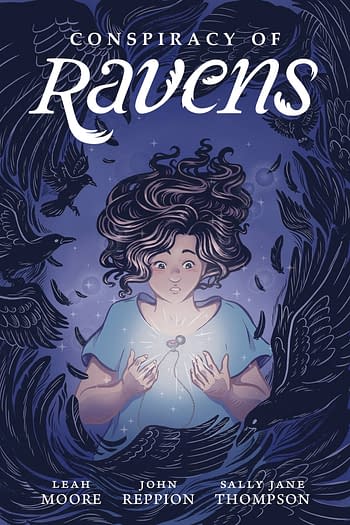 JUN180382
(W) Leah Moore, John Reppion (A) Sally Jane Thompson
Teen schoolgirl Anne unexpectedly inherits a mysterious locket and a crumbing English mansion estate from her long-lost aunt. She unearths the family secret that she's part of a magical legacy that gives her fantastic abilities, and she isn't the only girl whose family is involved. But not all the girls are so willing to use their new powers for good . . .
o For fans of Harry Potter, Savvy, Ella Enchanted, and The Phantom Tollbooth.
In Shops: Oct 03, 2018
SRP: $14.99
MOB PSYCHO 100 TP VOL 01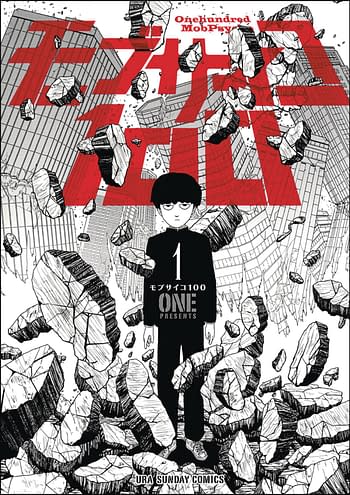 JUN180383
(W) One (A/CA) One
From the creator of One-Punch Man! Do you or someone you know need an exorcist who works cheap? Reigen's your guy! What's his secret to busting ghosts while keeping prices low? Well, first, he's a fraud, and second, he pays the guy who's got the real psychic power-his student assistant Shigeo-less than minimum wage. Shigeo is an awkward but kind boy whose urge to help others and get along with them is bound up with the mental safety locks he's placed on his own emotions. Reigen knows he needs to exploit Shigeo to stay in business, yet for better or worse he's also his mentor and counselor. And he also knows whenever the normally repressed kid's emotions reach level 100, it may unleash more psychic energy than either of them can handle!
o The subtitled anime is available on Crunchyroll.
o The dubbed anime is available on Funimation.
o The live-action TV series is on Netflix Original.
In Shops: Oct 24, 2018
SRP: $11.99
GANTZ G TP VOL 02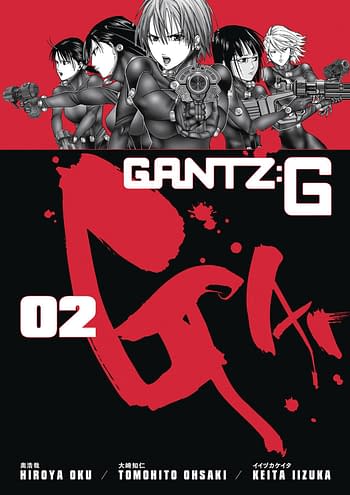 JUN180384
(W) Hiroya Oku, Tomohito Ohsaki (A/CA) Keita Iizuka
After their disastrous first mission, the surviving Gantz teammates are determined to train hard to ensure gaining enough game points to resurrect the shy Naiki. But the teen team members are sorely tempted to use the powerful Gantz suits for their own purposes-and desires for revenge!
o Gantz has sold over fifteen million copies in Japan!
o Popular anime series and live-action feature.
In Shops: Oct 10, 2018
SRP: $13.99
GOT 1000 PC DLX PUZZLE IRON THRONE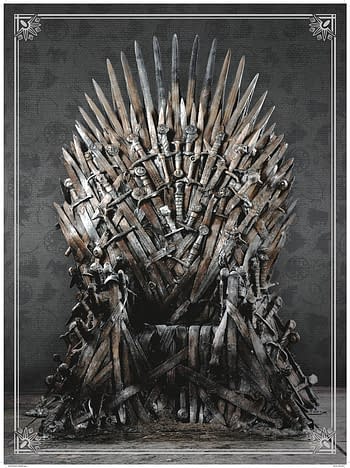 JUN180385
The most iconic imagery from HBO's Game of Thrones is the indomitable Iron Throne. The Iron Throne is pictured here on a deluxe 1,000 piece puzzle. Once completed, the puzzle measures 20" x 27" and is printed in a high quality matte finish. The puzzle pieces are secured inside a bag and packaged in a full color box.
In Shops: Sep 12, 2018
SRP: $19.99
WITCHER 3 WILD HUNT 1000 PC DLX PUZZLE CIRI AND WOLVES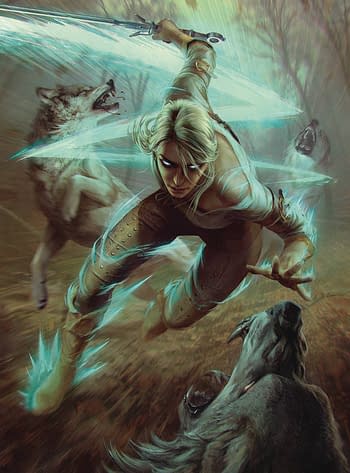 JUN180386
When Ciri fights the wolves, there is no question of who will win. This beautiful and striking artwork is now interactive, in the form of a 1,000 piece deluxe puzzle. Once completed, the puzzle measures 20" by 27", printed in a matte finish.  The pieces are secured in a bag, inside a full color box.
In Shops: Sep 12, 2018
SRP: $19.99
GOT BUTTONS COUNTER DISPLAY SERIES 2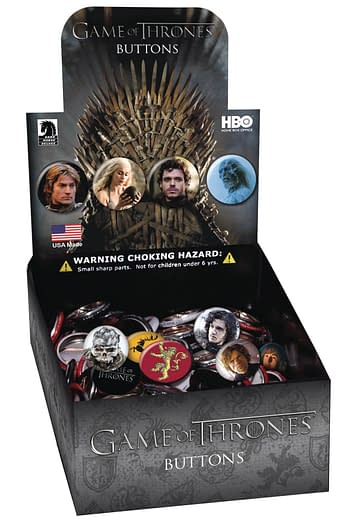 JUN180387
Dark Horse is proud to release a new line up of Game of Thrones 1" buttons, presented in a full color, elegantly designed, counter display box. The new line up of buttons includes fan favorite characters, sigils and imagery. 14 designs total, 200 buttons per display box.
In Shops: Aug 01, 2018
SRP: $200.00
---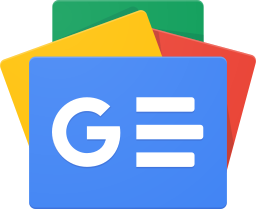 Stay up-to-date and support the site by following Bleeding Cool on Google News today!