Far Sector #1 is the new DC Comics Green Lantern series coming from Gerard Way's not-an-imprint Young Animal by N.K. Jemisin and Jamal Campbell.
Bleeding Cool has also reported that we heard a well-sourced rumour that Sojourner "Jo" Mullein may be the new regular Green Lantern, replacing Hal Jordan in 2021 when the current The Green Lantern series from Grant Morrison and Liam Sharp closes out after 24 issues. And that it's all part of 5G, which will see all the major name characters replaced in the DC Universe.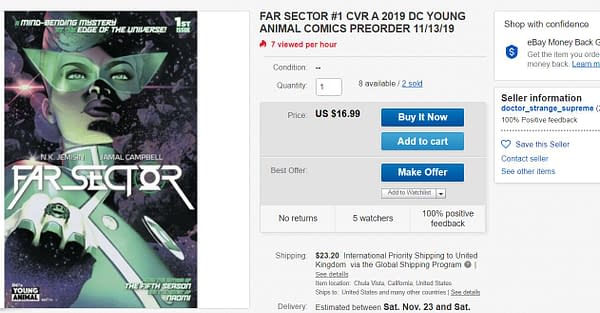 Well, people seem to have been responding. This eBay seller has sold a couple of copies for $17 each, and it's only out today. Plenty of people have sold copies at cover price online which seem to have been snapped up – but are unavailable now.
Copies will still be in comic shops today at cover price. But you may want to hurry…
Basically, that.
Far Sector #1
Written by N.K. Jemisin
Art by Jamal Campbell
Cover by Jamal Campbell
Variant Covers by Shawn Martinbrough and Jamie McKelvie
In Shops: Nov 13, 2019
Final Orders Due: Oct 21, 2019
SRP: $3.99

Welcome to Far Sector! N.K. Jemisin, the acclaimed, award-winning author of The Broken Earth and Inheritance science fiction trilogies, makes her comic book debut with bestselling Naomi artist Jamal Campbell as they thrust you into Far Sector, a stunning, mind-bending, sci-fi mystery on the other side of the DC universe!

For the past six months, newly chosen Green Lantern Sojourner "Jo" Mullein has been protecting the City Enduring, a massive metropolis of 20 billion people. The city has maintained peace for over 500 years by stripping its citizens of their ability to feel. As a result, violent crime is virtually unheard of, and murder is nonexistent.

But that's all about to change in this new maxiseries that adds a new chapter to the legacy of the Green Lanterns! DC's Far Sector #1 will carry an Ages 17+ content descriptor (for mature readers) and will retail for $3.99.
Enjoyed this article? Share it!