DC Comics Publishes First New Work by Brian Michael Bendis in – or Rather, on – Mister Miracle Man #6
Brian Michael Bendis has left Marvel Comics to take an exclusive writing contract at DC Comics, headhunted it seems by one of the increasing number of DC Presidents, Diane Nelson.
Bleeding Cool has run the rumour that he will be writing the Superman title with Ivan Reis and Joe Prado on art, though this is, of course, just a rumour.
But today, DC Comics got a head start with Mister Miracle #6 by Tom King and Mitch Gerads by running their first words by Bendis, on the cover, in form of a quote:
"Every year, one book stands up above everyone else's. Fans and creators alike stop and stare in amazement at a couple of creators finding a new voice, new point of view, and new levels of artistic expression. This year it is Mister Miracle." – Brian Michael Bendis
Oxford comma and everything.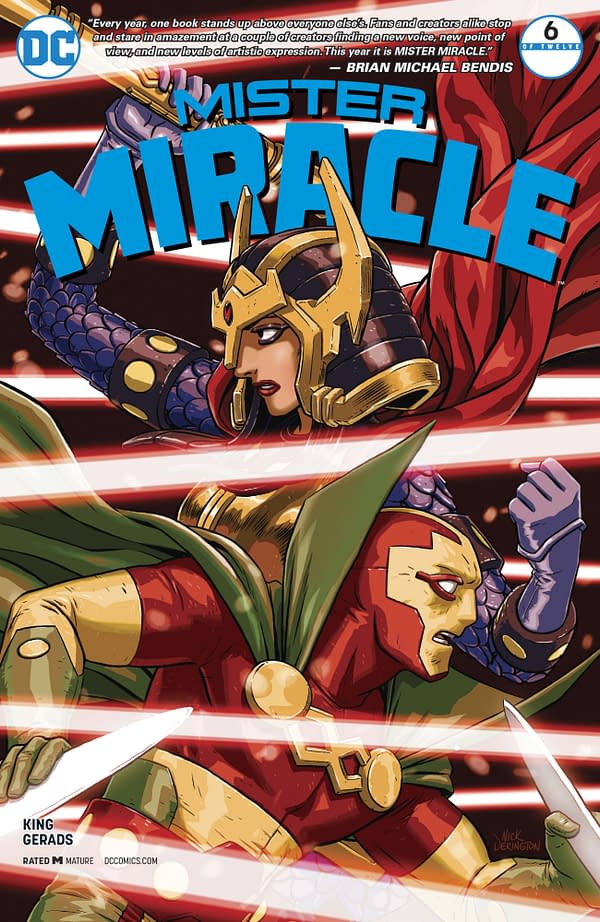 MISTER MIRACLE #6 (OF 12)
(W) Tom King (A) Mitch Gerads (CA) Nick Derington
The hit miniseries reaches the emotional conclusion of its first arc! Scott Free returns to New Genesis to face his punishment, but instead finds the whole world has been flipped upside down. Mister Miracle and Big Barda battle their way through monsters and New Gods to get to the Highfather, but once they reach Orion's throne room, they learn that the war against Darkseid has taken a bloody turn.
MATURE READERS In Shops: Jan 10, 2018
SRP: $3.99
Of course, it's not the first Bendis DC work. A long time ago, Brian Michael Bendis wrote a short story that saw publication in Batman Chronicles #21. A take on Citizen Kane but using the life of Bruce Wayne, drawn by Michael Lake, it was short and sweet. And, yes it was called Citizen Wayne.
Copies are selling from $8 to $15 on eBay.