DC Confirms Tom King Off Batman With #85, For Batman/Catwoman Mini With Clay Mann
This took a little longer than the average Rich Twitch – but you are learning about this a lot sooner than you might have otherwise. Because earlier this week, Bleeding Cool broke the news that Tom King was being fired from the Batman twice-monthly ongoing series, but that he would be able to continue his storyline in a truncated Catwoman-related mini-series.
Today, DC Comics made that all official. Eventually.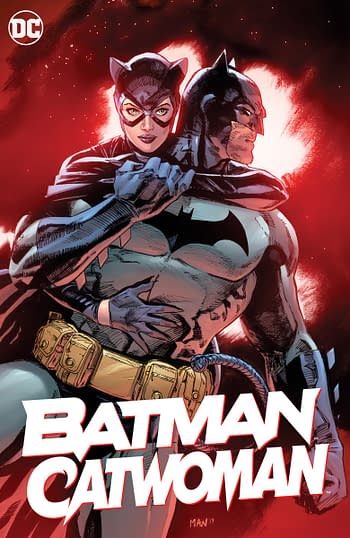 Firstly that the upcoming storyline by King, City Of Bane would conclude with Batman #85, which Bleeding Cool tagged as King's final issue.
That Batman would then move from twice-monthly to monthly when 2020 comes along – which we didn't know. The twice-monthly schedule has been a high pressured one, this may help things a little going forward with whoever comes onto the book. Bleeding Cool suggested that the Warren Ellis/Bryan Hitch planned run may be a natural fit, before someone line Brian Bendis takes the title on after #100 but much of this is still up in the air and plenty of people have been stepping forward offering their services.
And that, alongside the Batman monthly will be a twelve-issue Batman/Catwoman series by Tom King and Clay Mann. And no point do they actually say that this series replaces his planned 20 issue conclusion of his Batman run, but that's what's happening. And as for Tom leaving the Batman book… here's their press release.
"We're making changes to our comic book publishing line to set DC up for continued success," said DC's editor-in-chief Bob Harras. "We're starting with the bestselling BATMAN comic after 'City of Bane' wraps up in December. 'City of Bane' is an incredible story and an integral part of our overall 'Year of the Villain' campaign, and a new Tom King and Clay Mann Bat/Cat series in 2020 fills the gap once BATMAN begins to ship monthly."
Bob doesn't like Tom King's Batman, remember. And City Of Bane caused huge ructions, editorially.
Featuring art by Tony S. Daniel, 'City of Bane' kicks off in BATMAN #75 on July 17th, 2019, when, after three years being broken down by Bane, Bruce Wayne falls to his lowest point. Bane's minions have moved into Gotham City, taken control and are ruling with an iron fist…and Batman is nowhere to be found. This extra-sized anniversary issue kicks off a storyline that ties together all the threads of the first 74 issues of Tom King's epic BATMAN run. 'City of Bane' will run 11 issues with artwork by series regulars Daniel, Mikel Janín and Mann, concluding in December 2019 with BATMAN #85.
It would have been more epic if it had gone to the planned and approved #105 issues of course. Instead of the now 85 + 12. And given that Tom King's approved plan was to change so much – is that still on the cards?
"Batman and Catwoman is a chance to do what Morrison and Quietly did in Batman and Robin: launch an ambitious, accessible, beautiful, thrilling new series that concludes years of stories and defines what Batman is, can, and will be," said Tom King. "This will be a comic about what the best Batman comics are always been about, how our greatest hero turns fear into bravery, pain into hope, trauma into love. It's the story I always wanted to tell, and I'm telling it with the man I consider to be the greatest artist in comics, my brother Clay Mann.
He just wanted to tell it for around twice the lengh.
"It's tough to leave Batman," added King. "It's a gift and a joy to be on that book. But I'm leaving it to work on the biggest, most ambitious projects of my career, comics I get to make with the best collaborators in comics. And that's a gift and a joy too."
DC Comics press release? That's called burying the lead. It's slightly less tough to leave a book when you have been fired off it though. Note, there is no mention that in interviews only two weeks ago, approved by DC PR, that Tom King was talking about his 105 issue Batman run and the major changes it would nake to the character that had to be approved at the highest echelons.
"We're excited for fans to get more of what they love from DC," said Harras. "With Joëlle Jones continuing on CATWOMAN, a new creative team on BATMAN, plus titles like DETECTIVE COMICS, BATGIRL, NIGHTWING, RED HOOD: OUTLAW and BATMAN AND THE OUTSIDERS, our Gotham City protectors and the talent behind them will continue to offer great stories that cater to the tastes of as many Bat-fans as possible in 2020 and beyond."
Just as long as they are not too esoteric, experimental, or do things that will scare the bat horses…