DC Confirms Unseen Story Added to Doom Patrol Bronze Age Omnibus, Ups Page Count and Price
The shine may be off Bronze Age collections from DC Comic at the moment. If so, they're going out with a bang, with the Doom Patrol: The Bronze Age Omnibus, up for Final Order Cut-Off this weekend.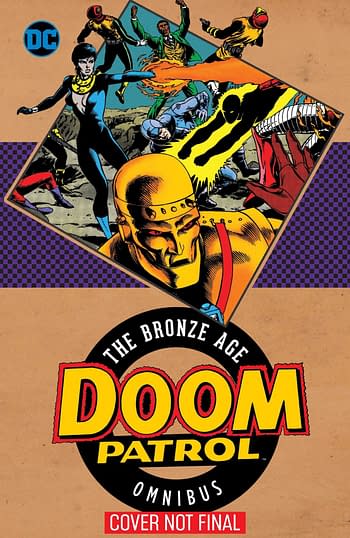 We mentioned a couple of months ago that it would have a never-published Doom Patrol fill-in story from that time by Paul Kupperberg and Rick Stasi, that Paul found in his files. Well now retailers have been officially told this will be included in the volume, just as they are given the chance to increase or decrease their numbers on the title.
DC has also added New Teen Titans #13-15 and Teen Titans Spotlight #9 to this collection, which already contains SHOWCASE #94-96, DC COMICS PRESENTS #52, DARING NEW ADVENTURES OF SUPERGIRL #7-9, DOOM PATROL #1-18, DOOM PATROL AND SUICIDE SQUAD SPECIAL #1, SUPERMAN #20, DOOM PATROL ANNUAL #1 and stories from SECRET ORIGINS ANNUAL #1 and SUPERMAN FAMILY #191-193.
With an increased page count of 960, this Omnibus now carries a cover price of $125 rather than the $99.99 for 824 pages previously solicited.
Following the end of their original series in 1968, the World's Strangest Heroes made their return in 1977 in a series of tales that jumped across titles and featured appearances by Supergirl, Superman, the Suicide Squad and more!

This title features stories written by Paul Kupperberg and others, with art by Joe Staton, Keith Giffen, John Byrne, Steve Lightle, Erik Larsen, Graham Nolan and others.

DOOM PATROL: THE BRONZE AGE OMNIBUS HC (APR190538) is on Final Order Cutoff on May 6 with an on-sale date of August 28.