Mutants can come back from the dead. It always seems to have happened ut now it is actual policy, courtesy of House Of X #5. Remember this?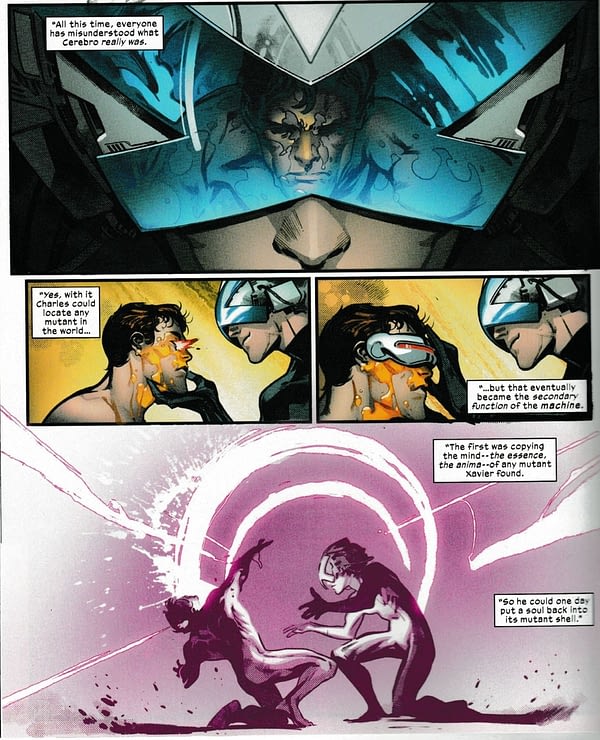 The end of X-Force #1 saw the death of Charles Xavier, apparently, shot through the helmet by unknown forces.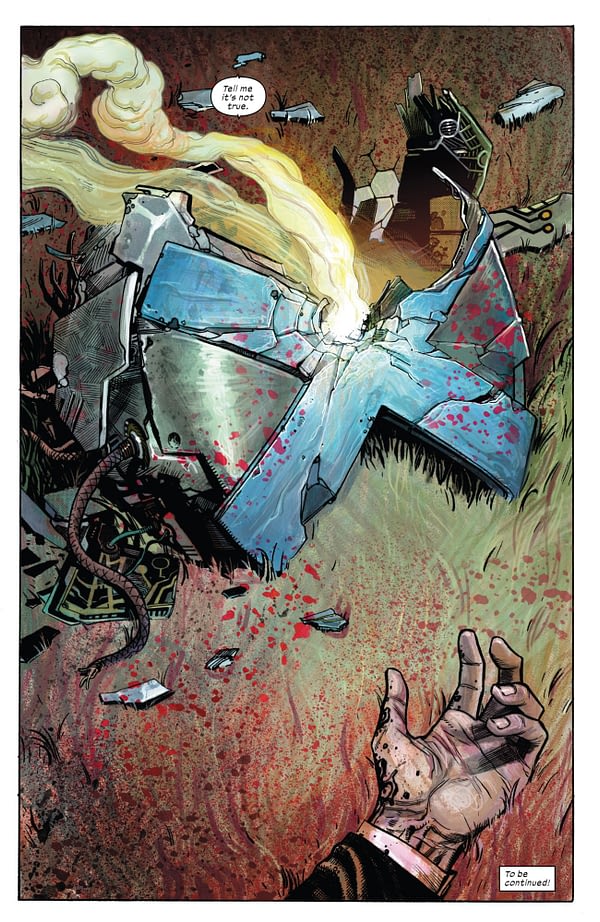 And in a world where all mutants can be revived through specific procedures, Jude pointed out that Charles Xavier was necessary for such a procedure to occur. Now, one might have suggested that, given his important role, that Charles may have secured a few spare bodies, or trained up someone to take his role in the process. But, as seen in today's Fallen Angels #1, that does not seem to have occurred quite yet as Psylocke talks to Magneto about her plans, and gets his rules in return.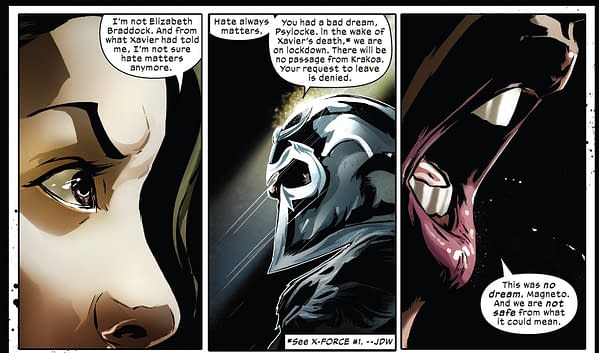 Though there is always some wiggle room.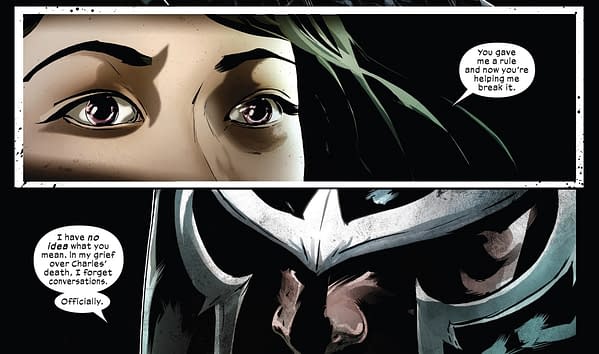 But that does seem to indicate a death of Professor Charles Xavier, even if the Summers clan aren't that bothered over in X-Men #2. They have other concerns such as a family day out.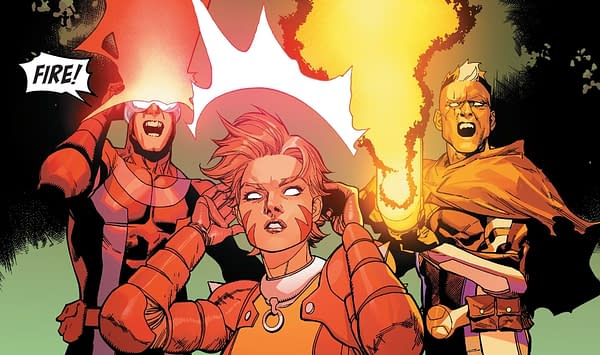 With Nathan Summers causing Rachel Summers some concerns…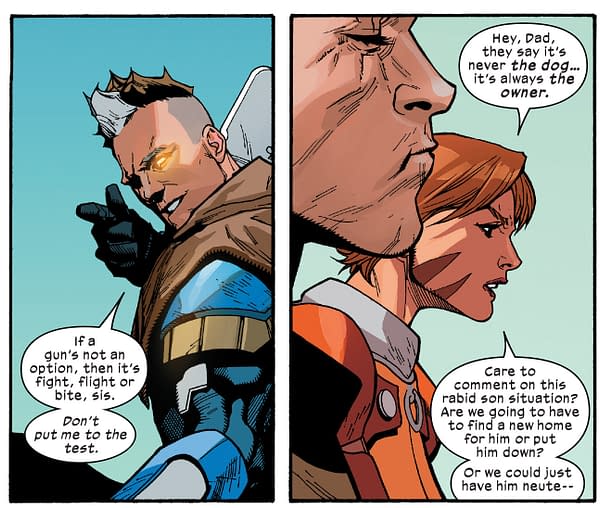 Neutered? Wouldn't that harm that Make More Mutants commandment? After all, over in Fallen Angels, Nathan has some other people to… focus on.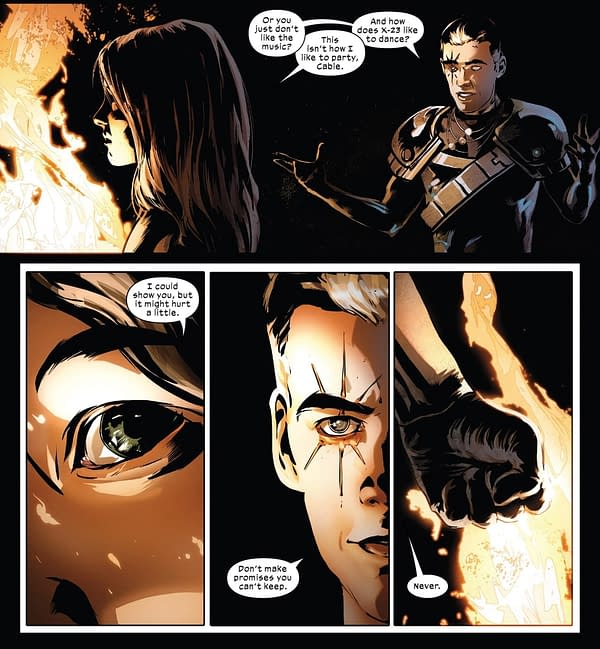 Maybe a bit young? Still, it's a Logan clone and a combination of Jean Grey and Scott Summers DNA at play. And you know where that leads. Still, there are others with such issues on their mind over in X-Men #2 too…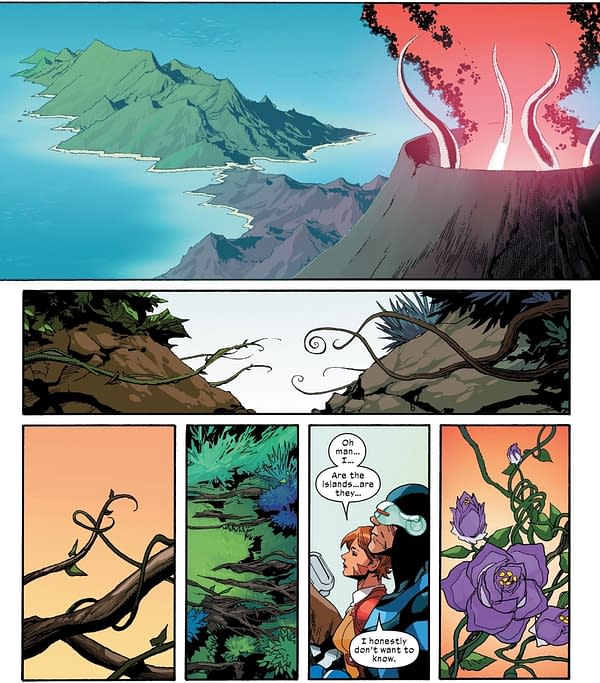 Could we call this Love Island? Could this be Make More Islands? And there is a way that the Professor should be able to come back…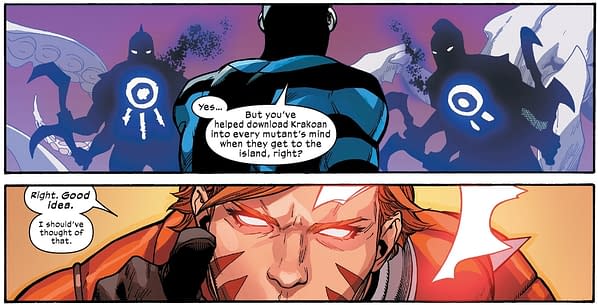 If the Professor can do it, there are others who also might be able to have a go…
Actually, just thinking out loud, is Rachel Summers a parallel universe version of Nathan Summers? And if not, why not?
FALLEN ANGELS #1 DX
(W) Bryan Edward Hill (A) Szymon Kudranski (CA) Ashley Witter
THE DAWN DOES NOT BREAK FOR ALL!
Psylocke finds herself in this new world of Mutantkind unsure of her place in it… but when a face from her past returns only to be killed, she seeks help from others who feel similar to get vengeance. Cable and X-23 join Kwannon for a personal mission that could jeopardize all Mutantkind!
Rated T+In Shops: Nov 13, 2019
SRP: $4.99

X-MEN #2 DX
(W) Jonathan Hickman (A/CA) Leinil Francis Yu
When an island full of unspeakable horrors appears on the horizon, the X-Men have their work cut out for themselves keeping Krakoa safe!
Rated T+In Shops: Nov 13, 2019
SRP: $3.99
Enjoyed this article? Share it!