Divorcing Dracula Is Hard On The Kids In Tommaso's Don't Look Back! By Hannah Means-Shannon
Rich Tommaso went self-imprinted with Recoil Comics when he launched his graphic novel The Cavalier Mr. Thompson at Small Press Expo in 2012. He had worked previously and for some years with Dark Horse Maverick and Fantagraphics producing a range of comics leaning toward crime, suspense, the gothic, and generally offbeat. Striking out on his own with the Recoil imprint was a particularly bold move, but it paid off creatively when his 1920's set "Sam Hill novel", Cavalier, was received with critical attention. Responses praised his excellent design sense, from logos to layout and minimalist coloring, as well as his handling of historical elements that tapped into genre enthusiasm for gumshoe stories. He's been remarkably busy in the time since Cavalier was released planning a slate of comics for the autumn, heralded by his first new release, a one-shot horror comic, Don't Look Back! Forthcoming are his Dry County crime comics, already available for preview digital viewing on StudyGroup Comics.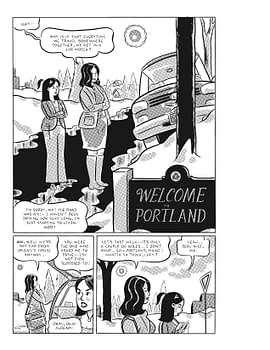 There's something very appealing about Tommaso's dry humor, almost deadpan in tone, which stands in even bolder relief when he takes on suburban settings, but blend that with the tropes of Hammer Horror films and you've got a comic to really raise conversation about his work to a new level. Don't Look Back! is a trippy ride through a day in the life of a woman trying to introduce her daughter to her estranged father in Portland, Maine. With the tagline "You Cannot Divorce Dracula" on the comic, you know this will not be a predictable exploration of a divisive family conflict, but part of the strength of the comic is that it preserves all the trappings of senseless, emotional wrangling that does result from re-opening old relationship wounds. And it even highlights just how hard that can be, after all, on the kids. Or in this case, Lucy, progeny of this strange pair. The resultant tour through macabre friendships and youthful love affairs gradually suggests that "Alex's" (Dracula's) ex-wife Fran has her own dark past to account for, and that life in Portland in her heyday was one hell of a freak show. The moral of the story seems to be that if you think you're feisty enough to put your past behind you, don't be so sure, especially when you're dealing with Vlad himself.
All of these plot movements, played with a dry commentary on how things change between youth and middle age, give Tommaso free range to produce equally strong artwork through a veritable kaleidoscope of creatures and situations from horror tales. You can almost see the twinkle in Tommaso's eye as he rips through the catalogue of pulpy horror elements, redefining them in his own spare but subtly lavish style, particularly in his sharply defined inks and generously applied greyscale. There's plenty "retro" about his comic's look, and that's part of the point. Tommaso's work under his Recoil imprint is all about celebrating the visual heritage of the 20th century, sifting through the detritus to retrieve the gems to produce something both stylish and energetic. It's clear that the pulps, strips, and even the prose novels of the early 20th century are his playground, and returning to the horror genre with elements drawn from the 60's and 70's in Don't Look Back only emphasizes what a keen eye he has for their quirky charm.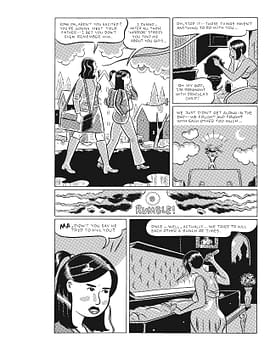 Much of Tommaso's humor is conveyed visually in contrast to his streamlined dialogue. When Lucy comments to her mother that she's heard stories before about how her parents tried to "kill each other", the reader is privileged to flashback moments to Fran's experience attempting to stake "Alex" in his coffin. One comment and one panel are enough to make the joke punchy. It's a warning that in this comic, things may be more literally true than you initially expect. Surrounded by phantasmagoric horrors that don't really seem to phase her, Fran finally exclaims, "I shoulda left all of this crap in the Goddamn past!!". Alongside a statement that would have worked equally well in any ordinary family drama, we see Tommaso's menagerie of the strange looming and it renders the netherworldly creatures of Fran's past even more strange, but irresistably funny in context.
It's a shame, in a way, that Don't Look Back! is a one-shot and not an ongoing anthology series on its own, but it's a 32-pager with plenty to offer and it hopefully signals that Tommaso hasn't finished exploring the narrative potential in the horror traditions we've inherited in comics and film. He brings the same set of skills to his crime comics, from humor to precise instincts for atmosphere in his artwork, though, so there's plenty to look forward to as he continues his Recoil line in Dry County.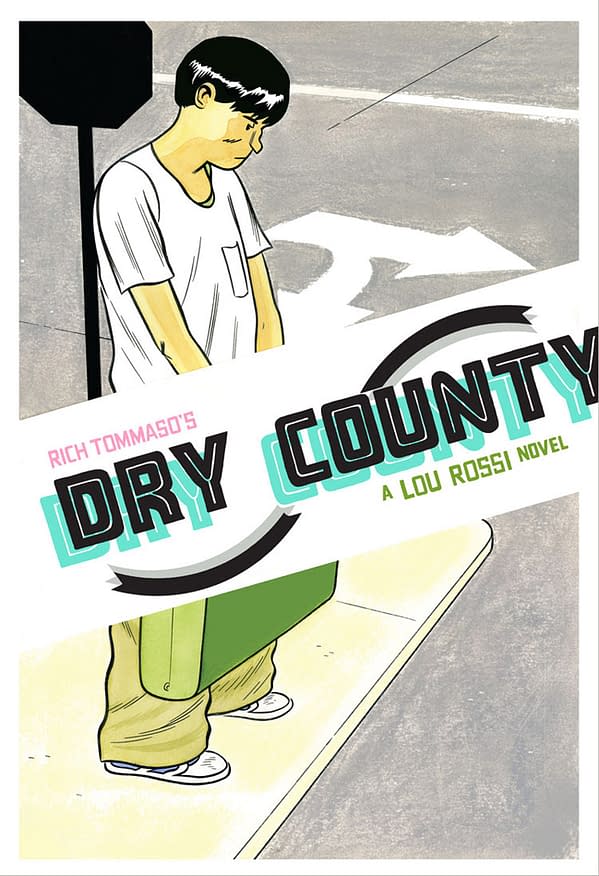 Hannah Means-Shannon writes and blogs about comics for TRIP CITY and Sequart.org and is currently working on books about Neil Gaiman and Alan Moore for Sequart. She is @hannahmenzies on Twitter and hannahmenziesblog on WordPress. Find her bio here.