Do the Skrulls in Marvel Read DC Comics? Ms. Marvel Annual #1 (Preview)
Could we be looking at the latest DC/Marvel crossover in the upcoming Magnificent Ms. Marvel Annual #1? A preview of the issue definitively tells us: maybe. In the preview, we see a Kree named Mar-Koll, who goes by the nickname Captain Miracle, approaching Skrull Emperor Kl'rt with a proposition. But "Captain Miracle" reveals that the Skrulls have another nickname for him…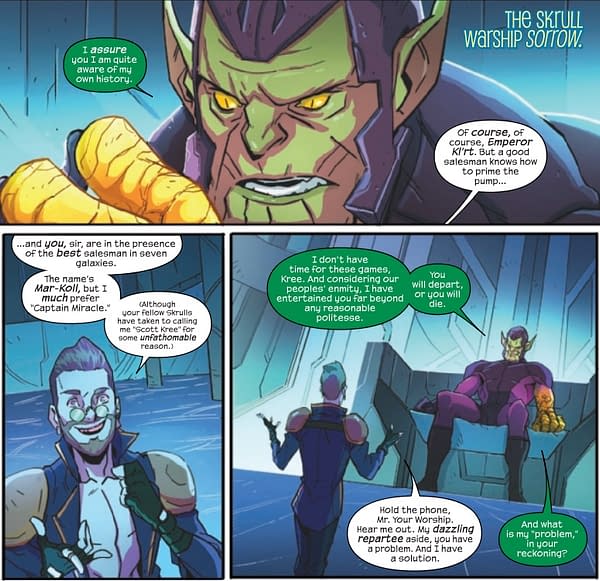 Scott Kree, an obvious reference to Scott Free, otherwise known as Mister Miracle, from DC's New Gods franchise. And yes, it's obviously a joke, but it does beg the question: where would the Skrulls get that reference from? Do DC Comics exist in the Marvel Universe? And are the Skrulls big fans? For the former question, looking at Iron Man's recent references to "kryptonite," we have to assume the answer is yes. And for the latter, it's the only conclusion we can come to.
In any case, Captain Miracle has an offer for Kl'rt.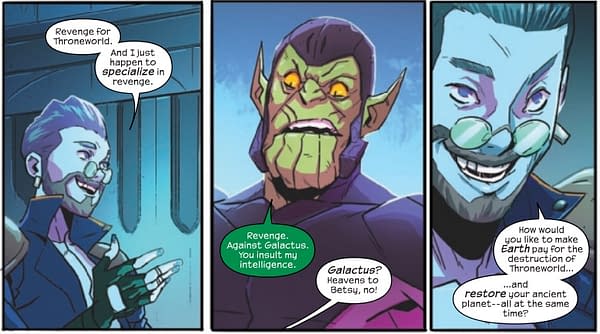 Making Earth pay is always an irresistible proposition.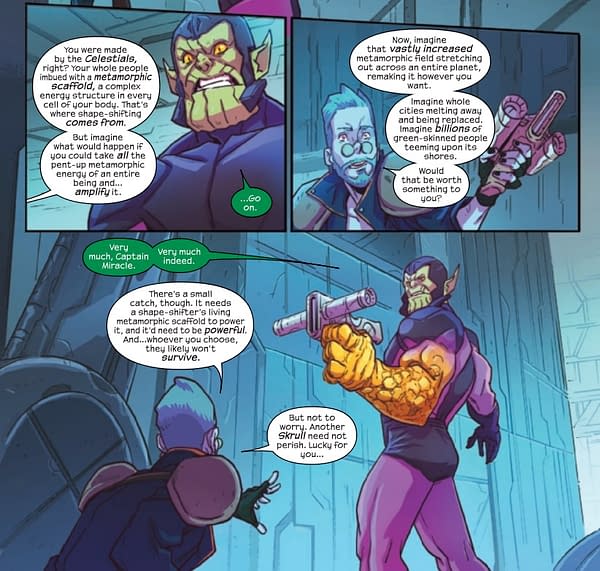 But if the Skrulls destroy Earth, where will they get their next fix of their beloved DC Comics? Ms. Marvel Annual #1 hits stores on Wednesday.
MS MARVEL ANNUAL #1
MAY190884
(W) Magdalene Visaggio (A) Jonathan Lam (CA) Stefano Caselli
SUPER-SKRULL VS. MS. MARVEL! Ever since the Skrull homeworld was destroyed, Emperor Kl'rt has been out for revenge. And with a device that will turn Earth into a new Skrull kingdom, he's about to get it. All he needs is the DNA of one very special shape-shifter. The Super-Skrull is coming for Kamala Khan – and with all the powers of the Fantastic Four on his side, Ms. Marvel doesn't stand a chance.
Rated T+
In Shops: Jul 03, 2019
SRP: $4.99