I said we were going to talk a lot about Batman #68 today. Especially since it touches on the difference between Batman and Superman.
There have been a number of those pronouncements over the years. Quentin Tarantino had Bill in Kill Biill say,
Take my favorite superhero, Superman. Not a great comic book, not particularly well-drawn, but the mythology. The mythology is not only great, it's unique…Now, a staple of the superhero mythology is, there's the superhero and there's the alter ego. Batman is actually Bruce Wayne, Spider-Man is actually Peter Parker. When that character wakes up in the morning, he's Peter Parker. He has to put on a costume to become Spider-Man. And it is in that characteristic Superman stands alone. Superman didn't become Superman. Superman was born Superman. When Superman wakes up in the morning, he's Superman. His alter ego is Clark Kent. His outfit with the big red "S", that's the blanket he was wrapped in as a baby when the Kents found him. Those are his clothes. What Kent wears – the glasses, the business suit – that's the costume. That's the costume Superman wears to blend in with us. Clark Kent is how Superman views us. And what are the characteristics of Clark Kent? He's weak, he's unsure of himself, he's a coward. Clark Kent is Superman's critique on the whole human race.
However other observers insist that Superman is the put-Upon identity and that the man raised in the Kent family farm is all Clark. While the playboy billionaire philanthropist and industrialist Bruce Wayne is the costume that Batman wears to interact with high society.
Today in Batman #68 (now with Poison Ivy removed, we get a new look at the relationship, out of Clark Kent's mouth.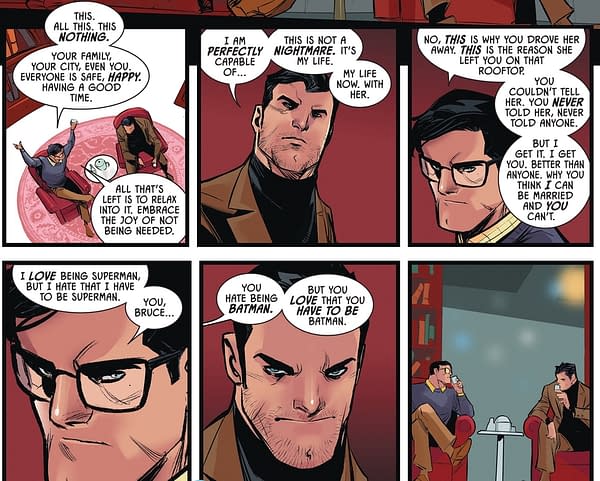 Clark hates having to be Superman but loves to be Superman. And Bruce Wayne hating being Batman but loving that he has to be. Because no one else could or would other than the man who has put himself through hell to be what he now is.
What's more of course, as this so-called stag night for a wedding that has already been called off protests that this is not a nightmare, it clearly is. Part of the Knightmares arc, with Batman being tested – or testing himself – from the deepest reaches of his mind, this is what Batman really thinks rather than what Superman thinks.
Or at the least it's what Batman thinks Superman thinks.
What do you think?
More to come…
BATMAN #68
(W) Tom King (A/CA) Amanda Conner
Batman is making his way to the end of his Knightmares, but his unseen enemy has a few more tricks up his sleeve. It's time once again to stick a knife into the Caped Crusader's broken heart, letting the groom-that-could-have-been peer in on the bachelorette (or should that be "Catchelorette"?) party that never was. Artist Amanda Conner (Harley Quinn) rejoins the Bat-family for this month's special story-because who else you gonna invite to a shindig like this?
In Shops: Apr 10, 2019
SRP: $3.99
Enjoyed this article? Share it!