We reported the new Lady Rawhide book a few weeks ago, from Dynamite, based on the Zorro character created by Don McGregor. Little did we know that, at the time, Don McGregor hadn't heard a peep about it. He posted on Facebook;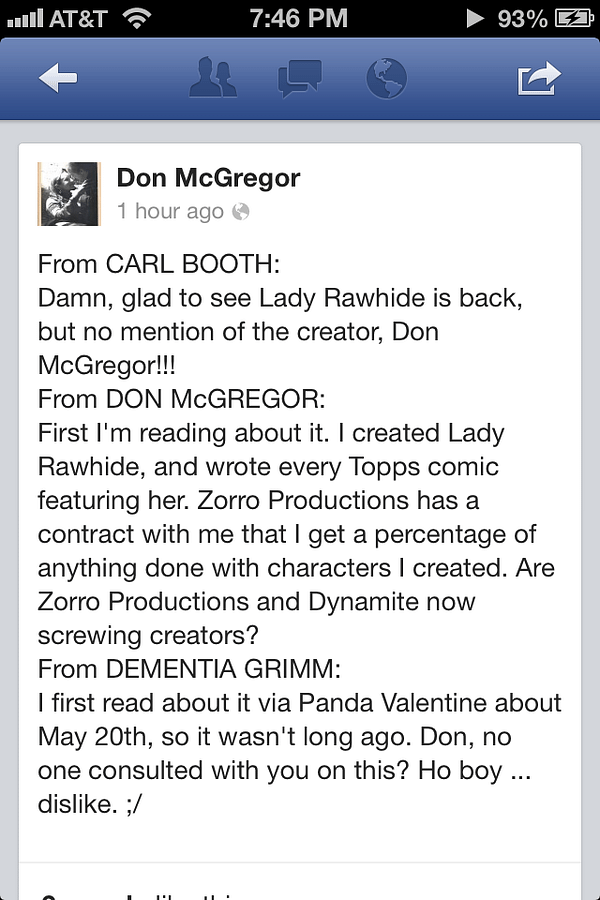 He later writes with his own responses and those of others;
FROM RORY BLOCK:
Oh boy, awkward, I recall Dynamite was having legal problems due to the rights of Tarzan. But I heard that they have the Zorro license, so I hope you can still get royalties outta them Don. That way I won't feel so bad about buying them since I love the character and have been waiting forever for news like this to come along.

FROM DON MCGREGOR:
I would not have written the Zorro series without creating Lady Rawhide. As Jim Salicrup can tell you I could not commit to a monthly book that that did not have any women in the series. I did not do Lady Rawhide in the newspaper strip, and created Eulalia Bandini, because Lady Rawhide's character was such a source of contention with some people at Zorro Productions until she became so popular.
I fought hard for her character through-out the series.

There's only one person who knows the ending to LADY RAWHIDE: OTHER PEOPLE'S BLOOD. And that's me. If someone were to do it, it would be like the PANTHER VS. THE KLAN. They have no clue what I intended to do.

Cary Lee
Wow. Does it ever stop?
Don McGregor
Apparently not. Not even when you meet personally with the head of Zorro Productions and have it put in writing. I was weary of creating characters and then people who could not create would see ALL the money derived from them. Marvel wanted me to come back, at the time I was just starting to research Zorro, and create an alien world for Professor X. I preferred working with Jim Salicrup, and was so invested by that time in creating Lady Rawhide, Machete, Moonstalker, Star Wolf, Scarlet Fever and the others that I didn't have time to even do a series for Milestone. I had a strong story that I told Dwayne McDuffie when he approached me, and he never flinched. But I never would have been able to keep his deadline, especially when Zorro Vs. Dracula came along.

I really wish people did have a chance to read the end of LADY RAWHIDE: OTHER PEOPLE'S BLOOD. A lot of it was based on some historical events. There's one sequence that I know some people would think I went too far, and it really happened! Writers are only trying to keep up with what people will do

Lou Mougin
And that's a book I won't be buying, for sure.
Don McGregor
Thank you, Lou. My Mom's name is Louise.
Should have known, Zorro Productions took my dedication to my Mom out of the ZORRO: THE DAILIES book,
even though it was my proof-reading that saved the book from having
repeated Sundays, making them out of sync with the Dailies,
and two missing Dailies, as well.
Short memories.

Michael Davis
Do NOT fuck with my man, Don McGregor…
Don McGregor
Thank you, Michael. They steal a writer's blood and soul.
Michael Davis
Yours? NEVER!

LADY RAWHIDE would not act in a cowardly fashion.
And she would honor her word.
When Dean Mullaney did a comic called TOTAL ECLIPSE,
it was not total.
There was no SABRE.
There was no DETECTIVES INC.
That would be the day I'd let Marv Wolfman put his words
into my character's mouths.
The only way someone else could write those characters
is if they gave Marsha so much money she would not have
to worry for the rest of her life.

As Dean said, then, "I didn't even bother to ask. I knew the answer."

I live with these characters. When I write a monthly book, I'm committed to it, and the people who work with me know it.

If you want easy; I don't do easy. I love comics too much, and care to give everything I've got to the readers. And if I fail, then it's honest failure.
I had this news last night, but I wanted to wait till I'd at least heard from Dynamite publisher, Nick Barrucci. Who told me;
I'm running around the city in meetings.  Funny coincidence – Last night I had a meeting with two comics creators, and the interesting thing about when they talk about royalties.  They get them after the book ships and after the end of the reporting period.  You know, the way the world works.  They don't seem to get paid based on an announcement.  Now, a book gets announced and Don is already being screwed out of any financial compensation that he has an agreement on?  I doubt it.  I've worked with the Zorro Property Owners for 4 years, and they always honor not only their contracts, but their word.  I'm not speaking for them, but saying what in my experience and what I can comfortably say for the experience that I've had with Matt Wagner and others.

Don talks about "honest failure" to the audience.  I guess it's ok if he lets them down.  I have a lot of respect for Don.  But this was unfair to Zorro Properties to go out there and make these claims without asking anyone what the release schedule was, the book ships, etc.

It would have been nice if Don would have been professional and asked honest questions before making wild assertions.  And then complain if he's not happy.  Which he is happy to do.

Don – feel free to drop me a line directly to answer any questions – nick.barrucci@dynamite.com
It would probably have been nice is Don was informed about what was happening by Dynamite or Zorro Productions. But, if nothing else, it does appear that he will get paid. And maybe this could be the start of a beautiful friendship.
Enjoyed this article? Share it!