What Does Doomsday Clock #9 Mean for the Future of the DC Universe – Nightwing, Aquaman, Hawkman and More (Spoilers)
Doomsday Clock, the unauthorised sequel to Watchmen, is set in the near-future of the DC Universe. It had a choppy beginning gettibg the dates straight, but it is meant to be happening sometime later in 2019.
Today's Doomsday Clock #9 sees the gathering of superheroes take a daytrip to Mars to confront Dr Manhattan. So we get to see who is who and what is what. And it's all looking rather… classic.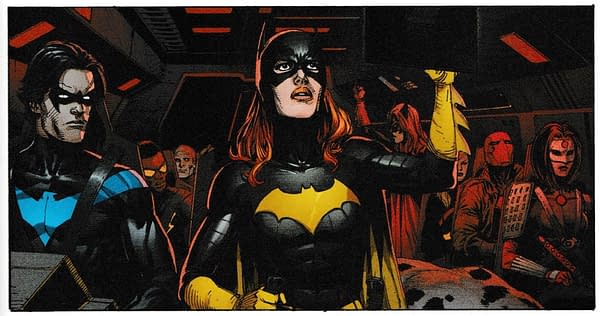 Nightwing's back, in the Gotham spaceship. Doesn't look much like a 'Ric Grayson' here, though we don't hear him speak. Batgirl's costume has darkened rather. Hawkman is back with Hawkgirl (in some fashion) as Mister Miracle and Big Barda are along for that ride.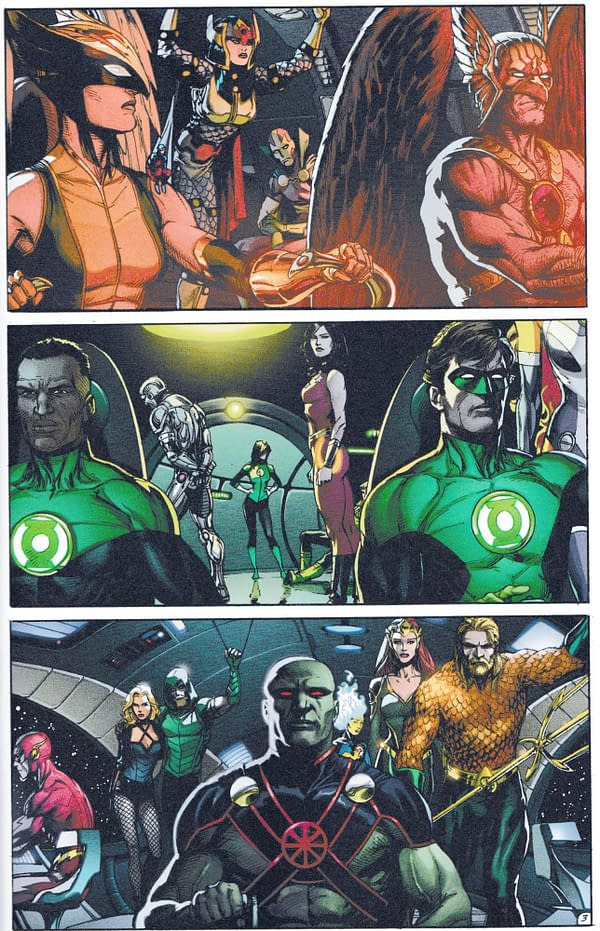 Aquaman can also remember who he is again, and is back with Mera. Hal Jordan is a Green Lantern again, not a Blackstar. And whatever went down in today's Green Arrow #50…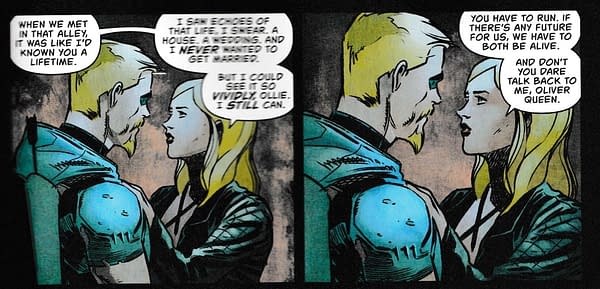 …Ollie and Dinah have seemed to couple up as well. Though you'd think these space ships would have more places to sit. Oh and for everything that Wally West has been going through in Heroes In Crisis… such as being dead. Even if no one realised for ages.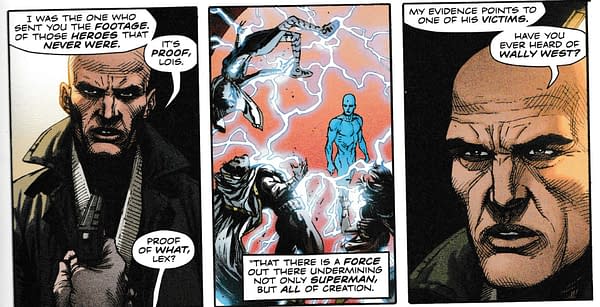 Superman told her everything else, he might as well have mentioned Wally too. Unless of course he's back from the dead and a member of Suicide Squad now…
DOOMSDAY CLOCK #9 (OF 12)
(W) Geoff Johns (A/CA) Gary Frank
The critically acclaimed series by master storytellers Geoff Johns and Gary Frank reaches its most shocking chapter yet when the DC Universe collides with its greatest threat: Dr. Manhattan. But nothing is hidden from Manhattan, and the secrets of the past, present and future will rock the very foundation of the DC Universe.In Shops: Mar 06, 2019 SRP: $4.99

GREEN ARROW #50
(W) Collin Kelly, Jackson Lanzing (A) Javi Fernandez (CA) Kevin Nowlan
Spinning out of the events of JUSTICE LEAGUE: NO JUSTICE and HEROES IN CRISIS! When a black ops organization discovers Green Arrow's long-held secret-a mysterious weapon in the form of a box, given to him by the Justice League-they'll deploy their top undercover agent: Black Canary! On opposite sides of this festering secret, Green Arrow and Black Canary will clash as only two lovers can-by aiming straight for the heart! A mystery six months in the making, the box that can destroy the Justice League will be opened…and the Emerald Archer's world will be forever changed. This extra-sized anniversary issue of Green Arrow's life isn't just ending…it's burning to the ground!In Shops: Mar 06, 2019
SRP: $4.99